Through 41 years of marriage, Michael and Barbara Welsh expected to share just about everything, for better or worse. But they never thought one of those things would be breast cancer.
The Ohio couple are a medical curiosity: a husband and wife both diagnosed with a disease far more common in women, but not unknown in men. They are using the publicity generated by their story to spread the word that breast cancer isn't just a women's disease.
"I didn't know that men could get breast cancer," Michael Welsh told TODAY's Natalie Morales Friday in New York. "You see all the ads on TV, the women doing the monthly exams. You never see a man doing that. So how are we supposed to know?"
Michael was joined by his wife, a petite woman whose salt-and-pepper hair is starting to grow back now that she has completed her chemo and radiation treatments.
"If nothing else, we've got one another," she said of their shared battle. "I'm in it for him, and he's in it for me."Not a pulled muscleThe Welshes' story began in December 2008, when Barbara discovered a lump in her right breast. After a lumpectomy, she underwent chemo and radiation treatments that ended Thursday.
While Barbara, 63, was undergoing her treatment, Mike, 62, discovered that he, too, had breast cancer. "I happened to get in the car, put my seat belt on," he told Morales. "It was uncomfortable. I moved around a little bit, and it didn't get much better, so I eventually went to my family doctor, and mentioned, 'Hey, I got a problem.' He said, 'Where?' "
Mike said he thought he might have pulled a muscle doing yard work, but it turned out to be much more serious. His doctor sent him to get a mammogram, which Mike described as a test not designed for male breasts and sheer torture.
When he got the diagnosis, he couldn't believe it. "It was devastating," he said. "It was, for lack of a better word, surreal, because men, they don't get breast cancer."
After undergoing a mastectomy for his stage 4 cancer, Mike is looking at a regimen of oral chemo treatment and possibly radiation. "My prognosis is good," the bearded father of one and grandfather of five said.
Rare in menJust 1 percent of all breast cancers occur in men, but that still amounts to nearly 2,000 cases in the United States each year. An estimated 40,000 women and 440 men die each year from the disease, according to the National Cancer Institute.
"Male breast cancer is rare, and because it is rare, it's hard to define what the risk factors are," oncologist Kathie-Ann Joseph of New York-Presbyterian Hospital told Morales. "Mike is a classic example. It affects older men, men in their 60s and 70s. There are hereditary risk factors that are associated with it. Twenty percent of all men who get breast cancer have the genetic predisposition for it."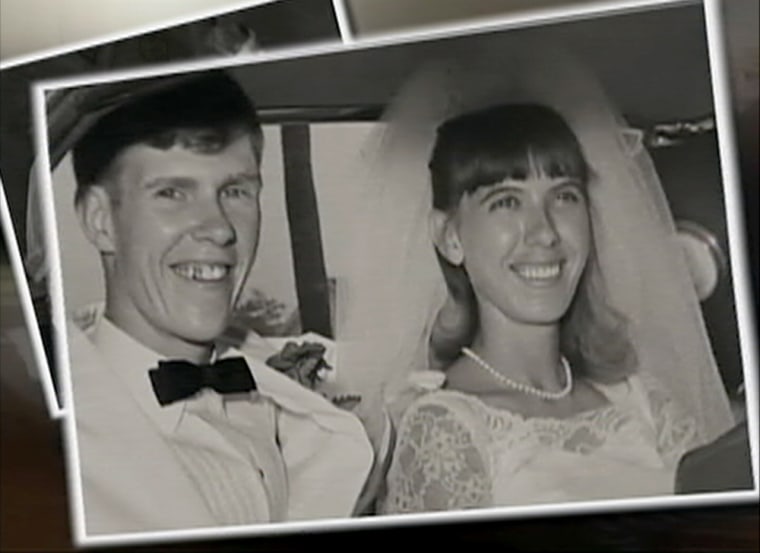 As in women, the genetic red flag is a mutation in the BCRA gene. Researchers estimate that about 20 percent of men with the mutation get cancer, a rate much higher than the 5 to 10 percent rate for women with the mutation.
"Men should be aware of their bodies, just like women," Joseph said. "We do recommend that men check their breasts."

Laughter, the best medicineFortunately, the couple are able to laugh about the unanticipated bond they share. Barbara coped with her hair loss by wearing rainbow-colored wigs around town. She didn't wear one to the TODAY show Friday, but she did sport a pink sweatshirt with the legend "I'm a breast cancer survivor." Michael wore a pink breast cancer wristband.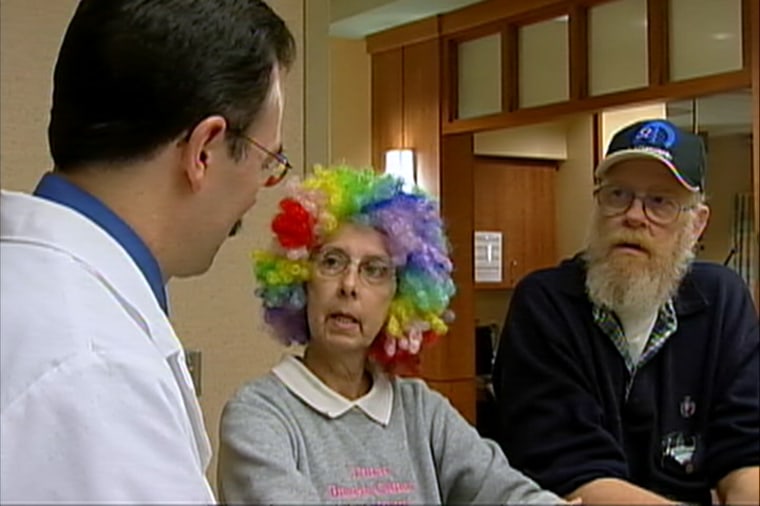 She added that to show solidarity, "My son even shaved his head for me."
With Mike yet to undergo treatment, the couple still have a fight ahead of them. But they're grateful for how their unusual fate has brought them even closer together. They also share a certainty about where they'll be a year from now.
Said Barbara: "We will be together — doing whatever."