When Hunter Hobbs' weight hit 202 pounds, he was shocked. But he turned his disbelief into a three-month challenge that dramatically changed his health — and looks.
"That is the most I ever weighed," Hobbs, 24, of Norman, Oklahoma, told TODAY. "I was thinking one day, 'What would happen if I committed to the gym and a diet?'"
From January 1 to April 1, Hobbs, who is 5 feet 10 inches tall, exercised and ate healthy foods, like chicken breasts, salad and sweet potatoes. He took a picture of himself every day, which he used to create an incredible time-lapse video of his transformation. It has been viewed almost 250,000 times.
"I definitely was surprised that so many people were inspired. That is crazy to see," he said.
Like so many people, Hobbs slowly gained weight in the two years since he graduated from college. Having a demanding desk job made it easy to skip the gym and go out to eat with co-workers. Eating pizza or fast food after a busy day seemed like the most convenient choice for him. When he realized his weight was a problem, he committed to a 12-week challenge to see what he could accomplish.
Hobbs started simply: He ate only home-cooked food, lifted weights and did 20 to 30 minutes of cardio every single day. But he wondered if such changes would make a difference.
"I never really followed any kind of diet. I really wasn't sure how much I was actually going to lose," he said.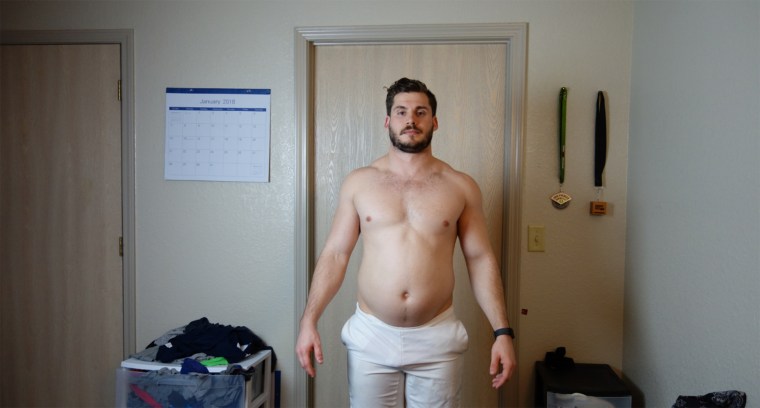 Hobbs held himself accountable by taking a picture every day, in the same spot.
In a short time, Hobbs noticed a difference in the pictures — and he liked the "crazy changes" he saw.
"That was a huge motivating factor," he said.
In three months, Hobbs lost 42 pounds and credits his success to consistency. Following the same habits day after day helped even when he faced with obstacles, such as watching his roommate nosh on fast food and pizza.
"My roommate made my challenge so much harder because every day he ate something unhealthy," he said, laughing. "(Losing weight) was the hardest thing I have ever done."
Hobbs shares advice for others hoping to lose weight.
1. Do the research.
When Hobbs decided to lose weight, he researched exercise and meal plans. He followed personal trainers on social media or watched videos of workouts online. This helped him learn how to plan what to eat and what exercises worked for him.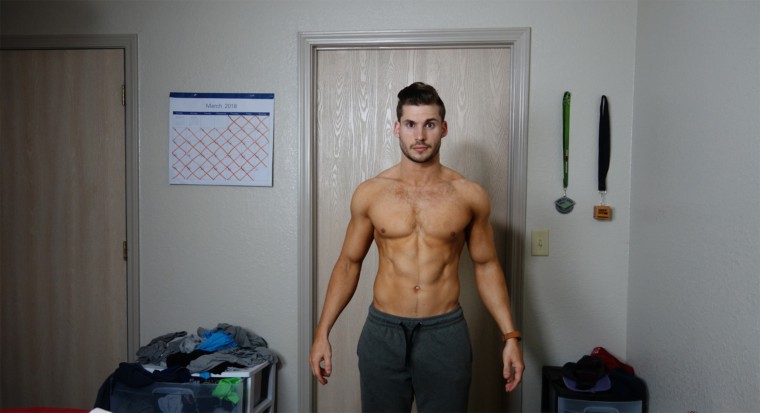 2. 'Be realistic.'
Cardio and weight training changed Hobbs' appearance dramatically. But not everyone needs to use a stair-stepper or lift weights to see a difference.
"You got to be realistic with it. Everybody's body type is going to react differently," he said.
3. 'Get into a habit.'
Hobbs cooked every meal at home. He skipped alcohol and went to the gym daily. His day-to-day routine looked remarkably similar, and this helped him lose weight.
"Honestly I got into a habit every single day," he said. "That really helped."
Interested in starting your own weight-loss journey? Sign up for our Start TODAY newsletter for advice on how to begin.