When "The Biggest Loser" trainer Bob Harper dropped to the ground in cardiac arrest in February, he would have died if not for CPR and an automated external defibrillator (AED) administered by a pair of doctors who, luckily, happened to be at his gym.
Harper's harrowing ordeal raises the issue of what you should do in the event someone is having a heart attack in a facility that has an AED, which is a device that delivers a dose of electric current to the heart.
On TODAY, Dr. Mehmet Oz and Harper demonstrated how to use an AED, which can save lives even in the case of a "widow-maker" heart attack, like the one Harper suffered.
"This is my favorite piece of equipment in the gym right now,'' Harper said.
RELATED: Bob Harper opens up on 'widow-maker' heart attack: 'I was on that ground dead'
Oz stressed for people not to be intimidated in using an AED because it provides the instructions aloud once it's activated. Of crucial importance is quickly locating the AED, as every minute that is spent retrieving the device can decrease chances of survival.
"You open this (AED) device up, and it's going to tell you everything you need to do,'' Oz told Matt Lauer and Savannah Guthrie. "Most important, stay calm. Call 911 — it'll tell you both those things, and while you're waiting for that, stay calm."
Chest compressions should begin immediately while someone runs to grab the AED.
"Within medicine we always say you got good chest depressions if you're sore afterward,'' Oz said. "You want to depress the chest one to two inches. You need to actually put your whole body into it."
"Again, there's only a 6 percent chance they're going to live," Oz explained. "You can't do much harm, and therefore do whatever it takes to keep compressing at a rapid rate, a hundred times a minute. Do not worry about anything else."
RELATED: What to do if someone is having a heart attack
"They were compressing my chest so hard that for a month later I was still feeling it, and I had pneumonia on top of it so I was literally holding my chest every time I was talking it hurt so badly,'' Harper said about the aftermath of his heart attack.
Once the AED is ready, you should rip off the shirt of the heart attack victim and apply the patches, which have maps on them showing where they should be placed on the torso. One goes right below the nipple and the other one above.
"Once that's done it will tell you to get away, it's analyzing,'' Oz said. "It's all you do."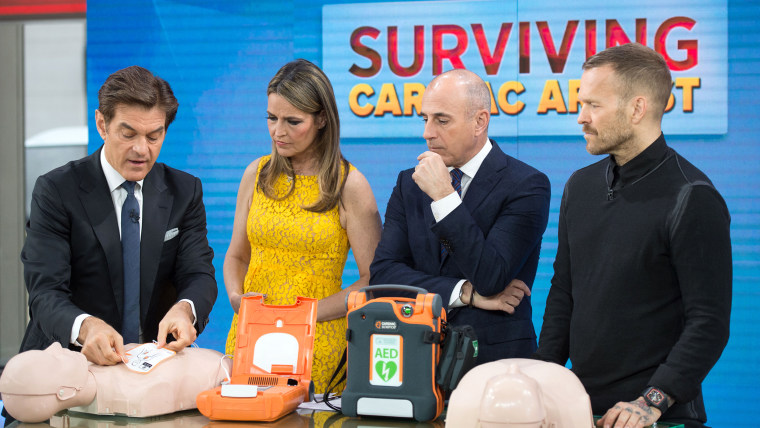 The device will then intone a three-second countdown before administering a shock. It will not deliver the electric current if it has not determined the person needs it. Harper was shocked three times before being rushed to the hospital.
While many offices, schools and gyms have an AED, only 15 states and Washington, D.C. require gyms to have one, according to TODAY national investigative correspondent Jeff Rossen. He noted that less than three percent of Americans are trained in CPR, and if your heart stops and no one is there to help, the chances of surviving drop to six percent, highlighting the importance of AEDs.
However, many members of the public often don't know where the AED is located in their local gym, as Rossen demonstrated at New York Sports Club in Manhattan. When asked by Rossen, several members were not aware of where to find the AED in the gym, including one who didn't know what an AED is. The good news is that staff members at most gyms are trained in CPR and use of the AED.
"Ideally we find that defibrillator within 60 seconds of the person collapsing,'' Sarah Gillen, a certified instructor with the American Heart Association, told Rossen. "Today we should go to our workplaces, to our schools, to our gyms and find the defibrillator now so that we are prepared when an emergency occurs."
Follow TODAY.com writer Scott Stump on Twitter.