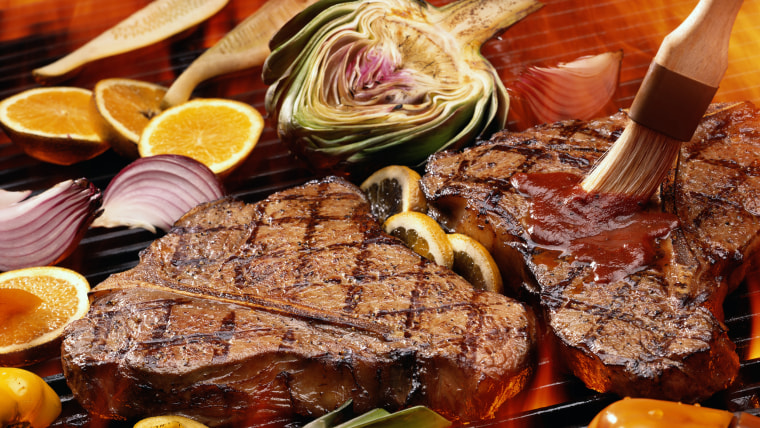 Creamy potato salad, coleslaw, butter-drenched corn-on-the-cob, ice cream, chips, guacamole…are all delicious but loaded with fat and calories. "You must pick and choose," says Keri Gans, dietician and author of "The Small Change Diet." "If you want a hamburger, pass on the hotdog. If you want potato salad, pass on the bun. And don't treat this barbecue as if it's the last one you'll be at all summer; there will likely be plenty more."
In addition to weighing the checks and balances before diving into the buffet, keep from going overboard on calories with following tips:
Most of the calories at a barbecue are found in the side dishes like mac-n-cheese, baked beans, and mayonnaise based salads, says Amy Goodson, the Dallas Cowboy's sports dietician and co-author of "Swim, Bike, Run – Eat." "To create a healthy plan, first get lean protein on your plate, such as chicken, turkey or shrimp. And cut off all visible fat from brisket or pork." Protein helps you stay full faster and stay full longer. 
Then, Goodson suggests you limit yourself to a spoonful of each of the side dishes. 
Go easy on chips and crunch your way through raw veggies and hummus instead (offer to bring this dish on your own if you don't think it's on the menu)
Need to perk up your corn? Use a squeeze of fresh lime instead of butter 
Count drink calories, especially alcohol. "Calories from beer, sweet tea and lemonade can quickly add up," says Goodson. "Flavored water is a great option that hydrates you with little to no calories." If you're drinking beer choose light beer and drink water in between. 
To give you some perspective on how bad some of these foods can be, here is a list of common splurges and what it would take to burn each one of them off (based on a 150-lb. woman):  
Creamy potato salad
Serving: 6 oz
Calories: 150 
To burn it off: Walk a dog for 45 minutes, tread water for 30 minutes or kayak for 30 minutes
Baked beans
Serving: 6 oz 
Calories: 160 
To burn it off: Walk briskly (4 mph) for 30 minutes, snorkel for 30 minutes, or play team volleyball for 45 minutes
Coleslaw
Serving: 6 oz
Calories: 240 
To burn it off: Speed walk for 30 minutes, swim laps for 30 minutes, or hike for 40 minutes
Cheeseburger with bun
Serving: 1
Calories: 359 
To burn it off: swim for 30 minutes or play water polo for 30 minutes
Pork ribs
Serving: 6 oz
Calories: 410 
To burn it off: Walk uphill fpr 30 minutes, waterski for 1 hour or go sailing for 2 hours
Hot dog with bun 
Serving: 1
Calories: 420 
To burn it off: body surf for 4 hours or go canoeing for 2 hours
Still worth it?