Paul Moravec didn't think he'd ever recover, let alone thrive, when he was in the grips of a deep depression.
Debilitating is hardly the word — it was utter hopelessness, the award-winning composer recalled, turning to William Styron's memoir "Darkness Visible" to find the right words to explain.
"He describes depression as a 'howling tempest in the brain' and people who don't experience this can't imagine it," Moravec, 61, who lives in New York, told TODAY. "If it goes on untreated and if it goes on long enough, existence itself becomes unbearable."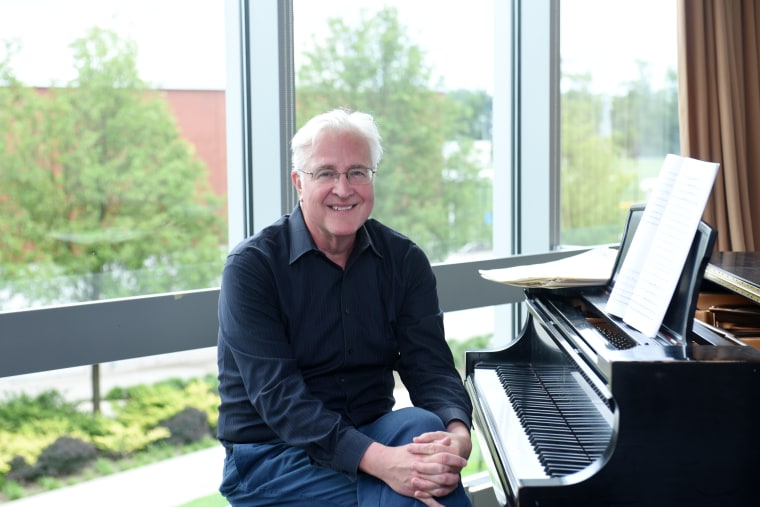 Moravec was hospitalized twice for clinical depression, in 1982 and 1995, with the illness disrupting his work and family life.
But in the years since, he has flourished: He won the 2004 Pulitzer Prize in Music for "Tempest Fantasy" and is a music professor at Adelphi University. Moravec credits electroconvulsive therapy (ECT), a procedure where brief electric currents are passed through the brain, for saving his life — "It's like rebooting a computer," he said. "It was pretty much immediate [improvement]" — and the support of his family and friends for helping him get better.
Today, the composer feels fine and productive, and is busy writing music and "trying to make beautiful things." He's not receiving any treatment for depression.
"I've been extraordinarily fortunate in my life and I feel that way every day. I take nothing for granted," he said.
'There are people who come out the other side.'
It would seem logical that researchers rush to study success stories like Moravec, but there's a "startling lack of attention" being paid to people who thrive after recovering from depression, a recent study found. Research on such patients is disappointingly rare even though they may carry within them an antidote to the illness, the authors wrote.
So the bleak notion of depression as a "lifetime psychological prison sentence" persists even though a significant number of people can go on to flourish, noted the paper, published in Perspectives on Psychological Science.
"It's unfortunate. It's setting the bar too low," said lead author Jonathan Rottenberg, a psychology professor and director of the Mood and Emotion Lab at the University of South Florida.
"Everyone is thinking how bad depression is, and they don't think maybe it's not uniformly bad or there are some people who come out the other side."
There is reason for the gloom, of course: Depression is the leading cause of disability worldwide, with 300 million people suffering from it around the globe, according to the World Health Organization.
But "high functioning after depression" is probably not a rare state, the study noted, defining it as people who have not only fully recovered, but have achieved superior psychological well-being. They're doing more than just OK: They're productive, cheerful, satisfied with life, love and feel loved, and have a purpose in life. The study lists nine criteria in all.
In another upcoming paper accepted for publication, Rottenberg and his colleagues found almost 10 percent of people who overcame depression met those criteria, compared to 20 percent of non-depressed adults. The results were based on a nationally representative sample of Americans who were interviewed about their mental health and followed up 10 years later.
That means depression cuts your chances of thriving by half, but knowing how destructive the illness can be, Rottenberg considered that 10 percent who still managed to flourish an impressive number. The professor has first-hand experience with the issue: He suffered from depression more than 20 years ago and went on to do well, he said.
Why are such success stories overlooked by doctors and studies?
Research has been most concerned about understanding why people do poorly, so those who have been depressed repeatedly and chronically are much more likely to end up in a study, the paper noted.
Researchers have also "lacked imagination" about what happens after depression, focusing on symptom relief as their main goal rather than the possibility of good outcomes, the authors said.
They urged more research to find out what the success stories can reveal about the illness.
And they included this hopeful note: Depression could lead to better things in some cases, triggering long-term psychological improvement. The illness has both creative and destructive potential, Rottenberg said, citing his own life as an example. He questioned everything when he became depressed and changed careers. But what he saw as a destructive, horrible period at the time ultimately led him to a life filled with meaningful work and relationships.
"You're so unhappy and so unable to experience pleasure or joy — (but) when the depression lifts and you look at the world again, it's filled with a kind of meaning and potential," Rottenberg said.
"There is hope, but sometimes you have to be more patient than you thought was humanly possible because we don't control the schedule… so I don't want someone who is far, far, far away from flourishing to give up. They should realize that moving in the right direction and finding ways to be 10 percent better are the first important steps."