This week TODAY teamed up with Greatist to find out what millennials are really like. These young adults are passionately changing the landscape of our workplaces, looking to make an impact and to be inspired by their work. And, they are the generation that has come of dating age during the "Tinder apocalypse" — swiping for love.
Our "Millennial Misconceptions" series — in which we teamed with website Greatist to survey nearly 4,000 millennials — concludes with a look at how the generation handles love and communication. We joined forces with The Skin Deep to explore human connection in the digital age.
People often believe that millennials are today's "hippies," with free-wheeling and easy sex because of dating apps, and have no interest in the "real" world because they are addicted to social media.
The truth is you can't believe these myths. And, there are a few things we could all stand to learn from the millennial generation — especially when it comes to dating!
Want to date like a millennial? Steal these seven relationship tips we've learned from them for success in today's dating world:
1. Get offline, and meet people in real life
Online dating is a great pipeline to meeting people in real life. However, online dating can tire out even a superhero dater.
According to the TODAY/Greatist survey, almost 60 percent of millennials said their favorite way to meet new romantic partners is through friends, groups or shared interests — and only about 9 percent said that dating apps were their preferred ways to meet.
Find some great causes to volunteer for or MeetUp groups to attend — and always say "yes" to parties and get-togethers organized by friends.
2. Get to know your neighbors
For most things in life, proximity is often key.
According to recent data from Match.com, millennials are 36 percent more likely to want to date someone in their neighborhood because they believe they have more in common with people who live nearby. They are also 38 percent more likely to have had a crush on someone in their neighborhood. Don't ignore the person walking their dog in front of your house, or blow the chance to strike up conversation with that cute someone in your elevator.
You never know!
3. Know what you're looking for
Too often, we date the same type of person over and over again, and get the same kind of bad results.
Having a road map to what's MOST important is key to finding a good partner. Our survey with Greatist showed that the qualities millennials value most in a romantic relationship are:
Know YOUR have-to-have qualities before you let someone in too deep — and if they don't meet all of your criteria, move along (especially if they show red flags)!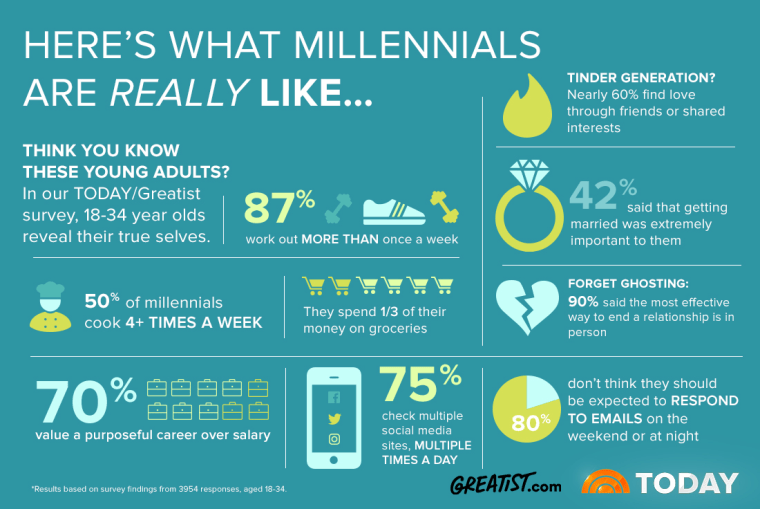 4. Don't ghost
We think that new dating vocabulary is coined by things that millennials do. Last year was the year of "ghosting" — i.e., just disappearing on someone instead of breaking up with them in person.
Fascinatingly, 90 percent of millennials surveyed said that the most effective way to end a relationship is in person — not ghosting.
So when you've been dating someone for a while, and know that the right thing to do is to break up in person, listen to your gut and face the person.
5. Have an end game.
If you're looking for love and commitment, don't give up because you think everyone is just looking for sex.
Forty-two percent of millennials said that getting married was extremely important to them, and 44 percent said that it is very important to be in a defined romantic relationship.
Similarly, Match found that millennials are 177 percent more likely than those of other generations to feel pressure to marry. Surprisingly, 54 percent of millennial singles said that they feel pressure because they want family and kids, while 50 percent feel pressure to make their parents happy; and 35 percent feel pressure to wed to keep up with their friends.
So, believe that there are LOTS of good people out there that are indeed looking for love/commitment and focus on those.
6. Sex and love should be connected.
According to Match, millennials are 40 percent more likely than those of other generations to believe that an emotional connection makes sex better, as well as the least likely generation to have cheated on a partner.
So, if you get attached quickly after physical intimacy, it might be best to wait until you feel safe and in love — so you don't end up with disappointment if your feelings aren't reciprocated.
7. Keep dating, even when you don't feel like it.
Dating can be a tough game, that can burn out even the best of us.
In fact, Match found that millennials are the most likely of all singles to say they are lonely (65 percent more likely) and most likely to feel burned out by dating (36 percent more likely). So if you feel like you're the only single 47 year old out there, you're not. Keep the faith — you never know when love will come to you.
Keep going like the millennials do, even when you're not feeling like it!
Dating coach Bela Gandhi is the founder and president of Smart Dating Academy.