On a flight from Auckland, New Zealand, to Queensland, Australia, a flight attendant loudly explained to Michaela Martin that she needed to use a seat belt extender. She felt more humiliated when the crew member recommended Martin book two seats in the future.
Burning with shame, it spurred Martin into action: She knew she had to lose weight.
"The feeling of pure embarrassment and shame is something I'll never forget," she wrote on Instagram. "I believed … I was worth less than every skinny person on that plane."
As a teenager, Martin had turned to soda, take-out and junk food to comfort herself.
"It got to the point where I became dangerously obese," Martin, 25, of Palmerston North, New Zealand, told TODAY via email. "My eating habits spiraled out of control."
At her heaviest, she weighed 282 pounds, which made her feel alienated.
"I grew up being bullied about my weight and I used to let the opinions of others influence my life choices," she said.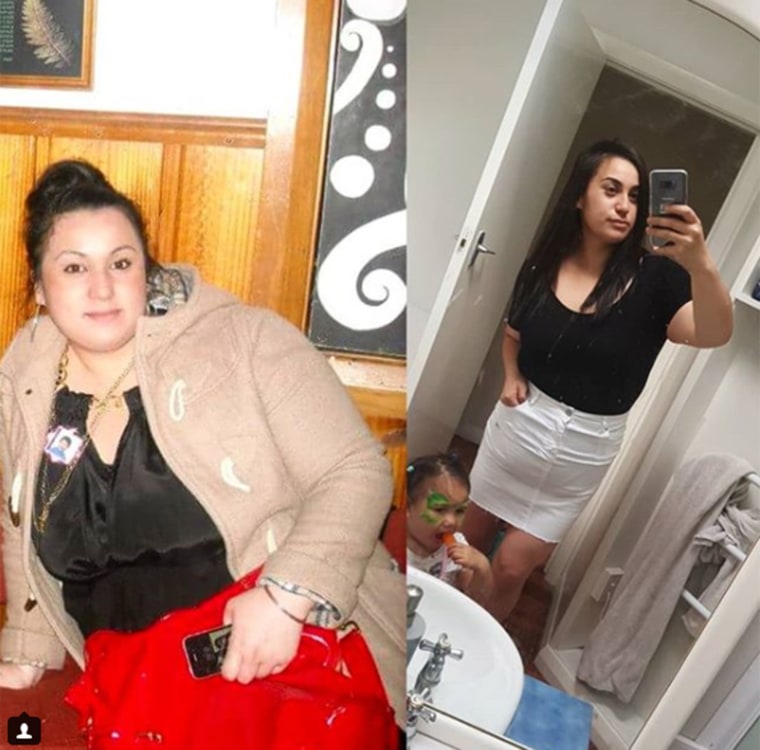 This led to a dangerous cycle of eating to feel better, which only caused her to gain more weight.
But after the birth of her first daughter and her flight experience, Martin examined her feelings about herself. She hated how she looked, but wondered if learning to love herself could help.
"I was in awe over what my body had just done for me. I had this perfect little human in my arms and my body made her," she explained. "I had a new appreciation for my body and started learning to love my body."
Martin also started making small changes. She cut unhealthy foods and sodas from her diet, and ate fresh vegetables and fruits instead. Then she started walking 30 to 40 minutes, four times a week.
"From there, I just built upon it," she said. "You don't have to be running a marathon to lose weight, like I used to think."
She started her weight-loss journey four years ago and became pregnant twice throughout the process, causing her weight to fluctuate. Martin had lost 36 pounds, but knew she needed to shed more weight. After the birth of youngest child in March 2017, she dedicated herself again to her efforts.
"I had to learn to switch it up," she said.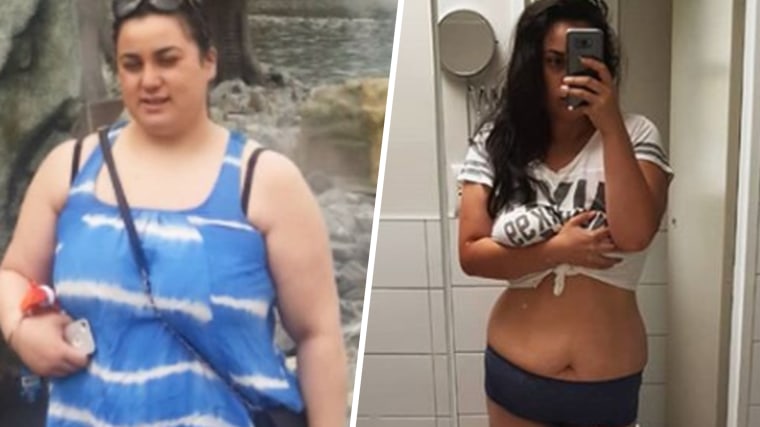 When Martin restarted in August 2017, she weighed 247 pounds and set a goal weight of 176 pounds. To reach her goal, she increased her activity, doing cardio and weight lifting five times a week for over an hour. She also adopted stricter eating habits, including lots of vegetables, lean protein and a little dairy in her regimen. She's now down to 205 pounds and loves how she feels.
"I've never been so happy and content with myself as a person ever in my life. I love just exuding positivity. I wish I had this kind of mindset when I was younger," Martin said.
Martin shared these tips for others hoping to lose weight:
1. Don't just subtract, add.
While cutting sugary, processed foods helped Martin lose weight, adding fruits, vegetables and lean protein helped her feel satisfied. Doing it incrementally made it easier for her to manage.
"Slowly start taking away unhealthy food and introduce more fresh produce," she said.
2. Find people who want you to 'win.'
"Surround yourself with positive like-minded people who want (to) see you win," Martin said. "They will fuel your fire, support you in your journey and be there after you go on your first junk food binge after starting to lose weight."
3. Stay positive.
Learning to love herself and accept her mistakes helped Martin succeed and remain focused.
"It's really empowering to know that I am so confident and content with myself right now that the opinions of others do not affect me," she said. "A positive mindset has kept me going even when I was going through tough times."
For more inspiration, check out our My Weight-Loss Journey page. And if you're interested in getting started, join our Start TODAY newsletter.