For Brittany May, less is more. Make that way, way, way more.
The teacher, 25, once weighed 514 pounds. But it wasn't until she had to weigh herself on a fertilizer scale — because a regular scale could no longer accommodate her — that she knew she had to get her life back and be healthy.
Today, she's 178 pounds. And she did in less than two years: 22 months, to be exact.
May works as a high school agricultural teacher in Pennsylvania. Even as a youngster, she'd always been on the heavy side and was the last kid picked for sports teams, May told Megyn Kelly TODAY. Slowly, over the years, she packed on the pounds. Even when urged by a friend to lose weight, May wasn't ready.
'I couldn't fit behind the steering wheel'
When she tried a diet or a workout plan — "everything under the sun" — nothing lasted long term. So she'd give up.
"Doing things on my own, it just wouldn't happen," she said.
Back then, May said, she never ate a single meal. Instead, she consumed what she calls "the meal before the meal."
"We would have stopped at a fast food restaurant on the way home. When we got home, we'd have a protein that was breaded, a potato, a starchy vegetable and a starch on top of that. We didn't see much greens. It was comfort and convenient food," she said.
For May, food had always been a source of comfort. Throughout her life, everything revolved around food.
"I couldn't even fit behind the steering wheel of a car," she said, recalling when she was at her heaviest.
She's no exception when it comes to weight-loss struggles. According to the Centers for Disease Control and Prevention, 36 percent of American adults are obese, and they're facing health risks, including heart disease, stroke, type 2 diabetes and certain types of cancer.
The toughest part: The beginning
"Realizing that it was going to be mostly a mind a game. I knew I would have to drop my stubbornness and be willing to tackle the bad habits, the sedentary lifestyle and the relationship with food," said May.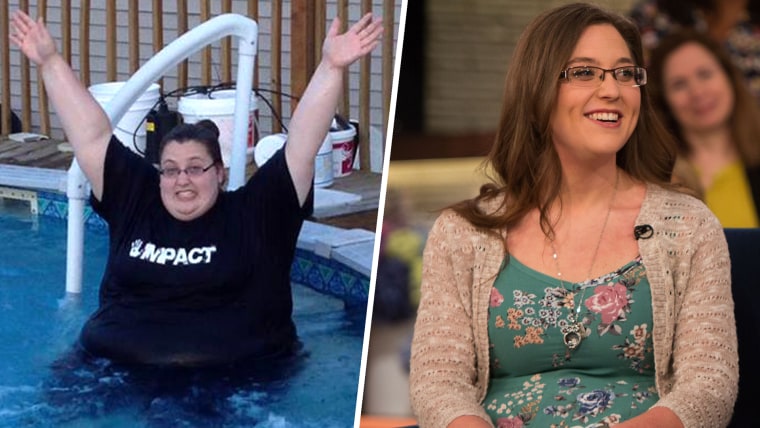 Through a friend, she found out about Optavia, a weight-loss program based on packaged meal replacements and personal coaching. It worked for her and she's now a coach there.
What clicked for her? Having her own village of support.
"Knowing that I don't have to do it alone, that's been the game-changer. It was the community," she said. "Health-wise, I am energized. I can drive a car. I can bend down and tie my shoe. I joined a gym for fun. Who would have thought? Every part of my life has changed."
The changes include what's on her plate.
"There's so much more color. Food is actually beautiful. It's a sensible portion. I eat more moderate amounts. I play around with cauliflower. I eat a leaner protein or seafood and low-starch vegetables," she said.
Even her wardrobe has benefited from the new Brittany.
"I love skinny jeans. I would have never thought I'd purposely wear clothes that were tight!" she laughed.
For more diet and fitness tips, sign up for our One Small Thing newsletter.