Growing up Jenna Winchester always weighed more than other children and her father never let her forget it. Once when she fell he said, "I hope you didn't dent the floor." Even though he constantly made cracks about her weight, Winchester tried ignoring him. Yet, his insults stuck, causing her to turn to food for comfort.
"I got extremely depressed and wouldn't leave the house or do anything but eat and sleep," Winchester told TODAY. "That is when the weight all truly piled on."
She gained 100 pounds, and soon she was up to 370 pounds at just 5 feet 6 inches tall. Even though she disliked being overweight, she could never successfully lose weight.
"I would tell myself 'OK this year I will get it together and I will lose weight' and I would never do it," she said. "I would be a disappointment to myself."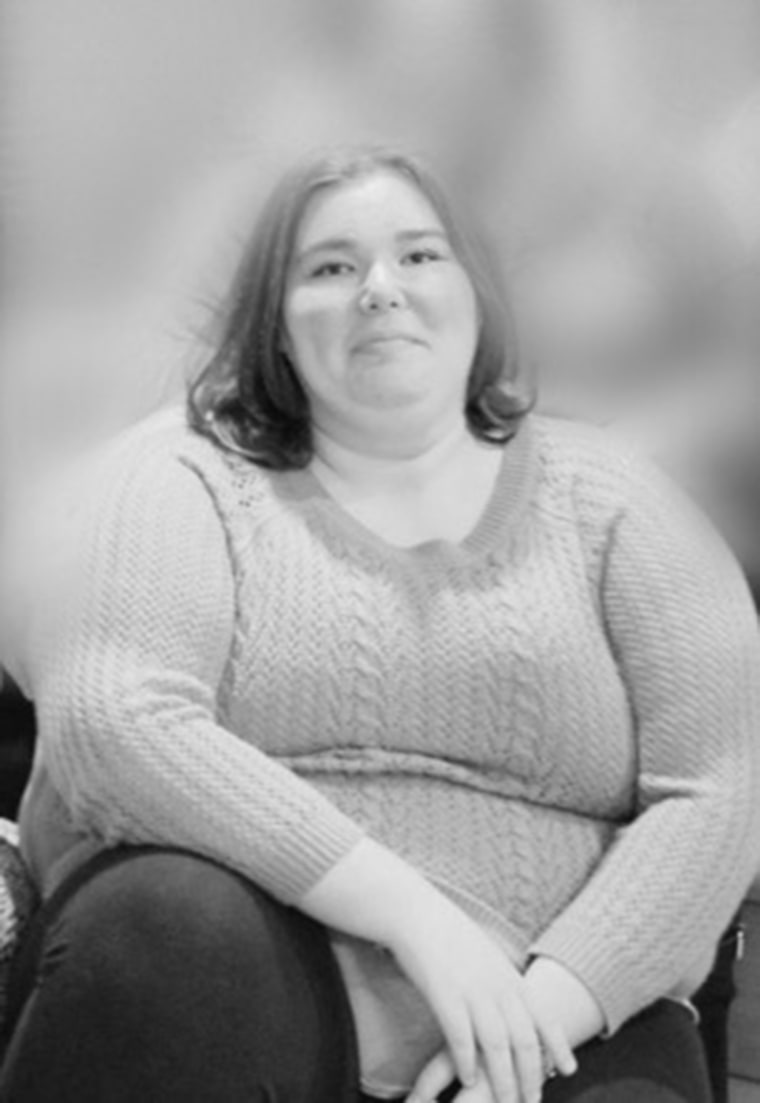 By her 17th birthday she knew she had to do something.
"I just woke up one day and thought 'It is time to change,'" she said.
Winchester cut out sugary drinks and swapped them for water. She'd put mint or cucumbers in the water to make it tastier. Then she started eating salads and more vegetables. At the same time, her family adopted a new puppy, Nadia, and the pup became her motivation to walk daily. Then she started doing things like jumping jacks and jumping rope. Even these small exercises felt difficult at first.
"I struggled a lot," she said. "My whole body hurt and I was out of breath constantly. It was probably a month before I started to feel better and it got easier."
After two months, she dropped 15 pounds and loved the changes she saw.
"That kept me extremely motivated," she said.
While Winchester, who lives in Saratoga Springs, New York, still walks Nadia every day, she also joined a gym, and goes every day except for when it's closed for holidays. She doesn't follow a specific meal plan, she simply eats more healthy foods and less processed foods. But most importantly she listens to her body.
"I know when I need to eat and I know when I need to stop," she said.
In less than two years, she shed 200 pounds. While she feels happy with her accomplishments, she does have excess skin that needs to be surgically removed. Her insurance does not cover the procedure so she started a Go Fund Me page to try to raise money.
"Having all of this extra skin is so frustrating," she said. "I will look in the mirror and see my arm jiggle and I feel like I am being thrown back into being almost 400 pounds."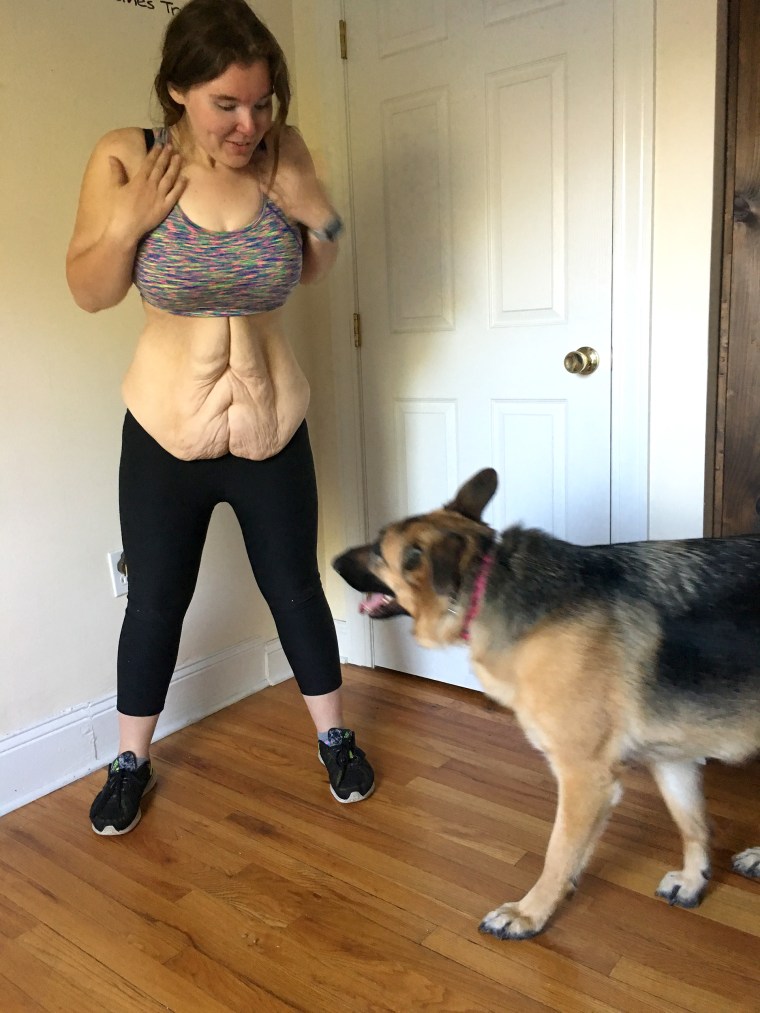 Today, the 19-year-old woman is a sophomore at Russell Sage College, studying exercise physiology, and finally, she feels proud of herself. She also stopped talking to her father, which helps with her confidence, too.
"I have changed so much. I feel like I am a completely different person," she said. "I realized I can do anything."
Here are a few of her tips:
1. It's a struggle.
It took months for Winchester to develop the stamina to perform cardio for a half hour. She'd get winded easily so she'd stop. Then start again. But she kept trying and slowly she built her stamina.
"It's not easy," she said. "You are going to be sweaty and sore and you are going to have to keep fighting."
2. There's no easy fix.
In the past, Winchester tried crash diets only to gain the weight back. When she started her weight-loss journey she modified her diet or exercise routine for what worked best for her body. It required a lot of research and trial and error.
"I slowly tweaked and changed things in my life," she said.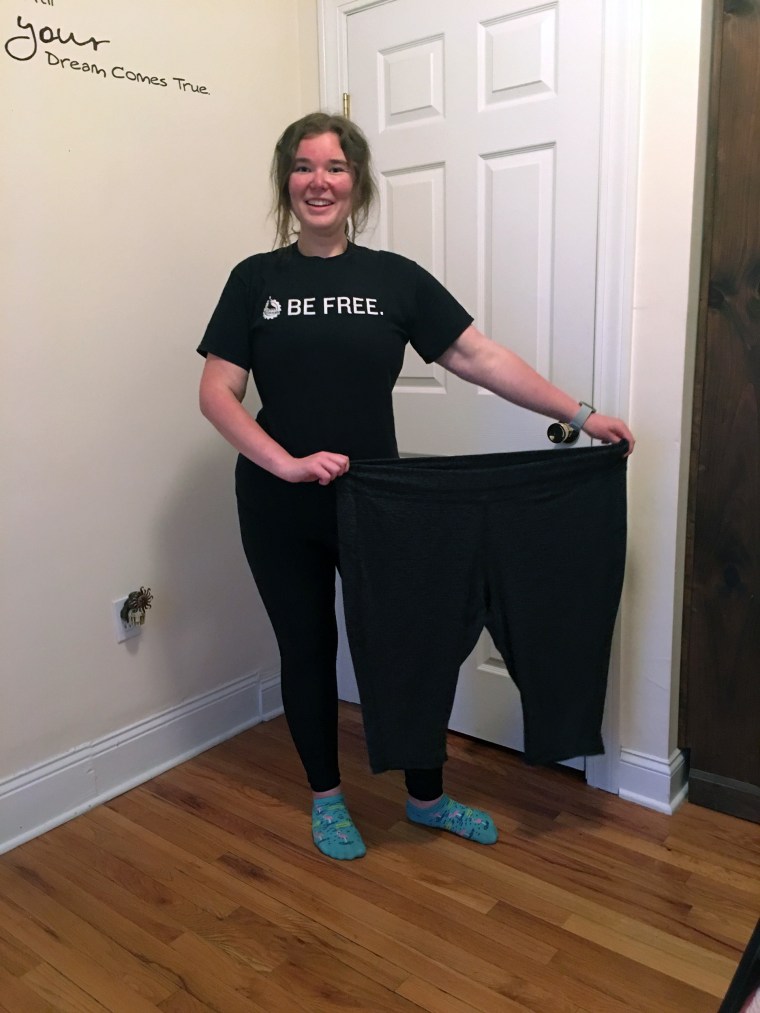 3. "A piece of pizza is not the end of the world."
While Winchester focuses on eating lean protein, vegetables, and fruit, she does sometimes enjoy a burger or a piece of pizza. In the past, she used to beat herself up about a bad meal but now she's kind to herself.
"Everyone makes mistakes or struggles or forgets to do things or doesn't do things right," she said. "I tell myself that I made it this far that a piece of pizza is not the end of the world."
For more inspirational stories, check out our My Weight-Loss Journey page.