If you're worried that your baby will grow up to develop food allergies, there are early signs that can help protect against a potentially dangerous reaction. A recent study concluded that some of the strongest predictors appear as early as baby's first year.
The study, published in the Journal of Allergy and Clinical Immunology, found that 1-year-old babies with sensitivities to various allergens were 16 times as likely as others to develop food allergies by age 3, while those with eczema were nearly five times as likely as others to develop food allergies by that age.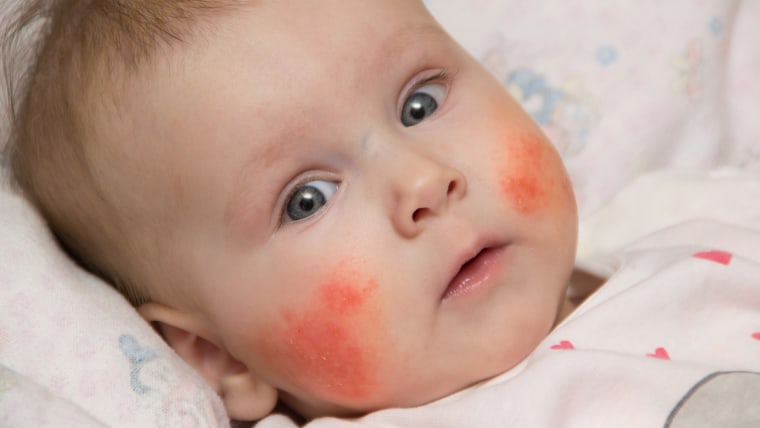 The most stunning finding was that children with both eczema and sensitization by age 1 were nearly 34 times as likely to develop food allergies by age 3 compared to children who had neither risk factor.
That's something Eric Katzman would have liked to have known before giving his 13-month-old daughter a spoonful of peanut butter which caused her to break out in hives . "My wife and I would have done a lot of research online," Katzman said.
The 38-year-old dad from Queens, NY, does remember that there was a period during his daughter's infancy when she had little red bumps on her face and on certain other areas of her body. But he didn't know that those bumps might have been a symptom of eczema — and also a sign that his child might be at risk for food allergies.
No one knows exactly how eczema and allergen sensitivities could produce food allergies, said Maxwell Tran, the lead author of the new study and a medical student at the University of Toronto.
Current recommendations are for parents to introduce babies to as wide a variety of foods as possible, including ones that contain peanuts. But in high risk kids — especially those who have both eczema and sensitivities to allergens — it makes sense to hold off until the child is in the pediatrician's office, said Dr. Ruchi Gupta, director of the Science & Outcomes of Allergy & Asthma Research Program and an associate professor of pediatrics and medicine at Northwestern University's Feinberg School of Medicine.
The benefits of early introduction of peanuts are huge, Gupta said. Researchers have found that it can reduce the risk of food allergies in high risk kids by as much as 80 percent, she added.
Another risk factor is having an older sibling with food allergies.
"It's a slight increase — if you have a sibling with a food allergy your risk of developing one too is 13 percent," Gupta said. "That's compared to 8 percent in the general population."
That might make some parents want to avoid giving their children problematic foods, but that strategy is most likely to backfire, said Dr. Hey Chong, an assistant professor of medicine in the department of allergy and immunology at the Children's Hospital of Pittsburgh at the University of Pittsburgh Medical Center.
In fact, "avoiding foods like peanuts is now considered to be a significant risk factor for developing food allergies," Chong said.