Kerri Walsh Jennings and partner April Ross fought hard for their Olympic bronze medals in beach volleyball on Thursday, a day after a disappointing loss.
How did they do it? Well, teamwork played a big part! But there's a lot more that goes into their hard-earned success. The women spoke with TODAY about the daily rituals that keep them happy, healthy and ready to kick butt.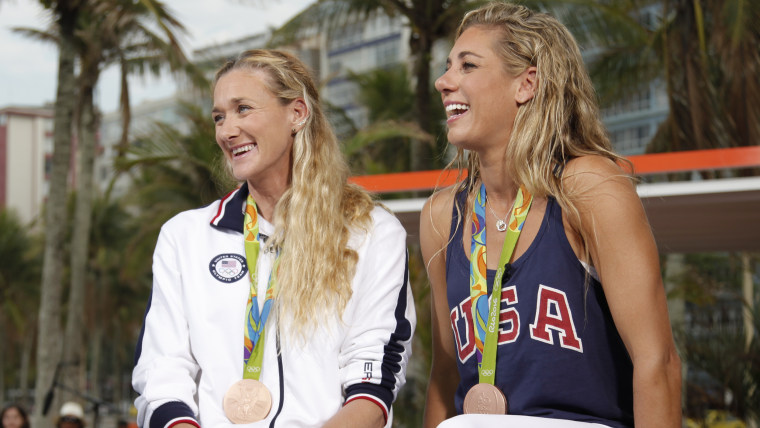 WATCH: Interview with Kerri Walsh Jennings and April Ross on NBCOlympics.com
"Make sure you get enough rest," Ross advised young athletes. "Young kids right now are kind of being pushed to the max. (With) year-round sports, I'd say you have to make sure you have a break sometime in the year, a couple weeks for vacation and relaxing."
As for her eating habits, Ross sticks to a clean diet, "Sugar is so bad for your body. If you drink soda, the sugar causes inflammation. And it's bad for your joints, so, as an athlete, your joints are going to be more inflamed and you're going to be more prone to injury," Ross told TODAY.
RELATED: Kerri Walsh Jennings on beach volleyball bronze: 'No shame' in third place
The easiest diet advice she can offer: "Just try to put whole foods in your body and keep it as natural as possible," she said.
Kerri Walsh Jennings chimed in with her tips as well, "Hydrate, eat healthy, (use) sunscreen every single day, regardless of weather. And then I think a good peptide cream is pretty amazing."
As volleyball players, their office is outside — in the sun, so protecting their skin is a huge priority.
"I played my first two years without a visor or a hat on, and those two years were really hard on my skin," said Ross.
RELATED: Olympian Kerri Walsh Jennings introduces her baby daughter, Scout
Now Ross wears a visor every single day and uses sunscreen with zinc oxide. She also schedules regular appointments with her dermatologist.
"I mean, there's worse things in life than to put sunscreen on," said Walsh Jennings. "It means I'm going to work, which is on the beach, which is pretty wonderful." We couldn't agree more!