Quick, cover your ears, tennis fans. Another scream-filled match is about to start.
If you've been following the U.S. Open in New York this week, it seems like the sport is louder than ever, with star players such as Maria Sharapova and Victoria Azarenka shrieking with every swing of their racquet.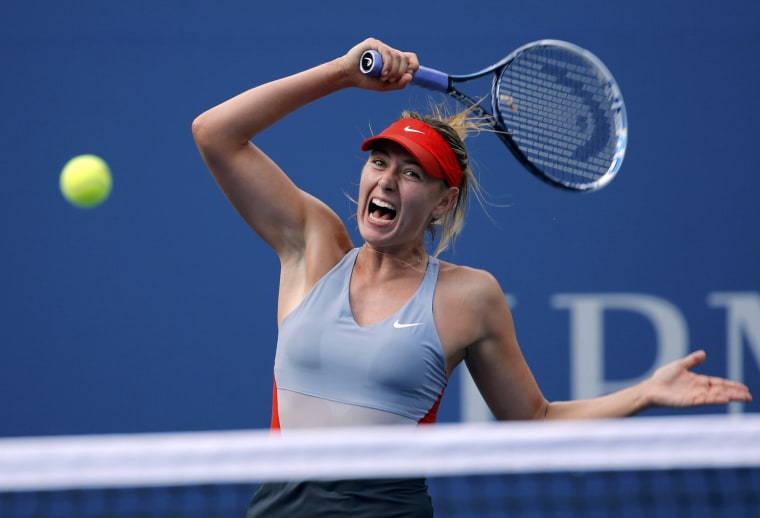 So it may be tempting to ask: What's the deal with all those primal cries on the court?
"There's no question, there's been a significant increase in grunting over the last 5-10 years," said Joel Fish, director of the Center for Sport Psychology in Philadelphia, who has worked with elite tennis players and predicts the volume won't go down any time soon.
"Now that you see more of professional players grunting, it's more likely you're going to see younger players increasingly grunt."
Spectators may fume, but experts say grunting can give the athletes an important physical and psychological edge.
How exactly does it improve performance? Let's start with the physical.
Collegiate tennis players who were told to grunt hit serves and forehand shots 5 miles per hour faster than when they played silently, a new study found. It didn't matter whether they're male or female, whether they had ever grunted before while playing tennis, or whether they even liked grunting during the game, said Dennis O'Connell, the study's lead author.
"We know it's annoying to fans, but it does seem to provide an advantage," noted O'Connell, a professor of physical therapy at Hardin-Simmons University in Abilene, Texas. "It serves the grunter in a beneficial way."

Why that's happening is not clear, but it has something to do with the exhalation process, he added. As people make noise when they're exhaling, their strength seems to increase -- think of a weight lifter going for a heavy barbell. Indeed, when O'Connell monitored the chest and oblique muscles of his subjects, their response was "significantly enhanced" when they grunted.
Grunting can also be the result of proper breathing, which helps stabilize a player's core and generate the most power, said Angus Mugford, director of personal and organizational performance at IMG Academy in Bradenton, Florida.
"They're kind of like a pressure cooker – when the pressure is higher and there's more energy through adrenaline, you'll sometimes hear their grunting get louder and that's partly the player coping with stress as well," Mugford said.
On the mental side, players can use grunting to build themselves up and demonstrate they're giving 100 percent, Fish said.
"For certain athletes, it kind of motivates them to try harder, to reach that point where they're giving so much exertion that they have to do that," Fish said. "At that (pro) level, if you find something that helps you 1 or 2 percent, that's significant."
The loud noises could also affect the player's opponent, distracting him or her and messing with their concentration, Fish said, adding that he does not advocate his clients use grunting for that purpose.
A grunt may delay an opponent's reaction time and cause him to misjudge the direction of the ball, perhaps because the scream masks the sound of the ball hitting the racquet, according to a 2010 study.
Still, Mugford doesn't believe grunting translates into poor sportsmanship.
"I don't think it's used as a deliberate tactic, but I think there may be some tactical benefits to it," Mugford said. 
Men and women appear to grunt equally, though much of the focus has been on the women's game where the shrieks are much higher-pitched, he added. Meanwhile, efforts by tennis authorities to reduce grunting have not had much impact so far.

"Ultimately, people want to see good tennis – that's the most important thing," Mugford said.

Good thing you can always hit that mute button on your TV remote.