As the streets emptied of cars while people remained in quarantine over the last few months, you may have noticed them filling up with something else: bicycles.
Yes, bikes are having a renaissance in 2020, with people buying and riding them at a pace worthy of a sprint to the Tour de France finish line.
Brandee Lepak, president of the National Bicycle Dealers Association, a non-profit organization that represents specialty bike dealers, told TODAY that bikes costing under $1,000 "flew off the shelves" as customers flocked to smaller shops after discovering big-box stores no longer had any bicycles in stock.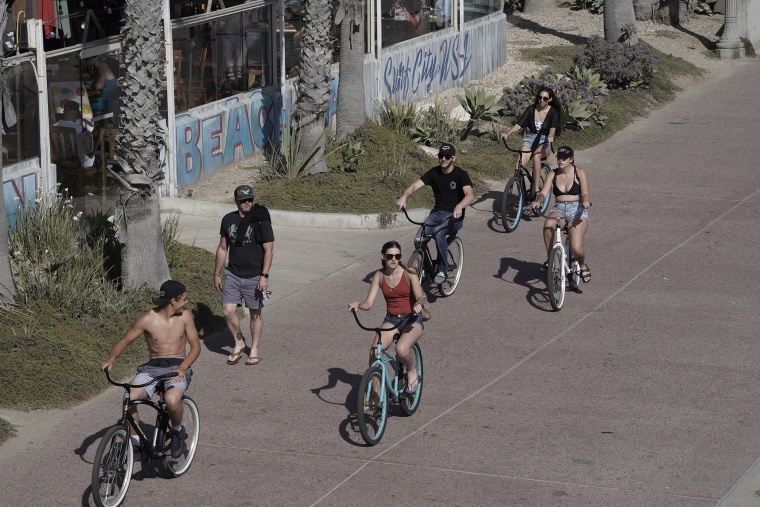 "What we're seeing just from the customers that are coming into our stores, it is the families looking for activities to stay active, especially during quarantine," she said. "It was, 'How can we get out and do things and still keep our kids active and burning off energy?'"
Bike time has indeed become family time for many.
Dave Grammer, who hadn't been on a bicycle for more than 20 years before the quarantine, bought a used bike and got it tuned up so he can ride with the family dog and his older son, 5.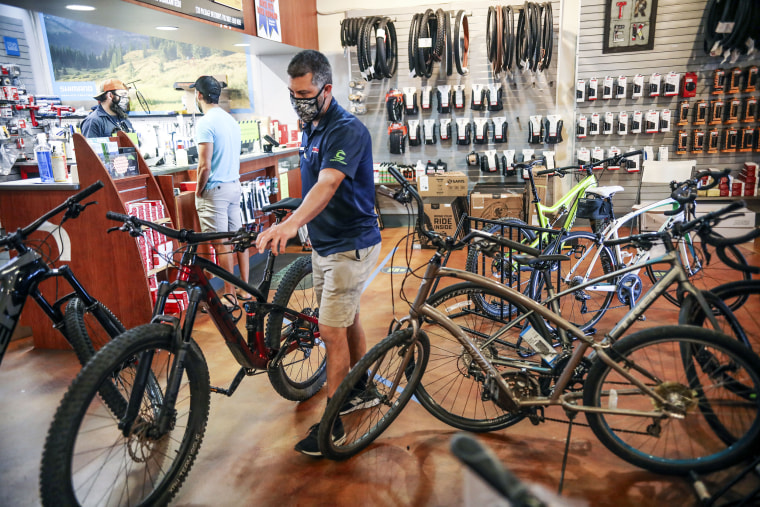 "The overall experience of going on the bike rides together has been really great," Grammer, 39, of Los Angeles, told TODAY. "He and I have been able to spend a lot of quality time in that area where we can really kind of focus on each other."
Grammer, who recently bought a trailer so his 1-year-old son can join him on rides, should consider himself lucky because a boom means bicycles are just plain hard to come by.
"The big problem that we're starting to run into, honestly, is that we're running out of inventory. We're running out of bikes to sell," Lepak said.
There are many potential causes for the bike explosion: The need to work out because gyms had closed, the desire to spend time with family or the decision to commute via bike in order to avoid mass transit are just some of the reasons people have gotten back into cycling.
"I've seen more bike injuries and bike-related issues recently because people are biking everywhere, especially in urban places like New York City, people are doing a lot more biking," Dr. Jordan Metzl, a sports medicine physician at Hospital for Special Surgery in New York City and a self-professed avid biker, told TODAY.
Sales of bikes, helmets and other bicycle accessories were up 75% to $1 billion in April compared to last year, reports NPD, a market research company. It marks the first time sales have crossed the $1 billion threshold in a one-month period. Sales of leisure bikes soared more than 200%, while sales of children's bikes jumped 107%. Heck, even stationary bike sales soared 270%.
That follows a strong March when sales of children's/BMX bikes enjoyed a 56% and leisure bike sales soared 121%.
A bike shortage has created a domino effect where people who want to ride have to get their old bikes fixed.
"It's just absolutely crazy. My day normally would be maybe 10 repairs a day and I wait on customers. I pay bills. I do a little bit of everything. And do the 10 repairs a day, maybe an assembly or two," Steve Willis, owner of The Bike Stand in Scotch Plains, New Jersey, told TODAY. "Now I'm doing 30 to 40 repairs a day and having to go in way hours early."
Willis, who says there is no more inventory, is working 60 or 70 hours a week to keep pace.
"It's physically killing me. My hands are killing me. My back's sore," he says laughing. "I've never had this much stuff going on at one time."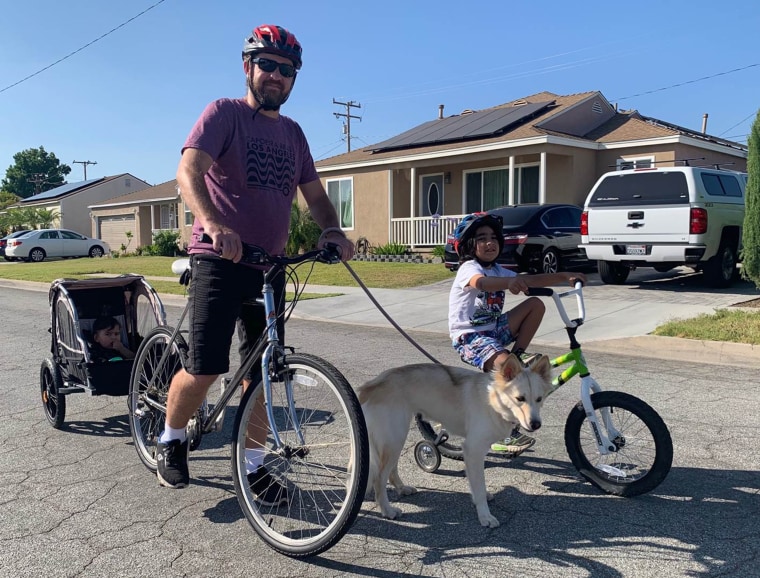 While it may hard to meet the demand for bikes, those who can ride should reap the health benefits regardless of their motivation.
"Bike riding is a great sport for people of all ages," Metzl said.
"The reason biking is so good is because it builds muscle strength, it builds cardiovascular fitness and it doesn't load your joints too much," he added.
Grammer says he goes out about three or four times a week for 30-40 minutes at a clip, although he hopes to boost it to five days a week. The outings have become a sort of welcome relief from what his family is experiencing. It's not just a physical release, but also a mental one.
"On days that we go for bike rides and we're moving, everybody's in a better space, even with all of the pandemic and being stuck at home and the craziness, frustration to come with that," he said. "Getting on a bike and getting outside has definitely made that easier to tolerate for everyone."
Whatever the reason people elected to get back on bikes, it's a pastime that offers many benefits during a tumultuous time.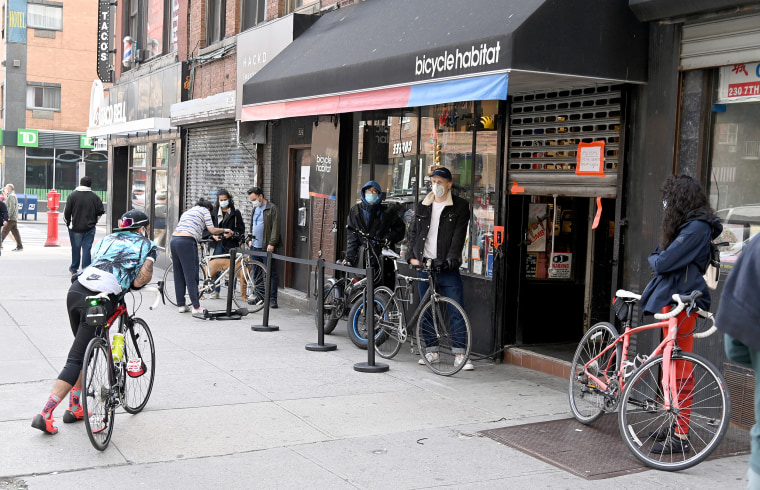 "Fresh air, vitamin D, some sunshine and just to burn off the anxiety," Lepak said. "I think this quarantine caused a lot of anxiety and just getting those endorphins flowing through your body versus just sitting on the couch watching Netflix. They were able to get out and move their bodies, get physical, get some sunshine and I think it really helped people deal with the difficulty of being confined."
Metzl said bike riding also offers a nice alternative to other outdoor activities.
"I think the nice thing about it is you get the feeling of being outside. It's a different feeling than running or walking because you can go further distances. You can see more stuff. It's a bit of different sensation and it's a little bit easier on the body," he said.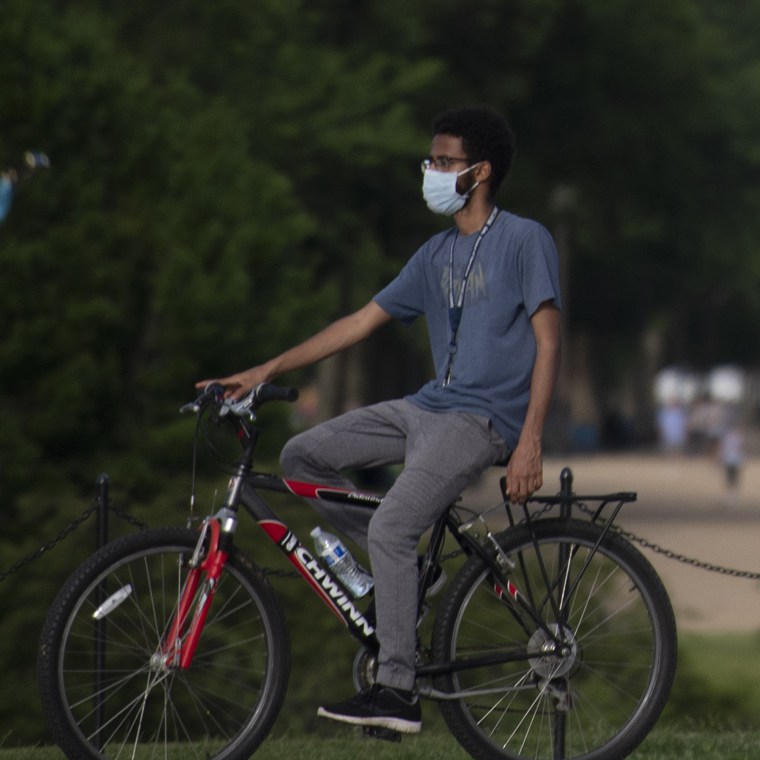 The positive impact cycling has may be clear, but the question still remains: Will cycling stick if and when we return to a so-called "normal?"
"We're excited to get more people on bikes," Lepak said. "We're excited at the increase in business. We are hopeful and bullish that this is going to last."