Author Jo Piazza watched her parents stay in an unhappy marriage for 40 years, so she was determined to make her own union good from the start.
Experts told her the first year of marriage was a crucial "wet cement" period when a couple sets patterns for the relationship down the road. But she was shocked how little guidance there was about that important beginning.
"When we got married, everyone was giving me advice about the wedding, but no one was giving me advice about the actual marriage," Piazza, 36, told TODAY.
"We prepare for the wedding more than we prepare for a life with another human."
So Piazza, a travel journalist based in San Francisco, set out to ask people around the world for marriage advice. She documents her findings in the book, "How To Be Married: What I Learned from Real Women on Five Continents About Surviving My First (Really Hard) Year of Marriage."
Here are six big marriage lessons she learned from her travels:
1. Act like your husband's mistress.
Piazza didn't like this advice when she first heard it from French women because she thought it was anti-feminist. But it's basically a reminder for both spouses to keep putting in the effort into the relationship after they stop dating, she said.
You don't have to wear sexy lingerie if you're not into it, but know what your husband likes and wear that once in a while — it could be as simple as red lipstick or a summer dress. Try to keep some mystery in your marriage. Don't be gross. Be conscious of how you talk to your spouse.
"Think before you start nagging your partner. We're meaner to our spouses than we are to almost anyone else," Piazza said.
2. Travel without your spouse.
Piazza is not advocating spending all your vacation days away from your partner or booking an expensive over water bungalow in the Maldives by yourself. But taking a night or a few nights away to remember what it was like to be on your own is smart, she said.
"It will make you appreciate your spouse more and it makes them appreciate you more … And you both have something new and interesting to bring back to the relationship to talk about," Piazza noted.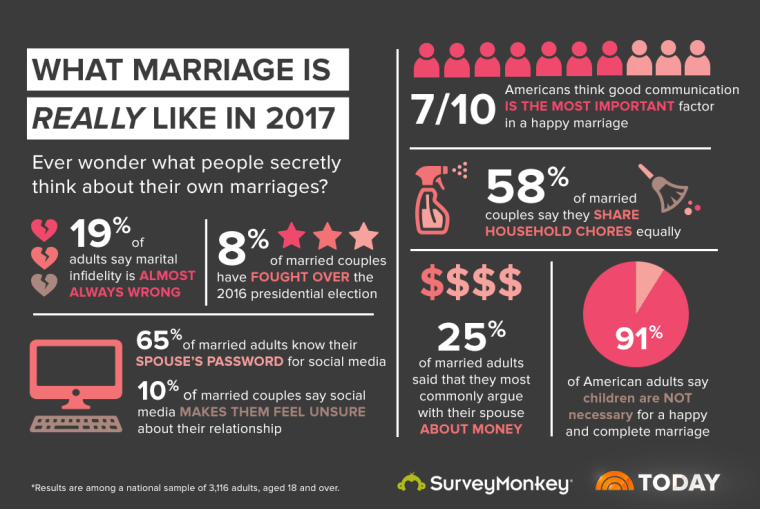 3. Stay your own person.
A very uniquely American thing said at weddings is "Now, you've become one," but people in different cultures told her over and over that's not true, Piazza said.
"It's really important to remain your own person, keep your own friends, keep your independence in ways that are important to you," she noted. "You have to still think about yourself or else you lose yourself in a marriage."
4. Don't expect your spouse to be everything.
The idea of "soulmate" is another American creation, Piazza noted. Women often think their husband will fix all of their problems: "He's going to be your therapist, your workout buddy, your travel partner, your best friend and the best sex of your life."
But those expectations can be damaging because when your partner doesn't live up to them, you can start to resent him. In other countries, people don't expect their spouse to be absolutely everything in their life, she said.
5. A marriage takes a village.
Family members provide a huge safety net for young couples all over the world, Piazza said. Yes, they may meddle, but they can also act like sounding boards if there's tension in your marriage, help with children and offer financial support. Yet, young couples in the U.S. often shun that "village."
"We don't have a robust government safety net, and at the same time, we move far, far away from our families for our jobs … We go off as this little tribe of two against the world," Piazza noted. "We just pay expensive marriage therapists and we only do that once things have gone wrong."
6. Make your house a home.
Create a place where you want to spend time with your spouse, Piazza advised after observing the Danish philosophy of hygge, or coziness.
The idea is to have both of you vested in that space so that you want to come home, be there together and just enjoy each other. It's important to cook together and sit down for a meal at your dinner table, Piazza added.
Her own home is about to get a bit more cozy: Almost two years into her marriage, she's expecting her first child.