In 2012, TODAY met the "six pack," sextuplets (three boys and three girls) born 10 weeks premature on April 23, at Texas Children's Hospital in Houston. This month, those babies — Andrew, Ben, Levi, Allison, Caroline and Leah — will turn 5.
It hasn't been easy for parents Lauren and David Perkins, but with the help of friends and neighbors, and a lot of hard work, Lauren and David have come up with ways to care for all those babies.
"I call it semi-controlled chaos," said Lauren, 33. "We had to get very scheduled and very structured and organized, especially in the first year."
That meant the babies were all fed, dressed, changed and put down at the same time. "Without being that structured, I don't know how we would have made it through," Lauren said.
The regular schedule also made it possible for volunteers — mostly friends and neighbors — to pick times to stop by and help. Even so, Lauren often found herself feeding multiple babies at the same time. "I'd have one in my lap, another in a boppy pillow next to me and another on a boppy pillow down by my feet, with the bottle resting on my foot," Lauren remembers.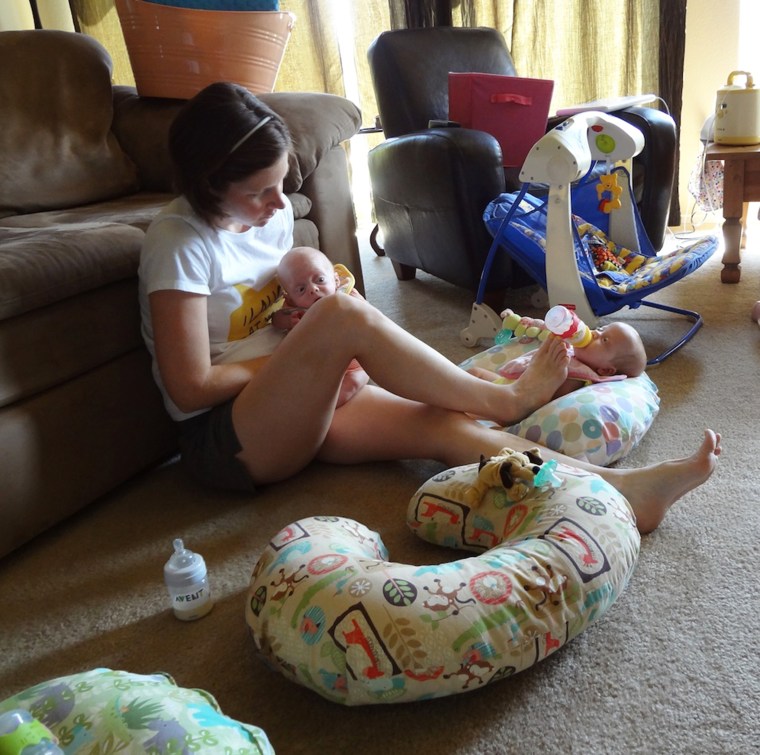 RELATED: 'Blessings two at a time': Mom gives birth to 3 sets of twins in 5-year period
When Lauren was alone and needed to leave the children by themselves for a few minutes, they were placed in a large playpen constructed of baby-gates fastened together.
"It took up most of our living room," Lauren said. "They were always pretty entertained since they had their brothers and sisters in there."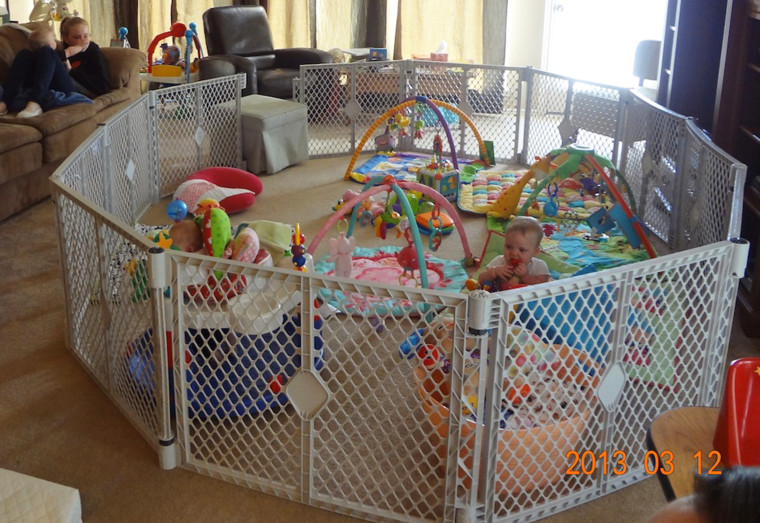 Lauren's original life plan didn't include a big family.
"I was going to have two kids, two to three years apart, preferably a boy and a girl," Perkins said, with a laugh. "I think God was laughing at me, saying, 'You have no idea what's coming your way.'"
When she and David couldn't have a child on their own, they went to an infertility specialist. Lauren was given fertility drugs and doctors inseminated her with David's sperm. After an ultrasound showed six babies growing in Lauren's uterus, the couple was told they could selectively reduce the pregnancy to make it safer for Lauren and the babies. But they all looked so healthy and Lauren wondered, "How do you choose?"
RELATED: Mom of triplets who battled infertility has message about her scars, PPD
All six babies were delivered by cesarean section. Five were able to come home by the time they were 4 months old. Little Leah had to stay in the hospital a few weeks longer because she was the most premature. She may always need to live with her parents.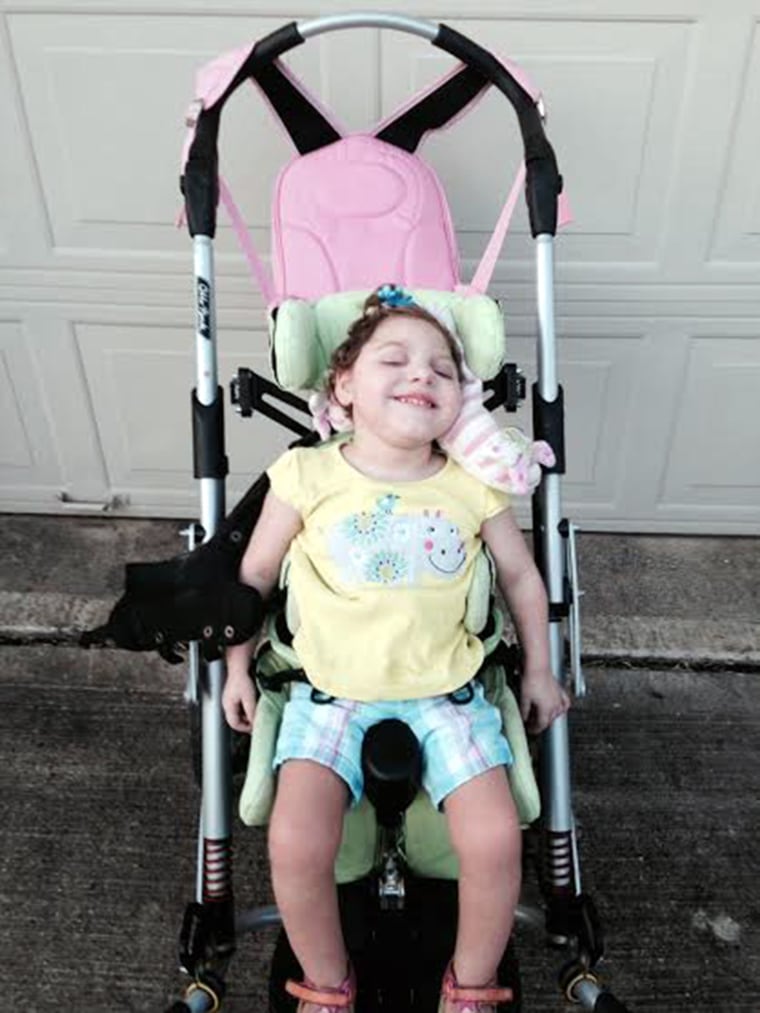 "She was literally buried beneath everyone else [in the uterus]," Lauren said. "So she didn't get the right nutrient flow. Her brain didn't fully develop. On brain scans, there are places where brain matter should be but isn't."
As she approaches 5, Leah doesn't talk or walk yet. "But she can communicate with us," Lauren said. "She goes to public preschool for children with disabilities. She always gives 100 percent and smiles all the time. She brightens everyone's day."
RELATED: 'Surprised by 5': Mom of quintuplets appears in photo shoot
The other five have caught up with kids their age, said the family's pediatrician, Dr. Margarita Jimenez, a physician at Texas Children's Hospital. "We have been closely following their milestones," Jimenez says. "They did require speech therapy, but by age 4 they had caught up."
Jimenez has been impressed with how the kids have turned out. "They're very down to earth," she explained. "Their momma has done a very good job of keeping things completely normal. They go on trips, swim, play soccer, like anyone else. I don't expect them to have any difficulties in life because they are sextuplets."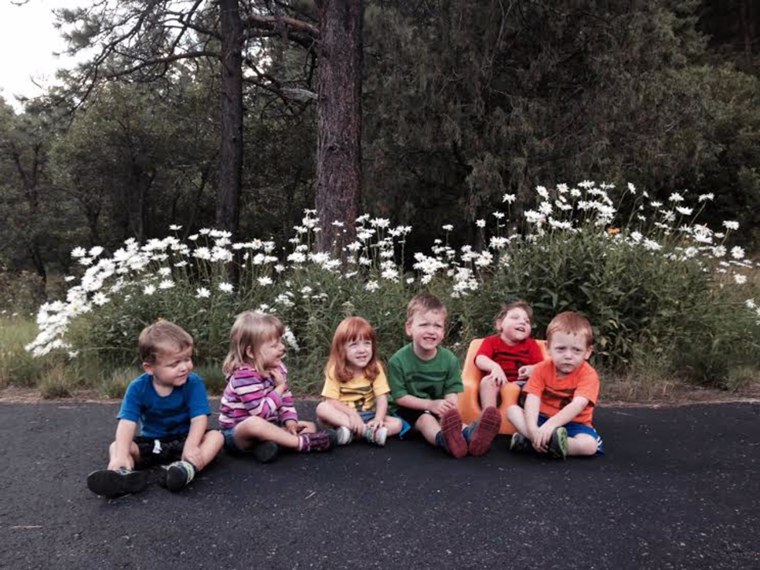 The family does their best to include Leah in all their activities. "She comes along with us to the beach, on our hikes in Colorado, to the pool and parks. She loves going down the slide and riding on those special swings."
And that's one of the reasons Jimenez isn't worried about her.
"She has five siblings who love her to pieces," Jimenez said. "They will always take care of her."
With the six pack approaching school age, the Perkinses are starting to see the light at the end of the tunnel.
"It's all so much easier to deal with now and I think, 'Yeah, we did it!'" Lauren said. "I'm not going to act like every day has been fun, but generally it's been good. And I'm very grateful. I didn't think we'd be able to have one, and we got six. They are all good kids who like to be silly and have a lot of fun."