For years, Michelle lived a double life in picturesque Putnam County, N.Y. A teacher and mother, she was also a heroin addict willing to risk everything for the drug.
"I'm a great mom," Michelle told NBC News. "I'm a teacher. I'm a daughter, a niece. I'm all of these great things and then I am a heroin addict showing up at a Fourth of July party with track marks."
Say the words "heroin addict" and many Americans will conjure up images of a junkie living under an overpass in the poorest part of town.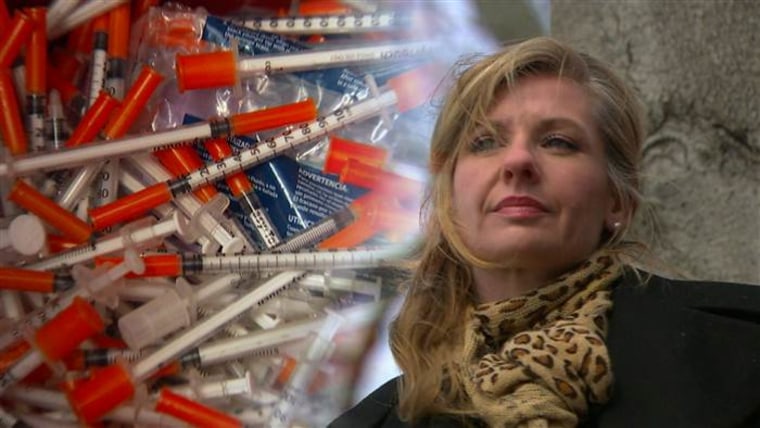 But addiction doesn't discriminate. And in recent years heroin has wound its way into American communities and touched people who wouldn't have considered using it just a decade ago—people like Michelle, a former teacher who almost lost everything to her addiction.
RELATED: America's Heroin Epidemic: Where to Find Help
Michelle, who asked that only her first name be used, was one of the many ensnared by a drug that is so incredibly addictive that it can take just one or two times to get hooked.
She would even show up to teach high on heroin and, worse yet, would shoot up in the teacher's bathroom at her school.
"I was so irrational that I didn't think twice if a teacher would walk in," Michelle said. "That was how irrational my thinking was."
When she was younger, Michelle had turned to alcohol to banish her shyness and ease her psychic pain.
By the time she was in her 20s, Michelle had been introduced to OxyContin, which made her feel even better. "I never felt comfortable in my skin," she said. "And it took that away."
At $50 per pill OxyContin soon became too expensive for the teacher. But then a new boyfriend introduced her to heroin and she was soon hooked.
"I took my first bump from heroin and I threw up, but still loved the way I felt – numb, energized," Michelle said. "The physical part happens very, very quickly. It's not like cocaine or any other drug. It's quick. So, once it comes on it becomes a job to make sure that you have enough to get you through the day."
RELATED: 'I have been reborn': Recovering young addict offers hope to others
Like so many others these days, Michelle's story defies the stereotype of the heroin junkie.
"I came from a good family," she said. "A large family, very tight. A great neighborhood in the suburbs."
In fact, Michelle's family had moved there expressly to get the kids away from dangerous influences.
"We moved up here to Putnam County to get out of the city where the drugs were, and the bad schools and the gangs and things like that," Michelle said.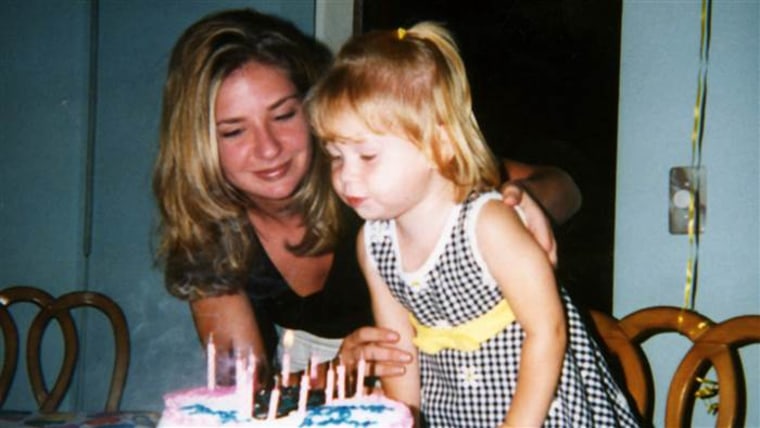 But these days no place is safe from heroin, not the suburbs, not the country, not the most affluent of neighborhoods.
A big part of the problem is the change in attitudes towards the drug, experts say.
"I've seen a huge cultural change with regards to how we view heroin," said Dr. Mark Logan, a primary care physician and addiction specialist from Rutland, Vt. "There just doesn't seem to be that stigma that was there even five years ago, that fear. And I think that's a big part of it. I mean, I'm routinely having patients who when they were 12 or 13 were getting their first exposure to heroin."
RELATED: New help for babies in withdrawal and moms battling addiction
Rutland, like Putnam County, was one of the last places you might expect to find a heroin problem.
"You would think if there was one magical place in the world where this wouldn't be an issue, it might be here," Logan said. But, "it's definitely out there. And I think it's getting worse. We do truly have an epidemic here."
Michelle never envisioned the devastating effects heroin would have on her life. As things spiraled downward, she lost her career and what she most valued: being with her daughter. Her husband took full custody of the little girl in their divorce.
With no job or means to make a living, Michelle saw her daughter in visits supervised by her own mother, who knew she was using. "My mother would knock on the door," Michelle recalled. "She'd look at me and she'd be like disgusted."
Even when she knew her daughter was coming over for a visit, Michelle would still seek comfort in the drug. But the little girl could tell something wasn't right.
"Even at 9 years old, they know that there's something wrong," Michelle said. "And she's afraid. I feel like a terrible mother, but I can't stop because I'm not done. I'm nowhere near done at that point."
Which, to Michelle, meant she hadn't yet hit rock bottom.
RELATED: Which state is the most #sober? Study tracks addiction recovery on Instagram
That finally came when after a third arrest for driving under the influence, she ended up in front of Judge James Reitz, who oversees one of the nation's 2,700 treatment courts.
When Reitz started eight years ago, he never saw heroin addiction. Now, it's nearly 60 percent of his caseload.
Defendants who come before Reitz have the chance to avoid jail time if they agree to a two-year treatment program. If they fail the program, they go to jail.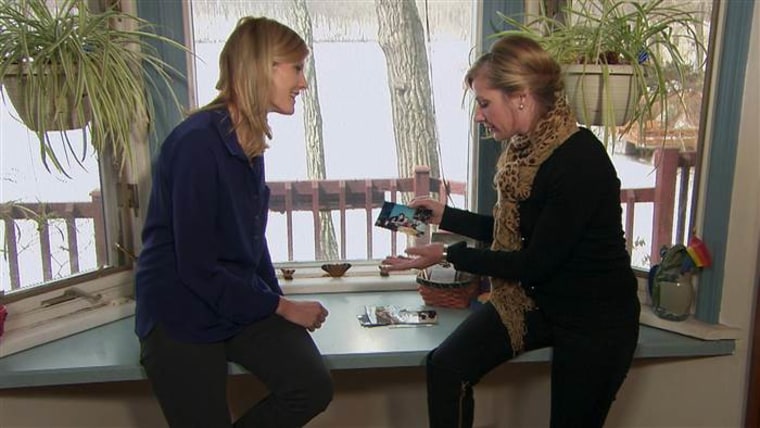 "I've seen old people, lawyers, doctors, teachers," Reitz said. "I've seen veterans come back after protecting us."
For Michelle, it was a chance to try to turn things around.
"Treatment court motivated me to continue to do the right thing," she said.
These days, Michelle is back in the same courtroom. Four years sober, she's part of Judge Reitz's "Drug Court Team." And she's working toward certification to counsel others with addiction.
She's also married again—to a man she met in treatment court.
Though she'll never again be a school teacher, Michelle is still teaching—only now it's addicts who want to get their lives back.
This story was originally part of a series, Hooked: America's Heroin Epidemic, featured on NBC News in 2014.