Newborn Blaine Talbott started teething especially early, when he was just two months old. His mom, Karina, was looking for something gentle and harmless to help ease his distress and when she saw homeopathic teething tablets in the store, she grabbed them.
"It said homeopathic, all natural, you know, organic stuff, and so you think that that's stuff is going to be safe for your child," said Talbott, a full-time homemaker in Colorado Springs.
But soon Blaine was suffering seizures. Neurologists could not explain them, but when she ran out of the homeopathic tablets, the seizures stopped.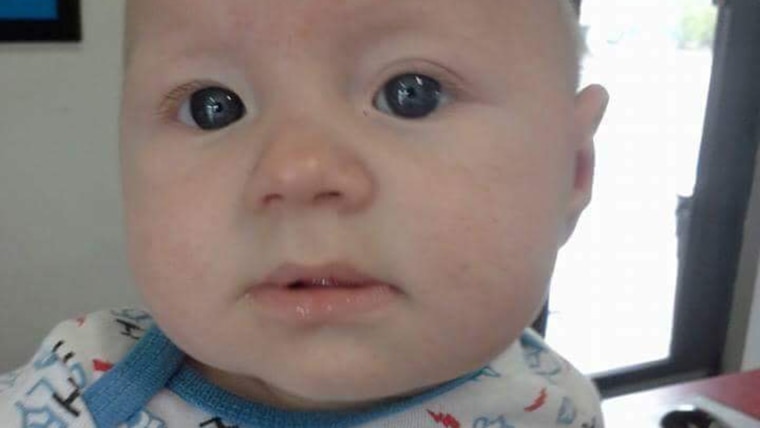 Karina Talbott had been giving her baby Hyland's homeopathic teething tablets, which the Food and Drug Administration has since asked people to stop using. The tablets often contained harmful levels of belladonna, a plant-based poison.
"I was petrified. I mean my child's two months old and you really don't think that something like this is going to happen to your kid."
Now, FDA says it's going to take a tougher approach to the $3 billion-a-year homeopathy market.
While the FDA always could regulate homeopathic products, it has not been generally doing so. Now it will to some degree.
"Today, the U.S. Food and Drug Administration proposed a new, risk-based enforcement approach to drug products labeled as homeopathic," the agency said.
"To protect consumers who choose to use homeopathic products, this proposed new approach would update the FDA's existing policy to better address situations where homeopathic treatments are being marketed for serious diseases and/or conditions but where the products have not been shown to offer clinical benefits," it added.
"It also covers situations where products labeled as homeopathic contain potentially harmful ingredients or do not meet good manufacturing practices."
There's no scientific basis for homeopathy. "There is little evidence to support homeopathy as an effective treatment for any specific condition," the National Center for Complementary and Integrative Health, one of the National Institutes of Health, says in a statement.
"Several key concepts of homeopathy are inconsistent with fundamental concepts of chemistry and physics."
Contaminated products
Homeopathy dates back to the 18th century, when medical science was pretty basic.
"We didn't have much to offer. We had quinine for malaria. We had willow bark, which basically contained aspirin, but not much else," said Dr. Paul Offit, chief of the division of infectious diseases at Children's Hospital of Philadelphia. Offit writes about homeopathy in his book, "Do You Believe in Magic? The Sense and Nonsense of Alternative Medicine."
Homeopathy was meant as an alternative to bleeding and purging patients. The idea is that if a substance is diluted in water, the water will somehow "remember" that the compound was there. This approach was used to make potentially harmful products safe enough to use.
More than 200 years later, there are drugs, vaccines and surgical procedures proven to work safely, yet homeopathy persists.
"At its most benign, homeopathy is basically what it's diluted in, which is water," Offit said. "So the harm is you use the homeopathic product instead of something that can help you."
But sometimes, the products are contaminated — like the Hyland's teething tablets were.
Offit says it's understandable that many people believe in homeopathy. "We want to believe in something that isn't harmful like pharmaceutical products, and here is a nicer, gentler way to relieve your pain, your stress," he said.
"It's fanciful, and we want to believe it. We want to believe that these are just people who care about us. These are just elves and old hippies making their products in a flowery meadow."
The homeopathy industry has fought hard against FDA regulation. Last January, when FDA asked Hyland to warn its customers to throw away any unused bottles of the belladonna-tainted teething tablets, the company resisted but has since relented.
"As you may remember, the company discontinued the manufacture and sale of these same products in October 2016. As part of the recall, consumers should discard any teething products they may have," it now says on its website.
"I am sure the industry will push back," Offit said.
"These are snake oil salesmen who been getting away with it for far too long."
'Little to no benefit'
The FDA said it was planning to rescind a 1988 deal in which it allowed homeopaths to bypass the formal FDA approval process, so long as they followed good manufacturing practice and other guidance.
The agency said it would not go after every homeopathic product at once but would focus on potentially dangerous products first.
"People may be placing their trust and money in therapies that may bring little to no benefit."
"Examples of products that may be subject to the enforcement priorities in the draft guidance are infant and children's products labeled to contain ingredients associated with potentially significant safety concerns, such as belladonna and nuxvomica; and products marketed for serious conditions, such as cancer and heart disease," the agency said.
Nux vomica or nuxvomica is made from the same tree that is the source of strychnine, used to poison rodents and birds. Belladonna is made from the deadly nightshade plant, once used as a sedative.
"Given the concerns about the proliferation of potentially ineffective and harmful products labeled as homeopathic, the FDA will consider taking additional enforcement and/or regulatory actions, consistent with the current enforcement policies, which also align with the risk-based categories described in the draft guidance; in the interest of protecting the public."
FDA Commissioner Dr. Scott Gottlieb said the proposed guidance — which does not carry the force of law — is open for public comment.
"We respect that some individuals want to use alternative treatments, but the FDA has a responsibility to protect the public from products that may not deliver any benefit and have the potential to cause harm," Gottlieb said in a statement.
"In recent years, we've seen a large uptick in products labeled as homeopathic that are being marketed for a wide array of diseases and conditions, from the common cold to cancer," Gottlieb said.
"In many cases, people may be placing their trust and money in therapies that may bring little to no benefit in combating serious ailments, or worse – that may cause significant and even irreparable harm because the products are poorly manufactured, or contain active ingredients that aren't adequately tested or disclosed to patients."
As for Blaine, who is now 4, his seizures stopped, Karina Talbott said. He has some developmental delays but she does not know if they are linked to the belladonna tablets.
She contacted Hyland's. "I sent an email in letting them know what the product was doing. They had emailed me back asking for the lot number, also the bottle. I sent that in to them and never heard anything else."