When I pick up the phone to speak with NBC Today Show co-anchor Hoda Kotb, her greeting is full of energy and warmth that transcends the phone lines and, truth be told, she catches me a little off-guard: "Hi, Honey. How's life?" Wait…aren't I supposed to be the one asking the questions?
But Hoda's greeting — I come to learn — speaks to exactly who she is today: a veteran reporter, accustomed to asking the questions, certainly, but also a woman who is passionate about living life fully and appreciating the connections she makes. "I'm not wasting one more minute," Hoda says of the fresh, hard-won perspective that now defines her life. And though her greeting and her personality radiate a naturalness and a generous ease, there's no question that the story of her transformation over the past year is one fraught with personal challenge. For a woman who has told countless important stories of personal triumph, realizing her own strength has become perhaps the biggest story of her impressive career.
As co-anchor of the Today Show's fourth hour, as a Dateline NBC correspondent, and in her years of television reporting (in New Orleans, Florida, and Mississippi) that led up to her roles at NBC, Hoda has delivered compelling stories on an incredibly wide range of domestic and international topics. Among the stories she has reported have been segments from Iraq and Afghanistan, coverage of the 2004 tsunami, and very personal reporting related to Hurricane Katrina and its aftermath in New Orleans, where she lived for six years. Hoda's work has garnered numerous awards for the four-time Emmy nominee, including the 2008 Alfred I. duPont–Columbia University Award and a Peabody Award.
Ultimately, all of Hoda's experience could not have prepared her for the one story that would truly change her life. In February 2007 she was diagnosed with breast cancer after her gynecologist discovered lumps in her breast during a routine exam. Though she hosts a syndicated show for NBC called Your Total Health, at 43 Hoda had not yet had a mammogram. Now, describing her own lack of screening, her voice reflects her awareness of the irony of the situation: "I just didn't do it," she says. "I wasn't scared of it. I ask people all the time why they haven't gotten checked for various things, and here I was not getting screened." Now, however, with a diagnosis in hand, Hoda was able to use the resources she had as a journalist to make sure she faced her diagnosis head-on and made the right decisions about her care.
'I had a lot of help'She credits her many friends and colleagues with helping her find a truly wonderful medical team. "I had a lot of help at NBC. We have great doctors here." And though she had many recommendations as a result of the input, she says it ultimately came down to personality when she chose her physician. "I must have seen six doctors. After a while, when everyone tells you that you should have the same procedure, it's about a personality. I just found a doctor whom I clicked with." Having chosen a doctor, Hoda says, the treatment decision was fairly straightforward: "I think the good thing was I only really had one choice for treatment (surgery). There was some question about [whether or not I should have] chemotherapy: one doctor said you should have chemo; one said you don't have to have chemo; one said you can't make a mistake either way. I opted not to do chemo because it wasn't in my lymph nodes." In the end Hoda's treatment plan would include a mastectomy and immediate TRAM-flap reconstruction; she also made the decision to follow her surgery with five years of tamoxifen (Nolvadex®).
It was at this point, Hoda says, with the treatment decision made and her surgery planned—when many people expected her to dive into research and continue to read up on her diagnosis—that she shut down. "I checked out," she says of her lack of interest in the research and the investigation that many assumed would be a reporter's instinct when facing a health crisis. "It was way too big. I was also going through marital issues then, and I think when you have two big things going on in tandem, you don't really have the energy to focus on one completely or the other completely, so you don't really focus on either of them too much. It's self-preservation; it's all your body can take, or your mind can take in. In a weird way, God helps you balance it all out. You learn how to preserve yourself." So with her focus firmly on the future, and comfortable with her treatment choice, Hoda underwent surgery.
"The healing from the surgery was hardest," she says. "They said it was going to feel like you've been hit by a Mack truck. Luckily I've never had to experience that, but I can see where they're coming from." Despite the pain, she says, waking from the eight-hour surgery was actually a day that allowed her to feel incredible gratitude for all the people who were supporting her. "I get out of surgery, I'm bleary eyed," Hoda says, describing that day, "and the phone rings in the room and it's Matt [Lauer]. They told me I had a visitor, and Al [Roker's] in the room. Ann [Curry's] on the phone. My room was full of flowers. My brother, my sister, my mom, my friends were there all the time."
Moving on, looking forwardIt took a couple of months, but before long she was up and walking around. In the months following, as her body healed, though she dealt with (and still experiences) night sweats from the tamoxifen, the toughest hurdles to do with treatment were—and continue to be—emotional. Hoda, who does not have kids of her own yet, must consider the toll that her treatment is taking on her ability to carry children. "Probably the hardest part about taking the pills is that they shut down your reproductive system, and I know every night when I take them that I'm contributing to that." Still, she swallows the pills each night, focusing ahead.
Indeed, at the end of each journal entry she wrote throughout her treatment, Hoda would write the word Forward. It was a way, she says, to engage in the future and in the promise of what lay ahead. Because her future, despite the tough road she was treading, was bright, she had more clarity about her path than ever before. "I got a four-word take-away—and every woman who survives breast cancer gets this takeaway," Hoda says. "We get, You can't scare me. You get a bad card, but here's that window that God opens: You can't scare me. And there's nothing better than getting that because small things don't matter as much, because you get rid of the people in your life who are hurting you, because you hold on tight to those who help you; and it's a moment of complete and total focus because for once in your life you get it."
As she recovered and felt increasingly empowered, Hoda was inspired by the consistent support from family and friends. "My sister, Hala, was a lifesaver. She came on the day I was diagnosed and didn't leave." Hoda's brother, Adel, also provided invaluable support, as did her mother, Sami. "My mom was unbelievable," she says, and "I have friends that make me feel like the luckiest person on earth. I really have people who stand by me and were there all the way." There were times, Hoda says, when friends who provided the opportunity to laugh in the face of all the ugliness and the pain allowed her to see through to a new day: "You know, I had people in my life who could just make me crack up when I felt like dying; they just picked me up."
It was also during her recovery that Hoda was able to return to the one place that can always bring her peace, where she was able to again regain her physical strength in walking, and eventually running, as her body healed. "I found a lot of peace in Central Park. I went running every morning up until the day of my surgery, and the minute I could get back in the park, I did—it's like church for me; it's like home."
Personal and professional clarityFor Hoda the period following her recovery was also ultimately a time of personal and professional clarity. "I got divorced. It was crystal clear to me," she says of the resolution of the marital issues that she had been experiencing. On the professional front, she made another leap and put herself in the running for the job of co-anchor of the fourth hour of the Today Show. "I was doing Dateline, and when I was done with surgery I went and [told NBC] and that I wanted to do the fourth hour of Today," Hoda says of the goals that became clear in the aftermath of her diagnosis. "I thought it was like a dream thing, and I wondered if it would ever happen. But I had courage. Who knows if those conversations had to do with anything, but I know that I said my piece, and I felt as comfortable in my own skin as I've ever felt."
Whether Hoda's newly empowered voice came into play with her meetings with NBC executives, she'll never know, but she was awarded the position as co-anchor on the Today Show, beginning her new job in September 2007. Still, at that point she had not gone public with her breast cancer story. "I was nervous initially because it's a really sensitive part of you," she says of her reluctance to share the experience. "Sometimes you feel it's safer if you lock it up inside." But two experiences would change her mind and lead her to share her story on the air during Breast Cancer Awareness Month in October 2007.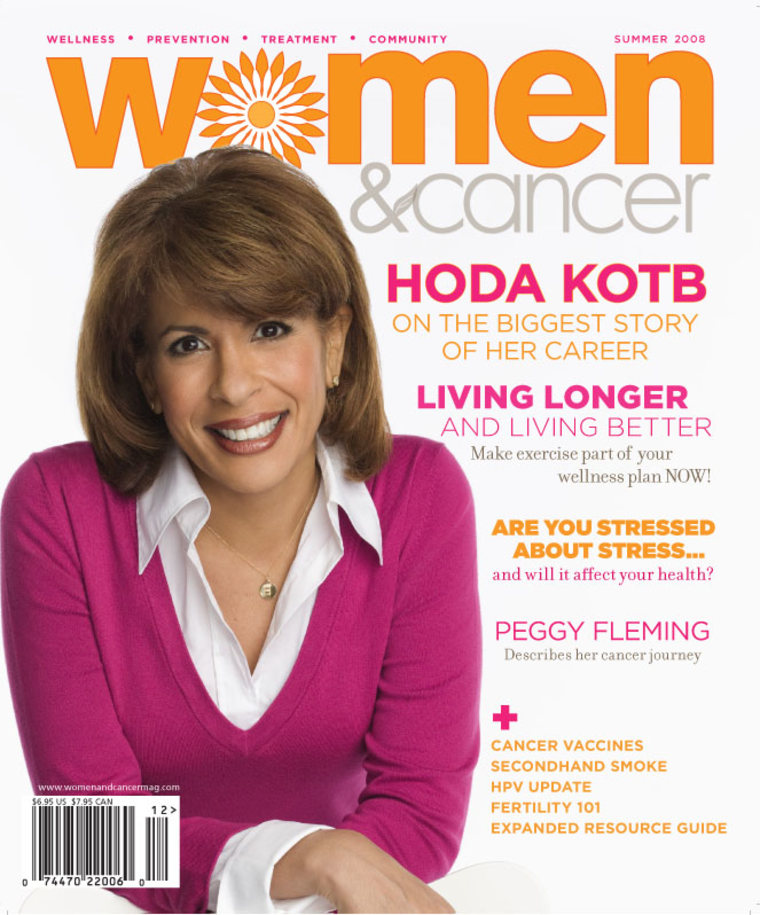 This encounter was magnified by another experience that similarly told Hoda that it was time to open up about her story in a public forum. Trying to cross the street and get into Central Park to go for a walk a couple of months after her surgery, Hoda saw that the street was blocked by a group of people, walking and running. She saw lots of pink but wasn't sure at first what was going on. As she stood on the sidewalk and watched, it became clear—it was a breast cancer walk. "I stood there on the sidelines and started applauding—I was by myself—and I stood there until the last person came by. I had tears coming down my face. They were waving and they were proud and they were doing something. And it was so symbolic for me: I was on the sidelines and they were in the game. And it was time to get in the game." With those two experiences serving as inspiration, Hoda made the decision to go public with her breast cancer story.
In October 2007 Ann Curry interviewed Hoda on the Today Show about her journey. The response to her story, Hoda says, has been unbelievable. The first e-mail post she read in response to the interview was from a 50-year-old woman who said she was going to get her first mammogram as a result of hearing the story. "That makes your heart burst," Hoda says. In the time since, she is continually amazed by the number of people her story seems to have affected and by the bond that exists effortlessly among survivors. "This is an incredible platform to be able to help people. Now I walk down Broadway, and women hug me—and many have been through far worse." And repeatedly, she says, she is humbled by the strength of the women she meets and by the gratitude she feels to be able to make a difference: "My God, no matter what you've been through, someone has been through worse, and it's our responsibility as human beings to help people."
There's no doubt, Hoda says, that she also feels a renewed responsibility as a journalist having now shared her own very personal experience. "When I ask someone to speak to NBC about whatever their personal story is, I think I've always been sensitive but never more sensitive than I am today. Because once someone reveals a part of themselves, you have to handle it so gently; you have to handle it with kid gloves." It was her own experience in overcoming the challenge of cancer, she says, that allowed her to truly appreciate the depth of resilience that many of the people she has interviewed in the past have shown. "I think I've learned a lot over the years from people, and I don't think I realized how much I needed that until 2007. I've met so many people who have overcome incredible odds. I sat across from them and listened to them, and I thought I felt what they were going through, and I thought I'd heard every story of resilience; and then I would hear one more. And I couldn't believe that people could get out of the fetal position when their life was caving in and figure out how to stand up. But I needed all those life lessons to help me." It was those stories of perseverance and triumph, Hoda says, that got her through. "I kept remembering different people whom I'd interviewed, and I thought, If they can do it, I can do it."
Now, as she moves forward, it is that same sense of possibility that Hoda hopes she can pass on to other survivors. "There's nothing I want to do more now than help other women who are going through [breast cancer]. When you've walked in those shoes, to be able to make the path a little smoother is a gift." But it's a path, Hoda knows, that is treacherous at times. "It's overwhelming, and nobody wants to hear, 'It gets better.' But there's a time in our lives for all of us, no matter what's wrong, when we're all in the fetal position, sucking our thumbs—all of us. The question is, What do you do when you're down there?" This defining moment, she says, will make all the difference: "Some people tend to stay down there longer in that position, and some people stand up. Somewhere deep, deep, deep down in that place you can barely touch—that's the place you have to find the strength to stand up." Because if you can raise yourself up, you have an incredible gift awaiting you. "If you survive breast cancer, it could be the best thing that happened to you because suddenly you are empowered; because you have strength now; because you realize that your life has margins — it's to be valued and not wasted."
Not wasting a moment herself these days, when we speak on the phone Hoda has recently returned from delivering a speech to breast cancer survivors. She feels incredibly certain about her own desire to make a difference, and each encounter with her fellow survivors confirms her commitment. "The instant kinship you feel with people who have been through it, it's amazing—the intangible bond." And she's certain, she says, that this is the direction her life was meant to take. "I don't know how many more minutes I would have wasted in my life if it hadn't been for this—maybe a lot more. But instead I feel like I'm on this direct path." In continuing to share her story of survivorship and to nurture the compelling stories she delivers on the air, there's no doubt that Hoda's voice will continue to transform and transcend.