Hoda Kotb is mourning the loss of her friend and cancer-program advocate Jill Brzezinski-Conley, who died Tuesday morning at age 38 following an inspiring battle that she handled with grace and optimism.
Brzezinski-Conley passed away "peacefully" in hospice care beside her husband, Bart, and her mother, Rosemary Duchon, at 8:45 a.m., the Courier Journal reported.
According to that publication, Brzezinski-Conley spent part of her last week discussing faith with journalist Laura Ungar, who stated that Brzezinski-Conley said she no longer feared death. Brzezinski-Conley reportedly told Ungar that it "feels good" knowing she would see God, and added "there will be no pain or anything."
Hours after Brzezinski-Conley's death, Kotb — who also battled breast cancer — expressed her condolences on Twitter with a photo and tribute.
"I will miss my friend @JillsWish --- a brave fighter," wrote Kotb, who concluded her post with the hashtag #heartbroken. Jill's Wish is more than just the social-media handle representing Brzezinski-Conley; it also refers to her and her husband's nonprofit, which awards grants to people with breast-cancer to facilitate their recovery and help their families.
In a quote attributed to Brzezinski-Conley's mother on Brzezinski-Conley's public Facebook page, Duchon recalled how her daughter spent the past six and a half years batting her "illness with grace, determination, humor and generosity." Duchon added, "Our Jillybean will be greatly missed by family and friends as she has touched countless lives. Everyone has been in awe of her beauty both inside and out. As her mother she was my best friend, confidante and love of my life. Her light will continue to shine."
As TODAY documented in 2013, a chance encounter led to Kotb and Brzezinski-Conley's profound friendship.
Introduced to each other at a Cayman Islands gala to raise money and awareness for breast-cancer programs, Kotb was among event attendees to gravitate toward Brzezinski-Conley's optimism. Despite doctors' fears that Brzezinski-Conley had only months left to live, she told gala guests, "I am going to die the happiest woman in the room."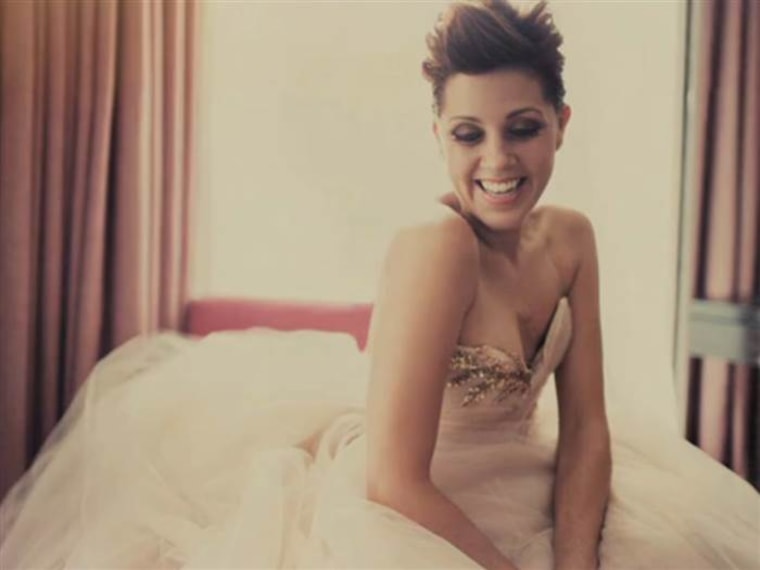 Astonished by her spirit, Kotb considered the chance meeting a "game-changer" and made her a focus of TODAY's #InspiredBy series in 2013. "You know she's ill, and you know her time is limited, but somehow you want nothing more than to be like her," Kotb noted.
At the time that TODAY segment aired, Brzezinski-Conley was 35 — four years into her cancer battle — and continuing to be an inspiration through her words, fashion shoots and poise. "It's so funny: when I look at Jill, all I see is the light from her eyes," Kotb said at the time. "And I wanted to be in her aura, in her circle."
RELATED: Woman with terminal cancer a model of beauty in Paris photo shoot
Kotb's fellow co-anchor, Kathie Lee Gifford, agreed. "She's totally alive," Gifford said after watching the #InspiredBy segment. "And how many of us who go through our days, every day, could say the same?"
Later that year, Brzezinski-Conley stopped by the TODAY studio to bond on the air with Kotb and Gifford.
During the original TODAY segment, Brzezinski-Conley said she revealed her scars to "help so many other people out there because even if you don't have a scar on the outside, you might have one on the inside."
Brzezinski-Conley also kept a journal for her nieces, documenting advice she might give them should she pass away before having the opportunity to do so. "Every time I have a thought in my mind — something I would tell them — I just go and I write in the journal, so whenever they would want to ask me something, they can just open up the journal, and there's my answer,'' she said.
Fighting breast cancer is hard enough, but Brzezinski-Conley's optimism throughout the battle was a significant reason why friends, family and fans gravitated toward her.
"I stay positive because to me it's the word 'life,''' Brzezinski-Conley said in 2013. "I have life today. … You just take every moment, and you cherish it. And don't worry about the stuff that you can't have. Focus on what you do have."
Follow TODAY.com writer Chris Serico on Twitter.