They are three women who fought breast cancer, standing tall and proud to show others facing the disease the strength and beauty they have found in survival.
As part of TODAY's second "Love Your Selfie, Reclaiming Beauty" week, the women, Francine Rispoli, Pamela Casuccio and Madaline McKay, sat down with Hoda Kotb to share their sometimes difficult experiences dealing with the changes to their bodies during treatment.
Kotb, a fellow breast cancer survivor, noted that recent studies have shown that body image issues are among the most common psychological and emotional concerns for breast cancer patients. And sometimes, she said,"a smile, a laugh and a little self-indulgence can go a long way."
To help that come true, TODAY invited the women to a photo shoot with Rush Zimmerman, who created images of the women that were revealed on the show Thursday. The women posed with their hands and arms over their bare chests, and in long dresses as well.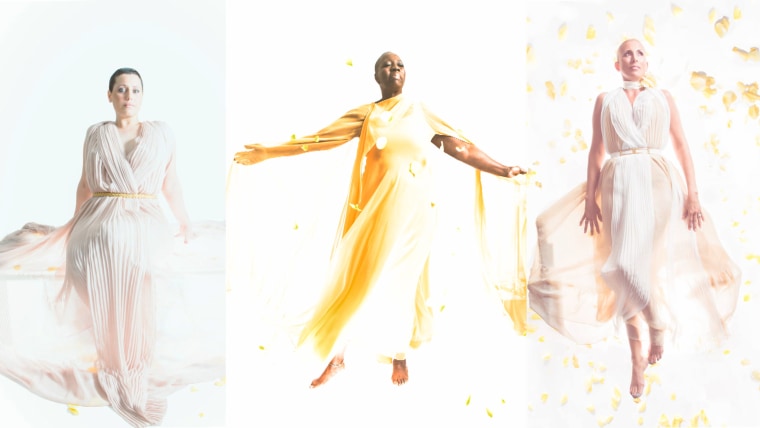 "It's amazing," Rispoli, 29, told Kotb and Savannah Guthrie after seeing a large photo of her displayed behind them. "I didn't think I could look that good."

Casuccio, 49, said that baring herself for the camera was an uncomfortable experience, but she enjoyed being with the fellow cancer survivors.
"I felt very proud, very proud to be with these women," she said. "They were amazing."
She posed, she said, with the goal of reaching women who are staring down the disease to show them they can handle it.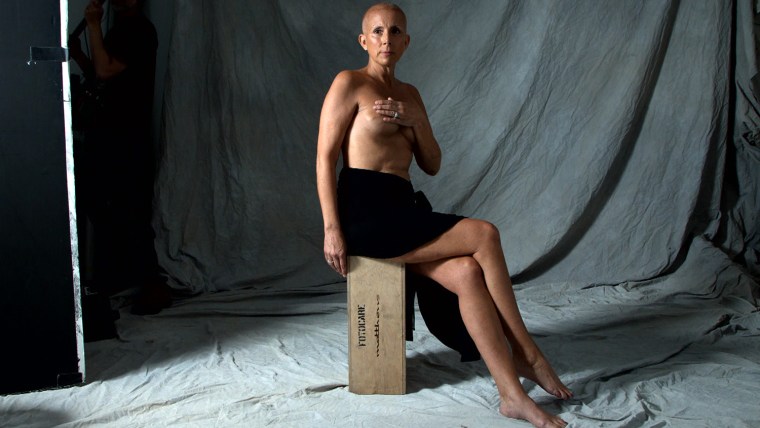 "If I could just reach one woman recently starting her battle, it is doable," she said. "It's not easy, there's not one thing easy about it. It's so doable, and life on the other side is amazing."
Before they saw the photos, the trio earlier told Kotb they hoped the images would convey strength, beauty, and that their lives are far from over.
"I want them to just see how strong I am and how I'm not scared to be who I am even though of what happened to me," Rispoli said. "I'm still me. Because those scars are like battle wounds. And they're good scars because you made it through and you're here to show them."
Casuccio described getting up every day and looking in the mirror.
"You see less and less of yourself," she said. "All you have to do is look deeper and that's what I'm trying to do, look deeper inside myself and find that inner beauty and that inner peace and make peace with myself. And I think I have today."
McKay, 61, said she hopes women see that for her, "it's not the end, it's the beginning."
"I want them to see me as a person, as a person who overcame it and best of all, as a survivor," she said.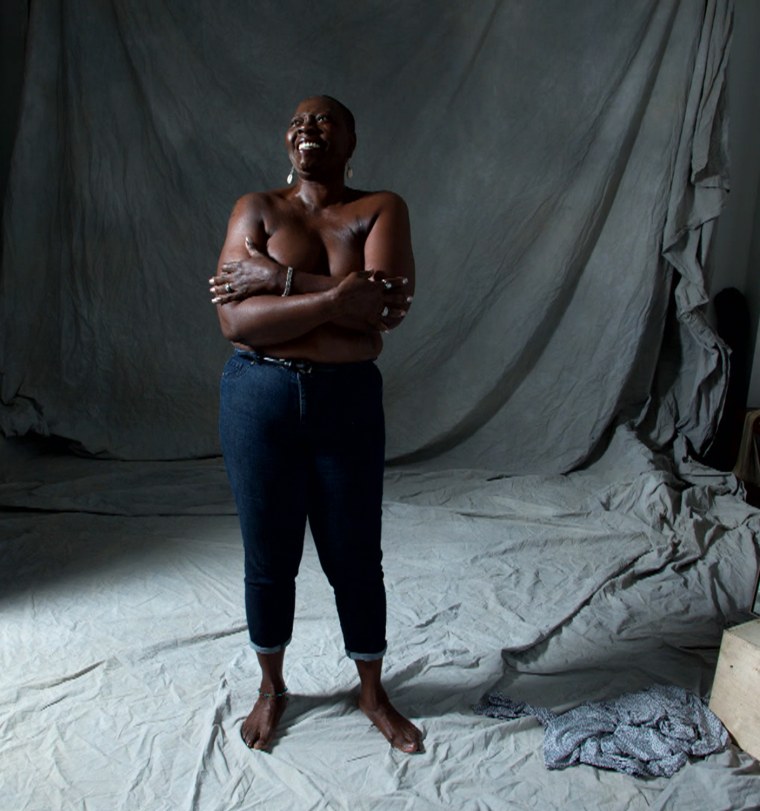 They also shared what they felt when they first saw themselves after treatment.
"You're in shock, it's a loss," said Casuccio, who had both breasts removed. "It's a part of you that is there one day and gone the next. That was difficult. It's terrifying, it really is. You don't look like yourself."
McKay, who had a lumpectomy, said her husband described the signs of surgery on her body as her "battle scars."
"Those scars were my life," she said. "I never felt ugly. I never felt like I need to hide these scars. They're just a part of me."
Rispoli told of freezing her eggs before treatment, with the hope of having children someday.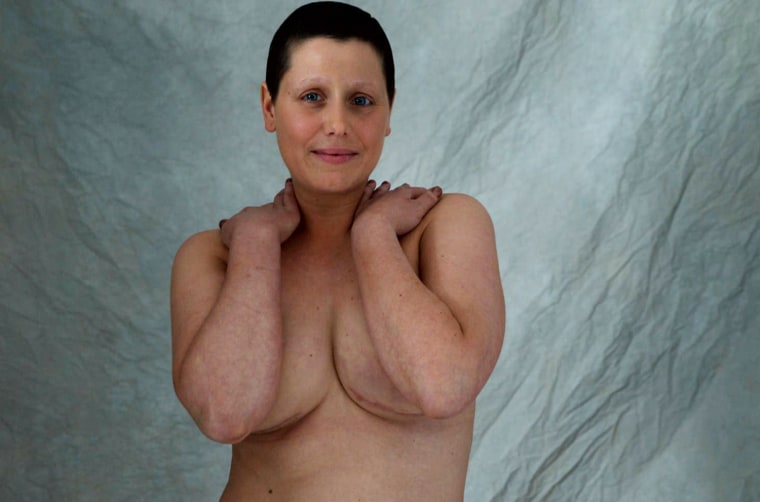 "And then I'd look at myself when I was losing my hair and just everything that happened and it was just terrible," she said, wiping away tears. "It wasn't easy."
Kotb noted that McKay exudes humor and love, and Guthrie asked if Zimmerman captured her outlook.
"Definitely," she said. "What a rush!"
The TODAY photo shoot was presented thanks to: Rush Zimmerman (photographer); Ford Sutpin, Fotocare (lighting); Nico Guilis (make up); Susan Houser (make up); Braydon Nelson, Garren NY (hair); Victoria Leeds (photographer assistant); Victoria Keen and Great Jones Space.
Lisa A. Flam is a news and lifestyles reporter in New York. Follow her on Twitter.