Simply bumping up the incline on your treadmill as you walk might help protect you from diabetes, a new study suggests.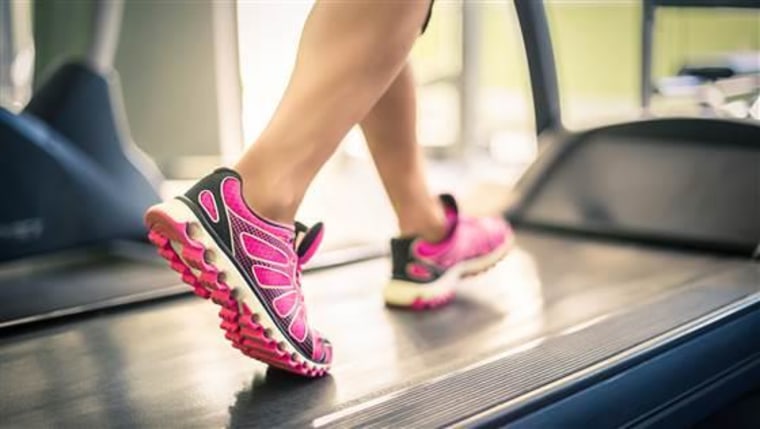 Canadian researchers found improvements in managing blood sugar only occurred with higher intensity workouts, according to the study published in the Annals of Internal Medicine.
"The ability to manage blood sugar is a direct consequence of a couple of things, including the ability of the muscles to take glucose out of the blood and store it for use as fuel," said the study's lead author, Robert Ross, a professor in the school of kinesiology and health studies at Queens University in Ontario. "As we become sedentary, our muscles become sedentary, too, and we can become insulin resistant."
As time goes on, that insulin resistance can turn into full-blown diabetes, Ross said.
The Queens University researchers randomly assigned 217 obese men and women, average age 51, to one of four groups: high amount, high-intensity exercise; high amount, low-intensity exercise; low amount, low-intensity exercise, or no exercise program at all. The study volunteers in exercise programs worked out five days a week for 24 weeks. None were put on a diet.
All the study participants exercised on treadmills. The low amount, low-intensity group exercised as long as it took for women to burn 180 calories and men to burn 300 calories. Both high amount groups were to exercise as long as it took for the women to burn off 360 calories and the men, 600.
While all the exercisers lost weight and dropped belly fat, only the group doing higher intensity workouts had improvements in glucose measurements at the end of the study.
"If you did 40 minutes of brisk walking five times a week, you not only reduced your waist circumference, but you also improved your fitness and your ability to manage blood sugar," Ross said.
What constitutes high intensity? For this study, Ross said, it meant that volunteers were working out at 75 percent of their age adjusted maximum heart rate, which for a 50 year-old would be a heart rate of about 130. One easy way to get to that intensity at the walk is to increase the incline on your treadmill, he said.
For comparison, the low intensity groups were attaining heart rates of about 120, Ross said.
The new study adds to the growing list of benefits from more intense workouts, which also have the benefit of fitting better into busy schedules because they take less time, said Dr. Raza Ahmad, a sports medicine specialist at Penn Medicine.
Other research has shown that you continue to burn calories even after you've finished exercising, if the workout is more intense, Ahmad said.
Linda Carroll is a regular contributor to NBCNews.com and TODAY.com. She is co-author of "The Concussion Crisis: Anatomy of a Silent Epidemic" and the recently published "Duel for the Crown: Affirmed, Alydar, and Racing's Greatest Rivalry"
This article was originally published Mar. 2, 2015 at 5:05 p.m. ET.