Barbie DiMatteo asks only one thing of her daughter Maddie — to fight the virulent bone cancer that may give the bubbly 9 year old only months to live.
The Florida mom also has a desperate plea for others: Help find experts who are familiar with Maddie's disease — multi-centric osteogenic sarcoma, a cancer so rare, doctors might only see one case in a lifetime.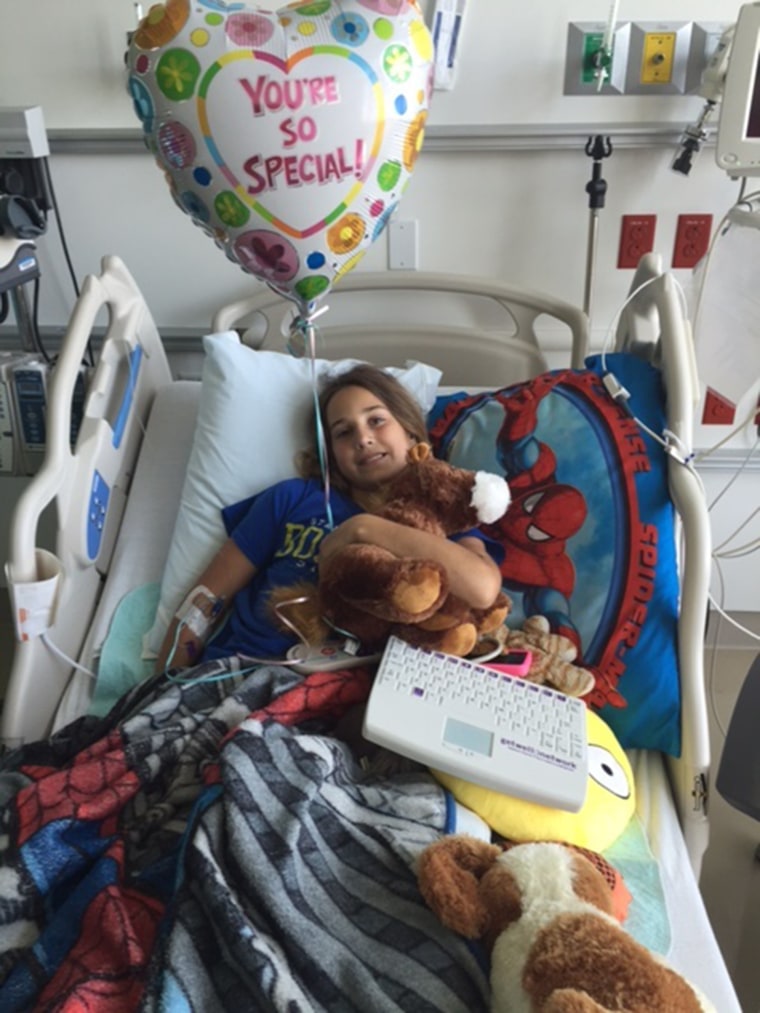 "We are looking for any kind of knowledge, a drug trial or something to give her more life," said DiMatteo, 41, of Port St. Lucie. "I just want to put a smile back on her face."
The prognosis for this type of juvenile cancer, is grim. DiMatteo, who works as a golf course manager, and her husband, Mike Demers, 50, a security system installer, were told the survival rate is "15 months tops."
'We thought they were growing pains'
Up until now, Maddie has been a healthy child, captain of her cheerleading squad. "She never had any issues growing up, other than having her tonsils out at 18 months old," said DiMatteo. "She has been perfect."
But earlier in May, Maddie complained to her parents about knee pain. "We thought they were growing pains," said her mother.
DiMatteo took Maddie to the local emergency room, where they took X-rays and sent her on to an orthopedic specialist. He saw suspicious shading on Maddie's bones and, confounded, rushed her to Nemours Children's Hospital in Orlando.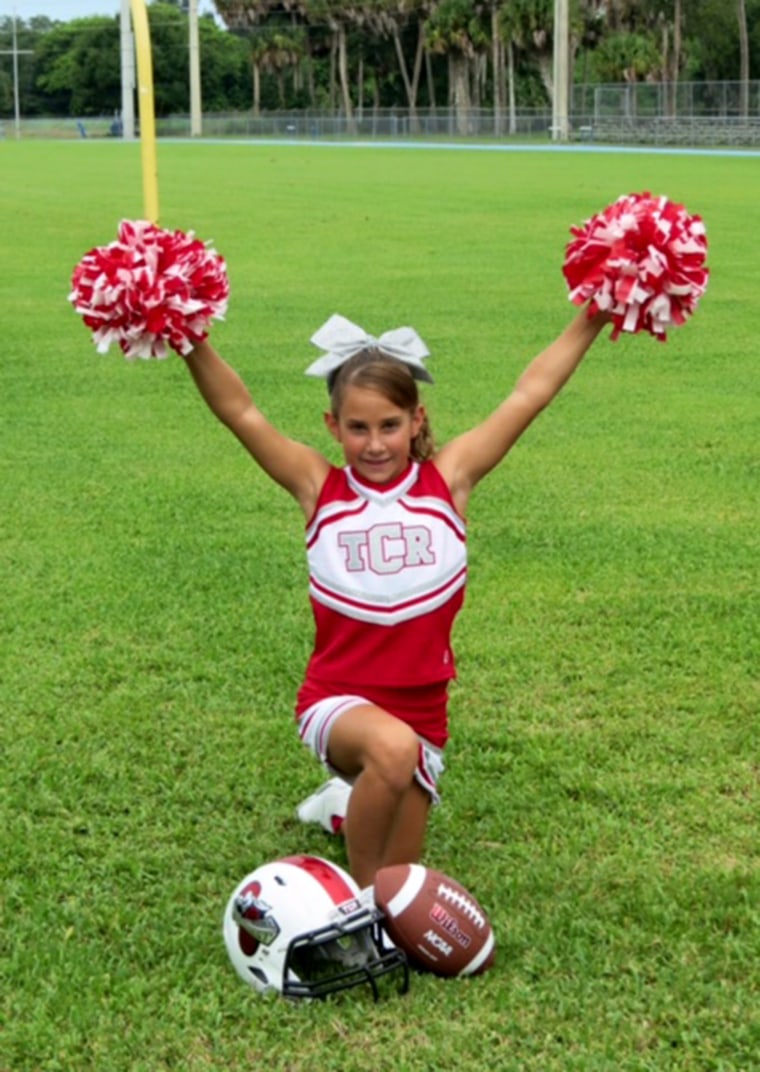 A biopsy revealed multi-centric osteogenic sarcoma, a rare cancer that strikes the growth plates in younger children. The hospital's doctors had only seen one case in more than 30 years.
DiMatteo said she could "barely breathe" when she heard the diagnosis. "It was in every bone in her body, except her skull, even in her lungs."
Exploring treatments
Maddie has begun aggressive chemotherapy, which is used for more common forms of bone cancer, until the family can find new therapies.
But now, pediatric oncologist Dr. Peter Anderson of the Cleveland Clinic, whose subspecialty is osteosarcoma, has joined in the fight and is consulting with the family. Anderson was featured in a 2009 documentary, "The Art of the Possible," working closely with bone patients and their families to help them cope emotionally and to find therapies.
"Dealing with families is as important as any treatment we can give them," Anderson told TODAY. "The way I see it, as long as we are going in the right direction, there is always hope for Maddie."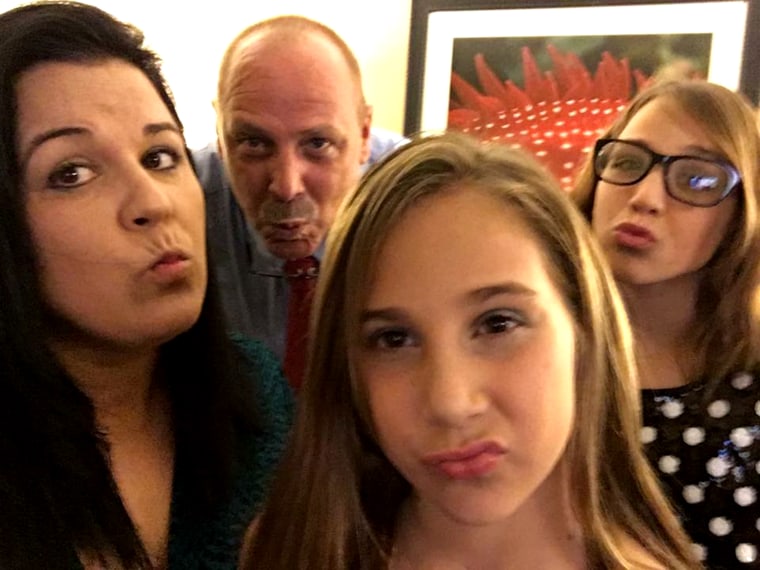 Anderson said Maddie could face three treatment steps: chemotherapy; targeted radiation to active sites of the disease or areas where tumors make bone; and she could possibly have immune therapy, using new drugs or cells to train her own body to attack the tumors.
RELATED: Kids too sick to travel see the world through virtual reality program
"I told Barbie [DiMatteo] getting started with chemo is the right thing to do," he said. And because newer off-label drugs can cost tens of thousands of dollars, "she needs to mobilize her community resources."
Helping the family fight
DiMatteo's brother-in-law started a GoFundMe page for medical expenses and close friends created a Facebook page, "Maddie's Fight," and began selling t-shirts and bracelets.
"We are a middle-class family, paycheck-to-paycheck kind of people," DiMatteo said. "We rent and have been trying to buy a home. We just got there financially, but now that's on hold."
So far, Maddie's parents have been "pretty straightforward" with their daughter about her cancer.
"She needed to know it was serious," said DiMatteo. "I told her, 'You don't have to do anything, just promise me you will fight, that's all we want from you.'"
Maddie has been most upset about the chemotherapy because she had watched an uncle lose his hair during lung cancer treatment.
RELATED: Strangers send hundreds of cards to girl with cancer
So the family, including Maddie's 11-year-old sister Mackenzie, and Maddie's doctors now euphemistically call her chemotherapy "spider juice," because of Maddie's fascination with the comic character Spider-Man.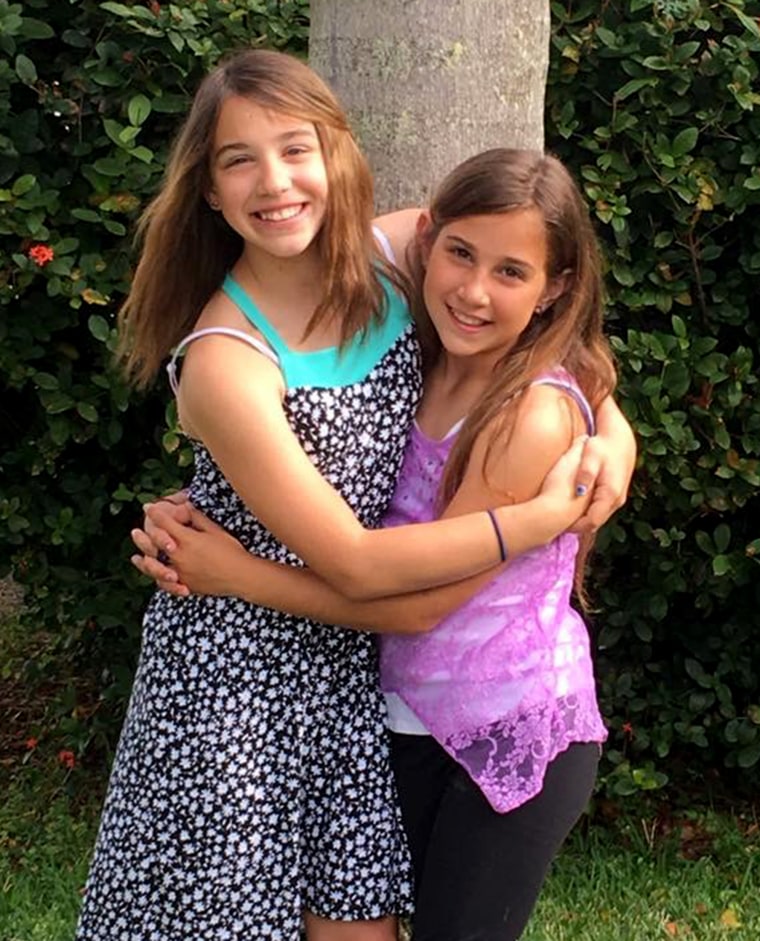 Just this week, Maddie had her hair cut off so a wig can be made using her own locks.
DiMatteo said the hospital has been "amazing and supportive," as has the entire community. "Every teacher at her Baptist school has called or come to visit," she said.
"The fullness of love has been overwhelming," said DiMatteo. "There have been a lot of prayers. But now it's out of my hands. All I can do is keep fighting."