Monkeypox pictures aren't for the faint of heart, but they can help identify monkeypox symptoms as the outbreak of the virus continues to spread around the world.
In the U.S. there are 45 confirmed cases of monkeypox or orthopoxvirus (the virus family that includes monkeypox) in 15 states and the District of Columbia as of Thursday, according to the Centers for Disease Control and Prevention. Globally, there are over 1,300 cases in 31 countries where the virus isn't usually found.
The U.S. states with the most cases of monkeypox are New York California, Florida and Illinois. The first U.S. monkeypox case was detected last month in a Massachusetts man who recently traveled to Canada.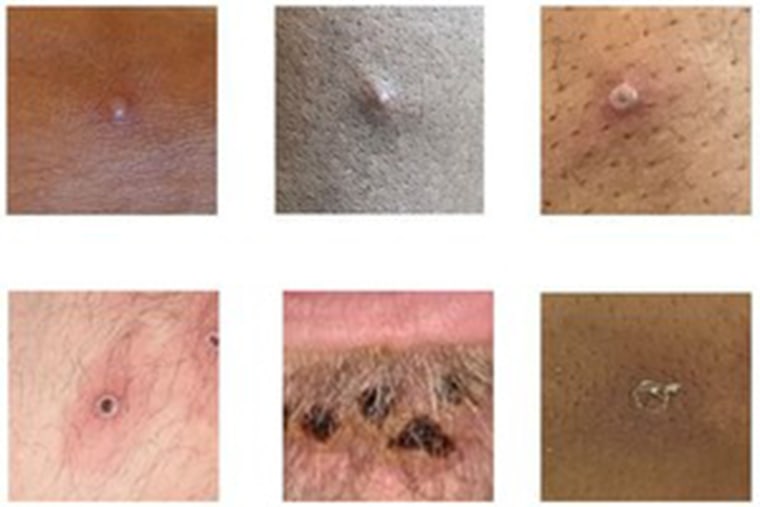 At least 75% of U.S. cases have been associated with international travel, a CDC spokesperson said in a media briefing Friday. Of the remaining cases, some are in people who had close contact with a person with monkeypox, and a few are in people who aren't sure how they were infected, which "might suggest that there is some community transmission happening at levels that are below what's coming to the attention of public health officials," the spokesperson said.
As of Tuesday, the risk to the public is still low, according to the CDC, though the agency raised its travel warning from level one to level two over the weekend, meaning people traveling outside the U.S. should take enhanced precautions — primarily avoiding close contact with sick people, wild animals and materials contaminated by sick people.
All U.S. patients are either recovered or recovering, and no deaths have been reported in this outbreak in the U.S. or other countries.
Monkeypox: Symptoms and transmission
Monkeypox is a rare disease that's usually found in central and west Africa, where it kills as many as 1 in 10 people who contract it, according to the CDC. In the U.S., there are at least two genetically distinct variants of the monkeypox virus circulating, and they both seem to be connected to strains of the virus that've been circulating in Nigeria since 2017, the CDC said. Majority of U.S. cases where the virus has been sequenced have been linked to the variant driving the outbreak in Europe, which is less severe than other monkeypox virus variants.

Monkeypox symptoms are similar to those of smallpox, including fever, headaches, muscle aches, chills exhaustion and rash, but it's much less contagious than smallpox. There is no specific treatment for monkeypox, but the smallpox vaccine, antivirals and other treatments can be used to control an outbreak.
The CDC recently released a statement clarifying how the monkeypox virus spreads. "The virus is not known to linger in the air and is not transmitted during short periods of shared airspace," unlike COVID and measles, the statement explained.
It added that the virus spreads through direct contact with the sores or bodily fluids of someone infected with monkeypox or materials that have come in contact with bodily fluids or sores of an infected person. It may also spread through prolonged, close face-to-face contact through large respiratory droplets, which fall quickly to the ground. Airborne transmission of monkeypox, meaning through aerosols that linger in the air, has not been reported, but droplet transmission has been.
All the cases in the outbreak so far have been associated with direct physical contact either with a contaminated material or infected person, a CDC spokesperson said Friday. In cases where two people had contact, it's difficult to know exactly how the virus was spread because it could've been either due to skin-to-skin contact in a sexual situation or face-to-face contact. Monkeypox can spread during sex, kissing, cuddling, or touching parts of the body with sores, but it's not clear if it spreads through semen or vaginal fluids, according to the CDC.
The virus can also spread from animals to humans through a bite or scratch, by handling wild game or using products made from infected animals.
Monkeypox virus outbreak 2022
The multi-country outbreak, which the World Health Organization has been tracking since May 13, has not yet been linked to any areas where the virus is usually found.
"This is the first time we're seeing cases across many countries at the same time in people who have not traveled to the to the endemic regions in Africa," said Rosamund Lewis, WHO's head smallpox secretariat, in a live Q&A last month when asked why there's so much concern now even though the disease has been around for at least 40 years.
The current outbreak is "not typical," added Andy Seale, adviser to WHO's HIV, hepatitis and sexually transmitted infection programs, referring to the patterns of transmission observed so far. The U.S. cases have primarily, but not exclusively, been identified in men who have sex with men, the CDC has said. He went on to stress that monkeypox is "not a gay disease. ... Anybody can contract monkeypox through close contact."
There are two vaccines being offered to people who've been exposed to monkeypox since the U.S. outbreak began. The CDC maintains a stockpile, but it's not available to the general public.
Monkeypox symptoms: Pictures and timeline
Monkeypox symptoms usually start to appear one to two weeks after exposure, but the incubation period can be as short as five days or as long as 21 days, according to the CDC.
In this outbreak, symptoms have sometimes looked different from "the classical clinical picture for monkeypox," WHO said in a release Saturday. The most common symptoms in this outbreak have included: lesions around the genital and anus, fever, swollen lymph nodes, oral sores and pain when swallowing. In this outbreak, rashes around the anus and genitals have not always spread to other parts of the body, and rashes will often appear before symptoms like fever, both of which are unusual for monkeypox.
A CDC report published last Friday explained that the Massachusetts man's first rash appeared around his anus and genitals. A New York City resident was treated for an oral lesion and rash around the anus initially presumed to be a common sexually transmitted infection.
Prior to this pandemic, monkeypox symptoms usually began with fever, headache, back aches and lethargy lasting one to two days, Lewis said last month. Traditionally, next a rash will appear, which starts as red discoloration in the skin. It usually starts on the face and then progresses to the arms and legs, then hands and feet, and then the rest of the body. This phase also lasts one to two days. Next comes what are referred to as papules, when the rash becomes raised on the skin, instead of flat. This also lasts one to two days.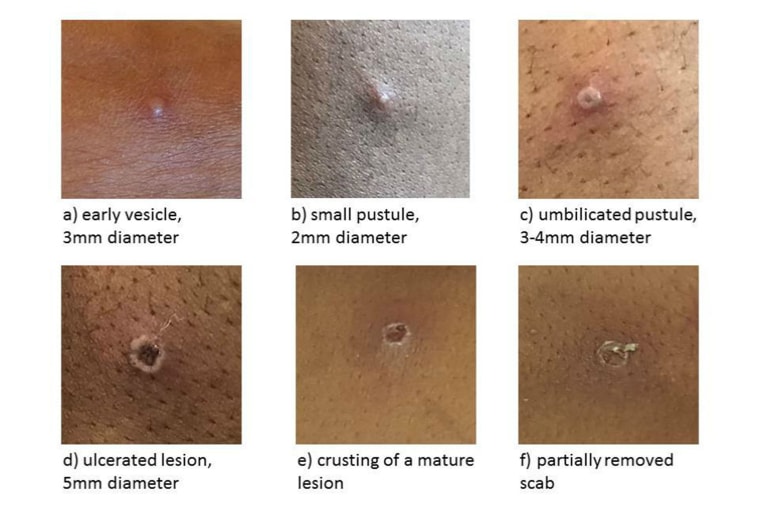 Next is the vesicle phase, or as Lewis called them, "blisters," when lesions are raised and filled with clear fluid, usually starting on the fourth or fifth day of symptoms and lasting another one to two days.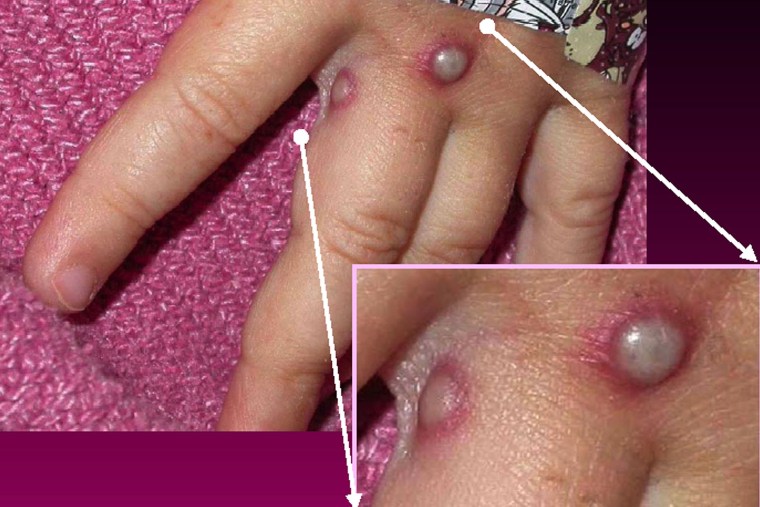 Vesicles are followed by pustules, when the blisters "fill with a whitish fluid that looks like pus," Lewis said, usually around the sixth or seventh day of symptoms. According to the CDC, they're usually "firm to the touch," develop a dent in the center (called an umbilication) and last an additional five to seven days.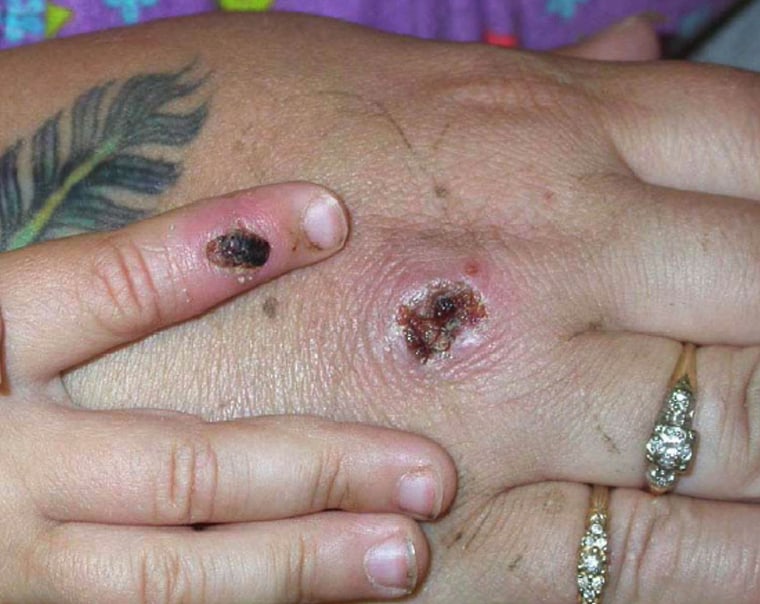 After about two weeks of symptoms, the lesions then start to crust and scab over, and the scabs last for another week before falling off. Scars and skin discoloration may persist after the scabs are gone, but you're no longer contagious after the scabs have all fallen off.
The CDC is in encouraging anyone who develops a new, unexplained rash on any part of the body, regardless of the presence of fever or chills, to seek medical attention immediately and avoid contact with others.
Prior to this month, the most recent monkeypox cases in the U.S. were in July and November of 2021, both associated with travel. Before that, there was an outbreak in 2003, with everyone infected having contracted the disease from animals imported from Ghana.