When Bre Rider saw that JanSport was offering adaptive bags designed for wheelchairs, walkers or other mobility devices, she felt surprisingly emotional about it.
"Accessible items — especially once you're not a child — are extremely hard to find," Rider, 30, of Tampa, Florida, tells TODAY.com. "Just the way the pull tabs are designed, I can sit in my chair and do everything myself without having to ask a friend to help me." After finding accessible bags, Rider posted the news on Facebook. While she felt excited, she also wanted to include the link help her friends easily find them.
"I'm trying not to cry. Jansport has made an entire section on their website to buy bags that are designed for mobility devices," she said in her social media post. "They even have an audio description for the video. Thank you Jansport. Thank you."
Monica Rigali, vice president of global brand at JanSport, tells TODAY.com that company began designing adaptive bags because they realized that people with disabilities needed products that worked with their mobility devices.
"(We) recognized that there was an opportunity to create adaptive bags for an underserved community of users who use mobility aids in their everyday lives," she says via email. "It was clear that we at JanSport needed to provide a product that was inclusive and genuine to our values of being affordable, durable, and inclusive of all consumers."
The company partnered with Disability:IN to create the line of accessible bags.
"We partnered with Disability:IN, the leading organization driving disability inclusion and equality in business worldwide to conduct focus groups with a wide range of mobility aid users," Rigali explains. "We identified several willing participants to test out the new collection. Users expressed that they felt underrepresented and underserved across several industries, which solidified the need for innovative new carry solutions for mobility device users."
Based on positive feedback, Rigali says "our hope is to expand this collection in the near future."
"We are looking to continue to expand this line down the road and from this experience look into our core products to see how we can integrate some of our learnings into those products for the future as well," Rigali says.
Rider felt touched by the company's dedication to providing accessible products in a way that is friendly to blind and low vision people. Friends later told that her they saw strangers sharing the post and she felt a little surprised.
"I had no idea it was going to get that big," she says.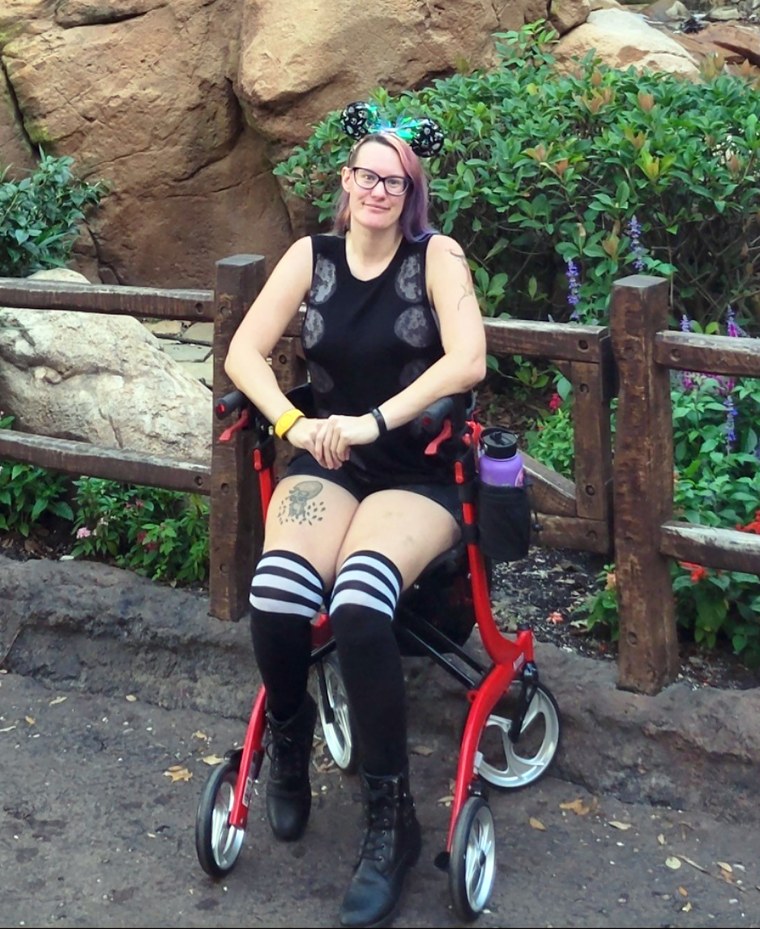 Rider has ADHD, autism and postural orthostatic tachycardia syndrome (POTS), which can cause lightheadedness and fainting with a rapidly beating heart. When people with POTS stand from reclining, their blood flow is dramatically reduced, causing them to feel dizzy or pass out, according to the National Institute of Neurological Disorders and Stroke. While Rider has grappled with POTS for a while, she recently learned it is more severe than she thought and has started using a walker and wheelchair.
"People will sometimes give me looks," she says. "I'm a young woman in her 30s. I look like nothing's going on with me and I have to sit down frequently or use the walker and I get out of breath, and I'm tired a lot when I stand up."
The mobility devices makes life easier for her but using them has highlighted the problems with many backpacks. When adjusting the length of the backpack, the straps can become so long on the bag that they drag on the ground and can get tangled in wheels. She says with these bags that's not an issue.
"It doesn't have the pieces that hang down when you adjust the size," she explains. "That's something a lot of us have to find ways (of dealing with), making it so that you're cutting them off and tying them up. Otherwise, it drags on the ground and then it becomes a tripping hazard if someone's pushing you or someone's behind you."
Already, these bags add to her independence when she uses a mobility device.
"We're just regular people. We want fun stuff, too."
"There's pockets at the top where I can real quick grab something easier than I would with a different backpack, which is great because I prefer being able to do a lot of stuff by myself," Rider says. "I don't want people to take care of me if I don't need them to."
Rider likes that the brand considered all the little details that make a produce accessible for disabled people.
"It's the small things like that that you don't think about because it's not something you see every day," she says. "Not having a lot of accessibility in terms of items, it's like either we don't see it enough to know that this is necessary, or we were taught don't ask people about their disabilities."
Rider hopes more businesses consider disabled people when designing products. Take compression socks, for example. She needs to wear thigh-high compression socks, but they are all beige, white or black and are likely designed with elderly users in mind. Many people want to be able to express their individuality with their mobility aids and medical devices. She hopes more companies offer vibrant fun products that are safe and easy to use. JanSport was selling tie-dyed bags, which quickly became unavailable, she says.
"We need more than just ... black and tie dyed," she says. "We're just regular people. We want fun stuff, too."