Carson Daly is on the mend after undergoing an Anterior Lumbar Interbody Fusion (ALIF) procedure on Tuesday.
On Wednesday, the TODAY co-host, 49, who has suffered decades of back pain after injuring his back in a snowmobile accident in the 1990s, told fans on Instagram that the procedure was a success.
"On Tuesday morning I underwent successful ALIF back surgery. (Anterior Lumbar Interbody Fusion) at L5 S1," he wrote next to throwback pics of him posing with golf great Tiger Woods. (L5 S1 refers to a region in the lower back.)
RELATED: Carson Daly shares new details on decision to get major back surgery: 'Totally deteriorating'
"It's the same operation my SoCal junior golfing buddy @Tigerwoods had in 2017. We're basically the same person," joked Carson, an avid golfer himself.
Carson expressed his gratitude to Dr. Andrew Hecht and his team at Mount Sinai Hospital in New York City "for all the selfless miracles they perform daily for so many in need. I'm very grateful."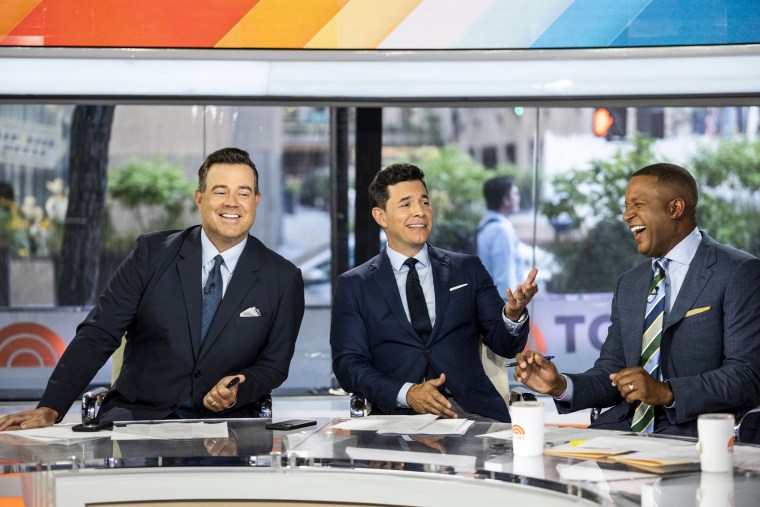 He concluded his post on an upbeat note: "Next up, the road to recovery. Also, like Tiger I plan on winning the Master's in exactly 2 yrs."
"Anterior lumbar interbody fusion (ALIF) is a type of spinal fusion that utilizes an anterior (front — through the abdominal region) approach to fuse (mend) the lumbar spine bones together," according to the University of Southern California Spine Center.
Explaining why he decided to undergo the surgery, Carson told TODAY via email: "I've always believed that surgery would be only a last resort after I exhausted all other forms of pain relief methods and lower back healing techniques. Simply put, after 20 years, I tried literally everything, including the most recent (procedure) I chronicled on the show."
Carson previously underwent a new minimally-invasive, FDA-approved procedure called Intracept to help him deal with the decades of back pain he's experienced. In the procedure, a probe heats up the nerve root in the area that's causing pain in order to prevent the nerve from sending pain signals to the brain.
"(Intracept) is a great option for some, but wasn't the 'home run' I was desperate for," Carson continued. "After meeting Dr. Andrew Hecht, chief of spine surgery for the Mount Sinai Health System, and reviewing my latest imaging and history, I was 1000% confident that his unwavering recommendation of Anterior Lumbar Interbody Fusion ... was without a doubt the right course of action for me."
Carson added that his lower back pain has gotten much worse over the past year to year and a half, seriously limiting his ability to partake in physical activity. For several weeks prior to the surgery, walking was his primary form of exercise.
Much of Carson's back pain was caused by a a T12 compression fracture that he sustained in the snowmobile accident, he shared back in June. Although he was able to remain active for years after the crash, his pain, which comes "from within the vertebrae," has worsened over time, he said.
"The Voice" host, who's married to TODAY Food contributor Siri Daly, said he opted to undergo surgery so he could have a more active life. "And at 49 years old with four young kids raring to go, that's everything," he added.
The bones will take six months to a year to fuse, and his recovery will be at least six to 12 weeks, he said.