Al Roker isn't letting his birthday get in the way of his 30-day walking challenge!
Aug. 20 marks Al's 68th birthday, a moment he celebrated with his wife, Deborah Roberts, on Saturday.
The TODAY weatherman shared a short video on Instagram, filming himself on his daily walk. He chatted to the camera, telling viewers, "I'm out on my birthday walk for day 20 of our #StartToday TODAY Show walking challenge. It happens to also be my birthday."
He eventually moved the camera off of himself and filmed his wife walking towards him in the distance, narrating off camera, "And who do I see walking but Deborah Roberts, the birthday gift that keeps giving."
They both filmed the moment when meeting in the middle before they went their separate ways and Al encouraged them to "keep walking!"
"Anyway, hope you're having a great Saturday," he said, resuming his walk. "Make it your best day where you rest, relax, recharge, take care of yourself. For my birthday, I'm spending it…family's coming up. And I'm walking seven miles, so I'm at five and a half at this point."
In the caption, Al wrote, "And a #supersaturday to you all. Day 20 of our @todayshow #starttoday #30daywalkingchallenge AND it's my #birthday Another #triparoundthesun Happy birthday to all those who share this day as well."
Roberts shared her own post on Instagram marking her husband's birthday. She posted a series of photos in a carousel, beginning with a photo of Al smiling and waving to the camera as he posed behind the wheel of a boat.
The next photo captured the couple sitting at the table along with their three children Courtney, 35, Leila, 23, and Nicholas, 20. In the last frame, there was a birthday cake decorated fittingly for a weatherman with a smiling sun drawn in black icing.
"Saturday sentiments. Spent the morning reflecting on this guy," Roberts wrote in the caption. "@alroker it's such a joy basking in your glow. Experiencing your generosity. Watching you grow. As a man, a dad and a beautiful human being. Wishing you the happiest #birthday ! Now , you bask and enjoy! #family."
She also posted a series of stories documenting her own walk, including the moment Al shared in his video where they crossed paths.
"Good morning, happy Saturday. How are you doing?" she said to the camera as she walked down the street before she met up with her husband on his #StartTODAY challenge walk. "Hope you have more energy than I have, but I'm gonna find some because I have to. It's Al Roker's birthday. Happy birthday!…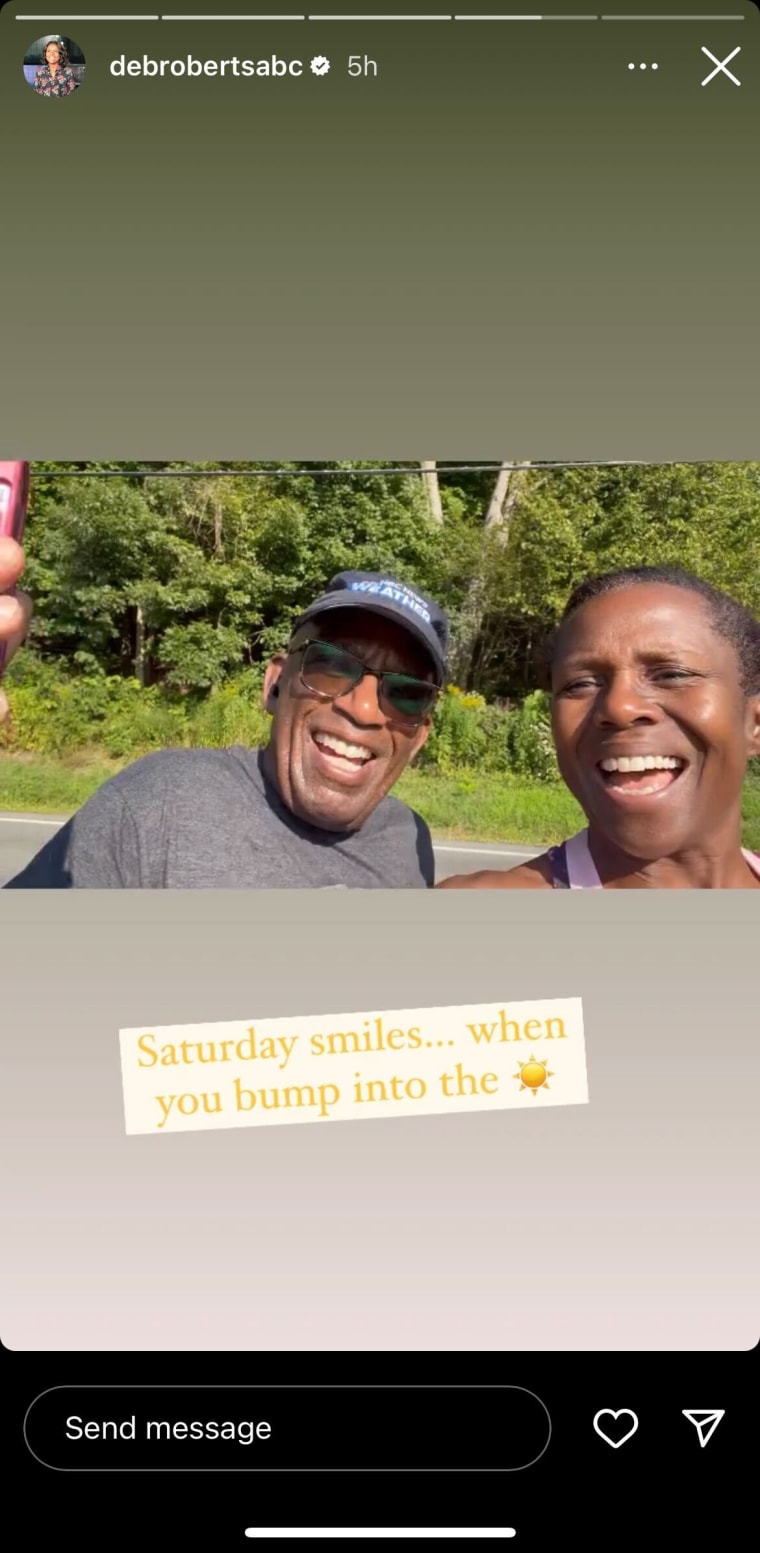 After the two continued their walks in opposite directions, Roberts continued her video, adding, "He's just so energetic, isn't he? Hope you have a great day and rah-rah, happy birthday, Al!"