When Mia Skaats was only 10 days old, she began breathing rapidly, and her mom, Nicole Skaats, immediately knew something was wrong. Doctors eventually determined the newborn had cardiomyopathy, a condition where the heart struggles to bump blood to the rest of the body, and she was in heart failure.
Mia needed a heart transplant, so when one became available, the Skaats family felt overjoyed their daughter, born in September 2022, would have a new chance at life. They also were given the unique opportunity to help another family with a very sick infant by donating part of Mia's original heart. When doctors asked if they'd help, they immediately agreed.
"There was no hesitation at all," Nicole Skaats said in an Aug. 8 segment on TODAY. "We had waited so long for that gift, so to be able to give to somebody … that made the moment that much more special."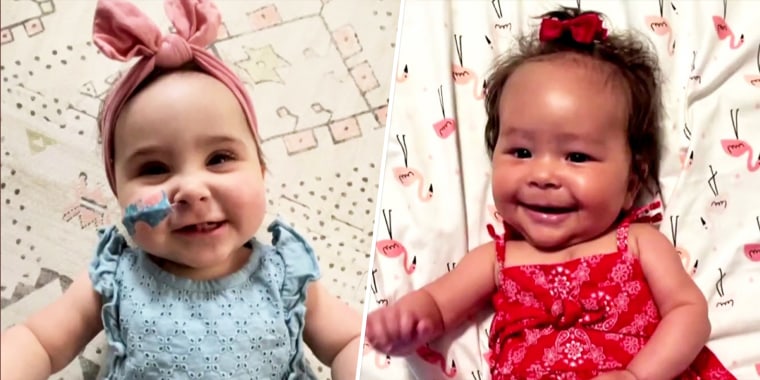 On May 10, 2023, Baby Mia received a new heart in a domino transplant procedure, the first one performed in babies. A domino transplant surgery occurs when a one person is both a donor for a transplant and a recipient of another organ.
Mia donated a heart valve to baby Brooklyn Civil, born in March 2023 with one heart valve, not two, and needed a partial transplant.
"At first, we were kind of overwhelmed," Samantha Civil, Brooklyn's mom, told TODAY. "(But) once we talked to her cardiologist and her ... surgeon, we had so much trust in them, and we knew ... this is the right thing to do."
Two babies with heart troubles
The Civils felt overjoyed to learn they were having a baby. Samantha and Andre Civil were living in Roosevelt, New Jersey, where he worked as a police officer and she as a teacher. During an anatomy scan before their baby was born, though, they learned that her heart was missing a valve.
"It was very hard," Samantha Civil said. "You just don't imagine that when you find out you're pregnant."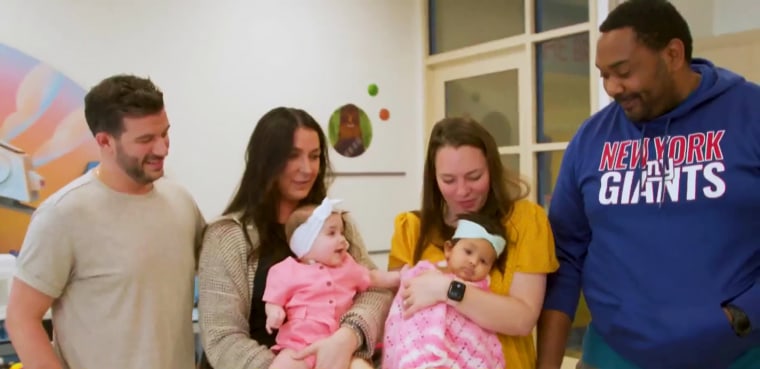 After Brooklyn was born, the Civils learned she'd need a partial heart transplant — where she'd receive a healthy valve to replace the missing one — in order to live.
"It was terrifying," Andre Civil told TODAY. "They gave us a lot of information that we didn't quite understand."
Around the same time in Massapequa, New York, Nicole and James Skaats were enjoying life with newborn Mia. Then, one day, Nicole Skaats noticed Mia struggling to breathe.
"She did this fast breathing. I saw it and I couldn't unsee it," Nicole Skaats said. "I was talking to doctor after doctor — cardiologist, emergency department, and everyone kept telling me she was fine."
But Nicole Skaats, a nurse, knew her daughter was not fine and kept pushing for answers. Finally, she learned what was wrong with Mia: She had cardiomyopathy and was in heart failure. To survive, she would need a heart transplant.
"The wait is the toughest part," Nicole Skaats recalled.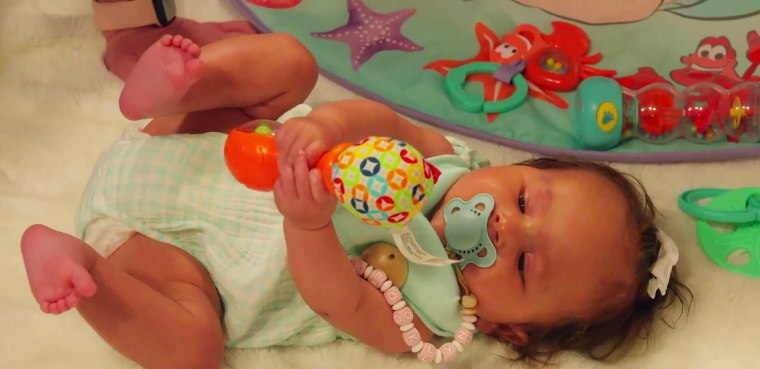 Both the Skaatses and Civils took their daughters to New York Presbyterian Morgan Stanley Children's Hospital in New York City. Still, waiting for a heart that matched Mia took seven months. When the call came, the doctors and Skaatses sprung into action.
"The timing was actually very serendipitous," Dr. Andrew Goldstone, a pediatric and congenital cardiac surgeon at New York Presbyterian Morgan Stanley Children's Hospital, told TODAY. "I received a donor offer for Mia that was about 2 in the morning."
Nicole Skaats immediately woke her husband.
"I was sleeping, and Nicole grabbed me. She's like, 'James, James ... we found a donor, and we think it's a very good match for Mia,'" James Skaats recalled to TODAY.
As Goldstone was reviewing Brooklyn's case, he realized something: Mia's valves worked perfectly and could help Brooklyn.
"I said, 'Well, I'm doing a heart transplant tonight. … Maybe we should do this as a domino," he said.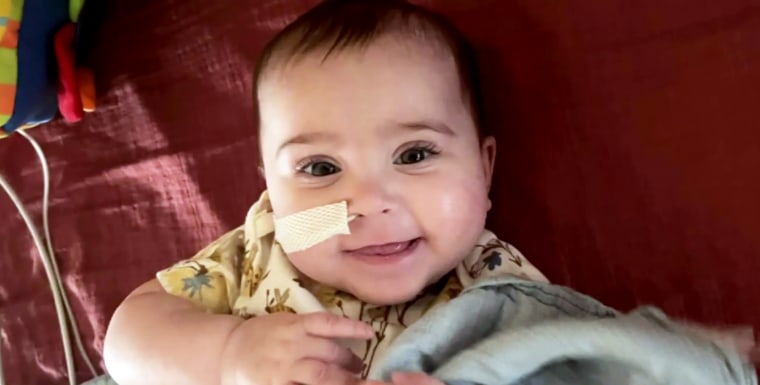 Doctors had never performed a heart domino transplant surgery in babies before, so Mia and Brooklyn are a first. After a nine-hour surgery, both families received good news.
"The moment they told us that the heart was implanted in her and was working — well, I don't think there's really anything that can describe it," Nicole Skaats said.
The Civils feel grateful to the Skaatses for their generous donation.
"Words can't explain how much we appreciate you," Andre Civil said.
Samantha Civil agreed: "They got such incredible news, and they were able to think of somebody else in that moment."
Now, their girls will always share a connection.
"One of the nurses said that Brooklyn will always have a piece of Mia's heart," Nicole Skaats said. "They'll always be bonded."