If ever you find yourself wanting to hurl a hatchet at your boss or loving spouse then listen up because this trendy workout is definitely for you!
Since opening in 2016, visits to Stumpy's Hatchet House have nearly tripled, and I can't say I was surprised after trying it out.
Whether you're looking to relieve some stress, or spend a casual night out with friends, hatchet throwing is the perfect activity for a party of any size.
But don't think for a second you just waltz right in and throw hatchets! Participants go through an hour of training before they're left to master the technique on their own.
"It's kind of like darts on steroids," Stu Josberger, a managing partner of Stumpy's, told TODAY.
In some ways, though, it was a little strange at first.
It felt a bit unnatural to forcefully launch a sharp object at the target board. And I'm not the most coordinated ... So that was an extra concern lurking in the back of my mind.
RELATED: Working out in a museum? I tried the latest fitness craze — here's what happened
The motion was in my legs and shoulders. I was doing what sort of seemed like a lunge, while using both hands overhead to propel the hatchet — not the way I'm used to throwing things!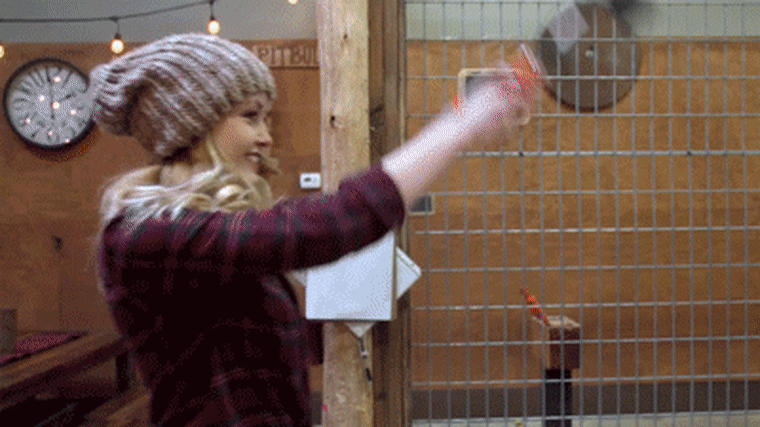 "It gives people the opportunity to get back to a kind of primitive thing and do a physical exercise where you're hurling a metal object at a target. I think all those aspects make it exciting," noted Josberger.
However, it took more than just a flick of the wrist to get that hatchet to actually land on the board. According to Josberger, that motion is common among beginners, as they're most used to throwing a ball or Frisbee.
But there is one trick he taught me: Don't force the throw.
"You have to just do what feels natural. The hatchet will tumble all by itself. It's really just the matter of letting go of the hatchet right at the bull's-eye and let it kind of do the work," he said.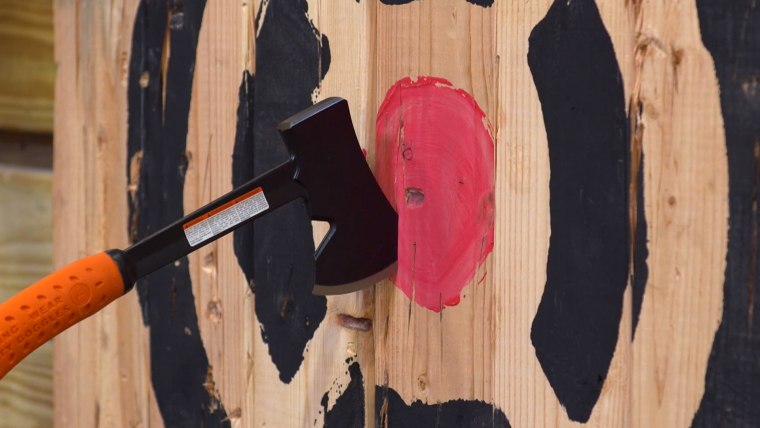 Stumpy's, which is a family-owned business, was the first hatchet house to open in the U.S.
For the Josbergers, hatchet throwing started as a backyard activity, and eventually grew into the business that it is today.
RELATED: See the new fitness craze, 'crunning,' that has the Internet buzzing
And it has proved to be pretty popular! Right now they're booked out eight weeks in advance.
As far as parties go, they do them ALL — bachelor parties, bachelorette parties — and even divorce parties.
"It's more of a way to try and release your past and move onto the future by getting that aggression and stress of a past relationship out so you can try and move onto something new," Josberger explained.
Don't worry, we won't judge if you schedule a session RIGHT now.
Overall, I left feeling less stressed and on a bit of an adrenaline high, itching to try it again.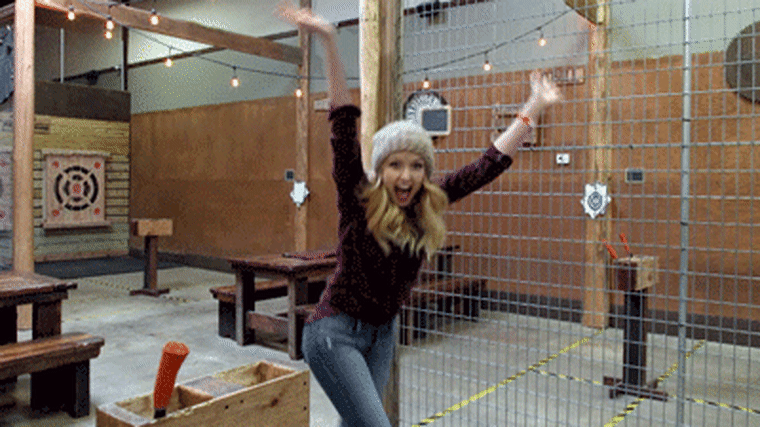 "There's a really infectious kind of environment that develops here when this place fills up and people are cheering each other on," Josberger said.
And for that, Stumpy's Hatchet House hits the bull's-eye.