It's sad but true: Even young, fit female athletes struggle with pressure about body image. That's why the members of the Harvard women's rugby team recently took matters into their own hands, staging a photo and video shoot that's now going viral.
"Female athletes often struggle to balance social expectations to be delicate and feminine with the demands of athletics to be strong and powerful," player Helen Clark told TODAY.com. "Our team reconciles this by reminding each other every chance we get that our strength is beautiful."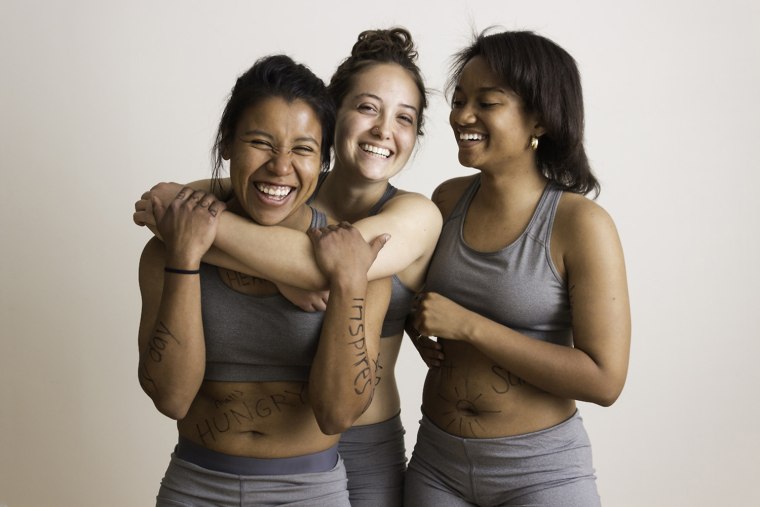 To make their point, the team members wrote literal reminders — all over each other — and posed for a striking series of photos which were published, along with an accompanying essay, in the Harvard Political Review. Clad in matching gray sports bras and shorts, the women labeled their teammates' arms, abs, legs and backs with words like "ripped," "so strong" and "fearless."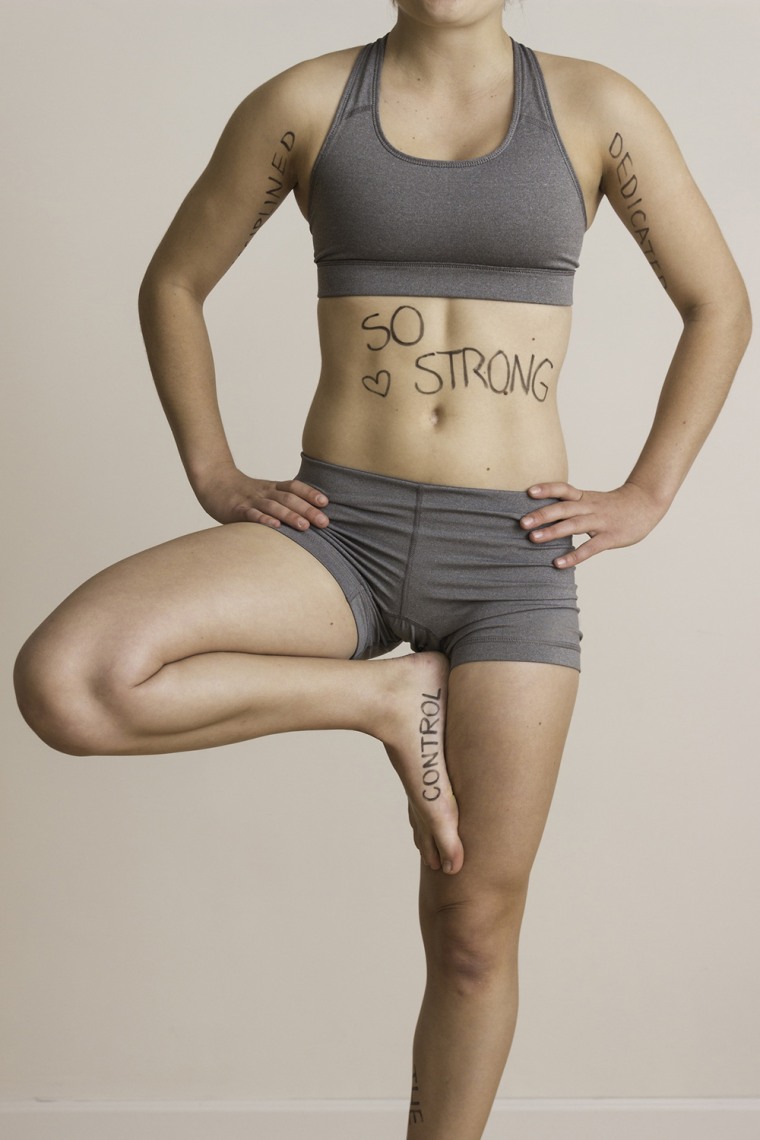 "I think the notion of strength being beautiful is so overlooked in our society because strength is historically associated with masculinity, and women are taught that they must be strictly feminine to be beautiful," adds Clark, a senior concentrating in the studies of women, gender and sexuality.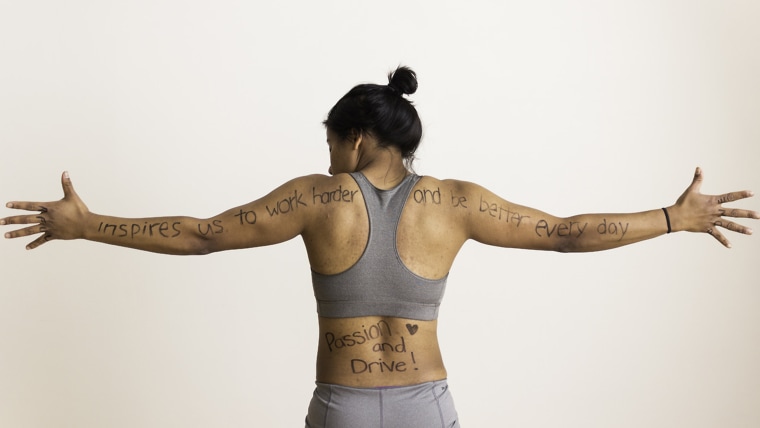 But does this generation — which has seen more and more ad campaigns use "real" models — think any progress has been made with the kinds of signals young women receive about their bodies? Yes and no, they say.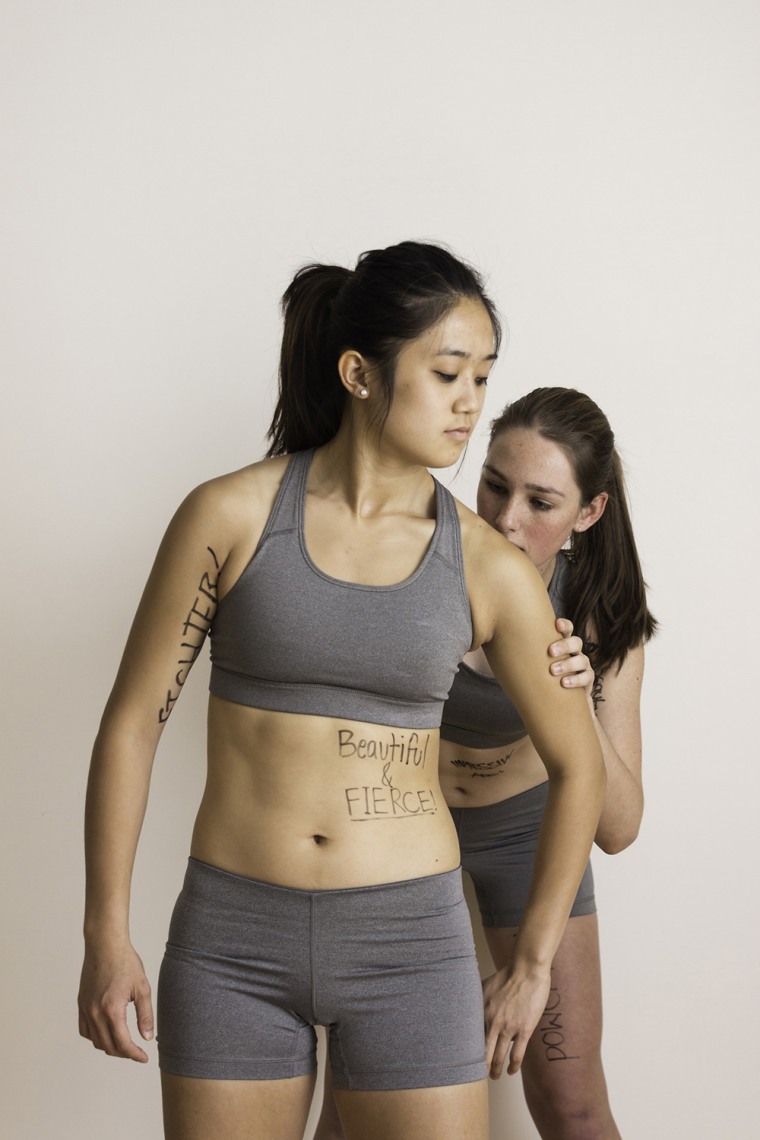 "I believe there is some improvement with the kinds of messages girls and women are getting about their bodies, as compared to past generations, but there is still a long way to go," says sophomore Lydia Burns, a co-photographer on the project who is studying social studies and studies of women, gender and sexuality.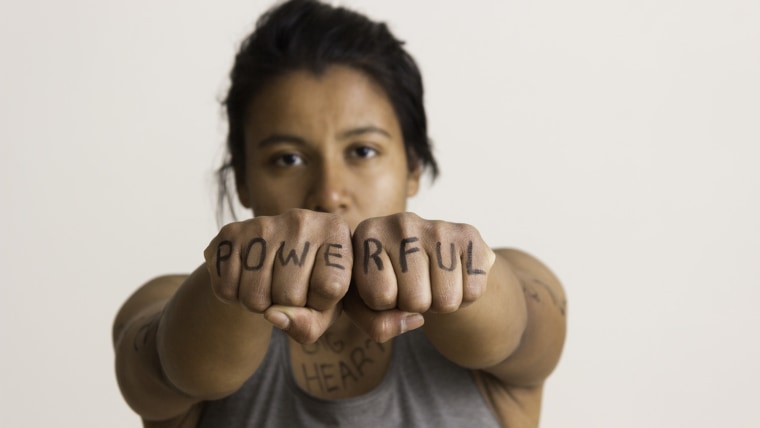 "Fitness magazines for women often focus on how to get a lean, toned body, neglecting to acknowledge the practicality of actually having a strong core or other muscles," Burns adds. "We're still taught that our bodies are something to be looked at and judged by outside observers."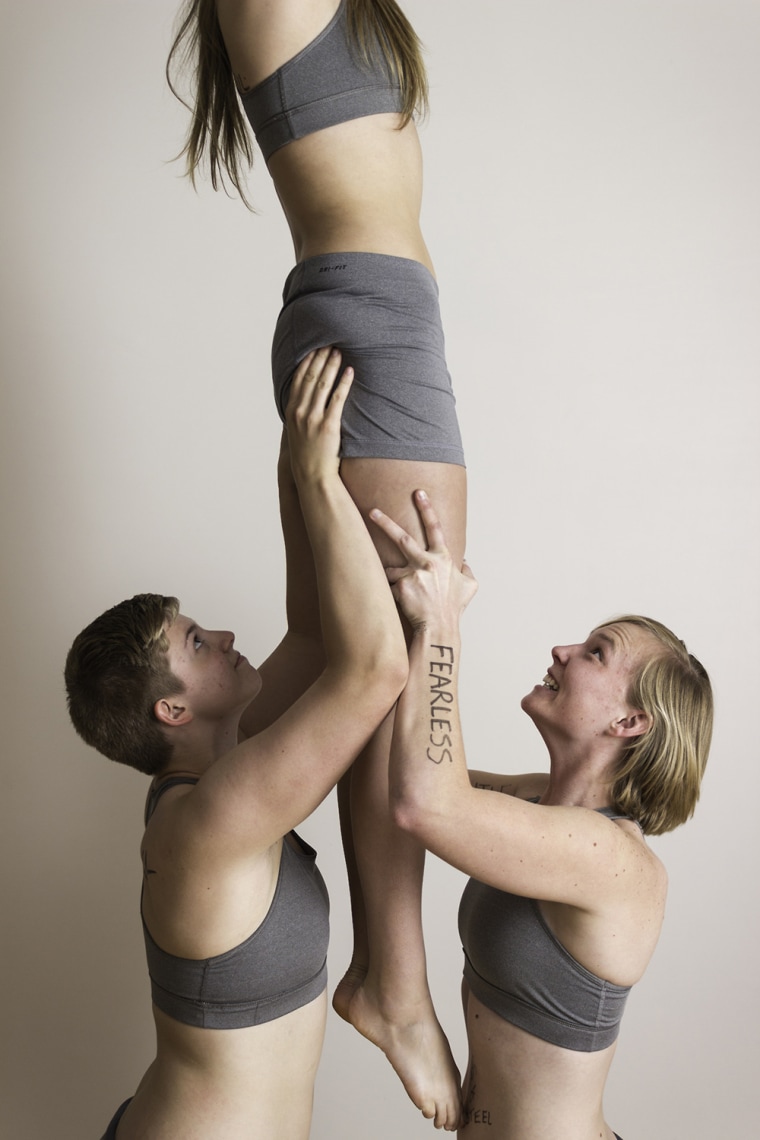 Brooke Kantor, one of the team captains and a senior concentrating in Near Eastern languages and civilizations, originally helped conceive the idea along with the essay for the Harvard Political Review. "Discussions of body positivity had always been prevalent on my team, and I thought this could be a great opportunity for us to spread this important message," she told TODAY.com.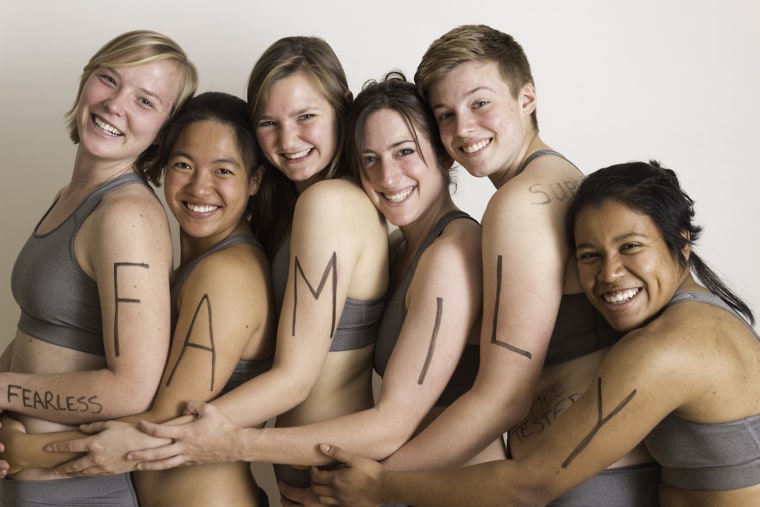 One of her favorite words from the shoot was "hungry," which was written on teammate Lenica Morales-Valenzuela's stomach. "This, to me, is extremely important, because in a society where eating disorders among women are extremely prevalent, I feel so lucky to be surrounded by a group of females who have a positive relationship with food," Kantor says. "We unabashedly LOVE to eat!"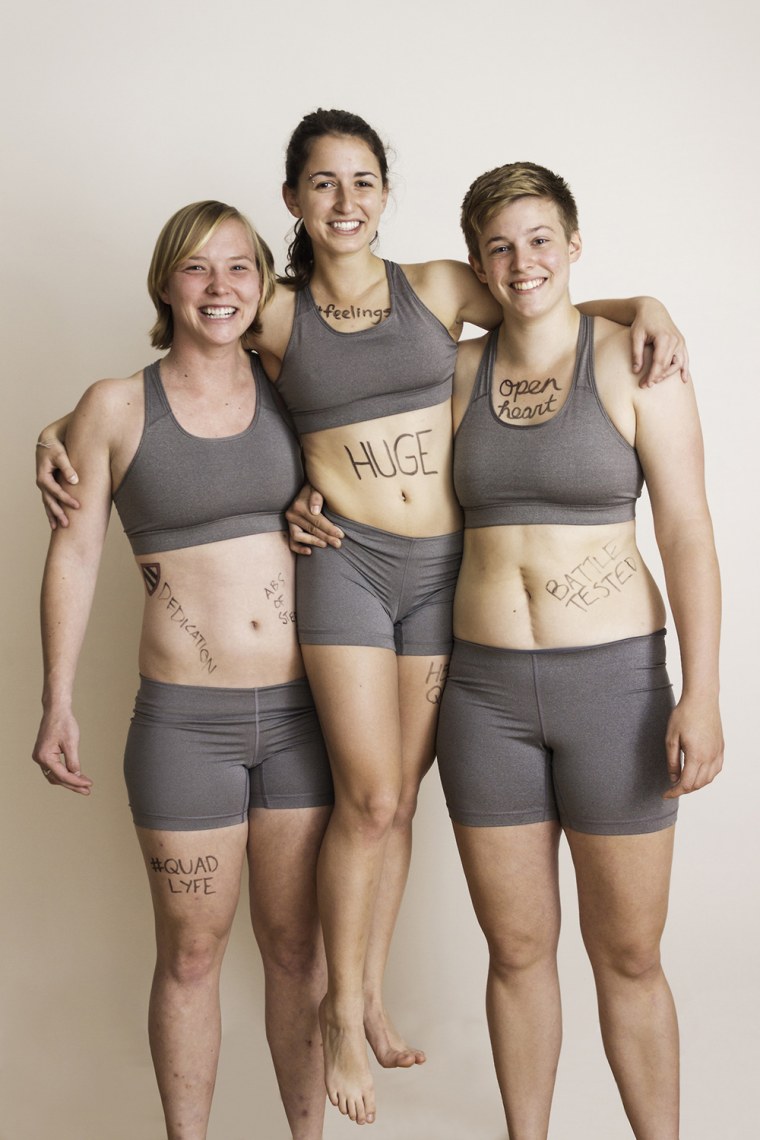 Burns and teammate Shelby Lin took the photos at a Boston yoga studio back in May, borrowing lighting equipment from the university. "We had devised the premise of writing what we loved about each other and photographing it, but that's all the direction we gave our teammates on what and how to write," says Lin, who just graduated with a degree in applied math and took an introductory photography class this past spring.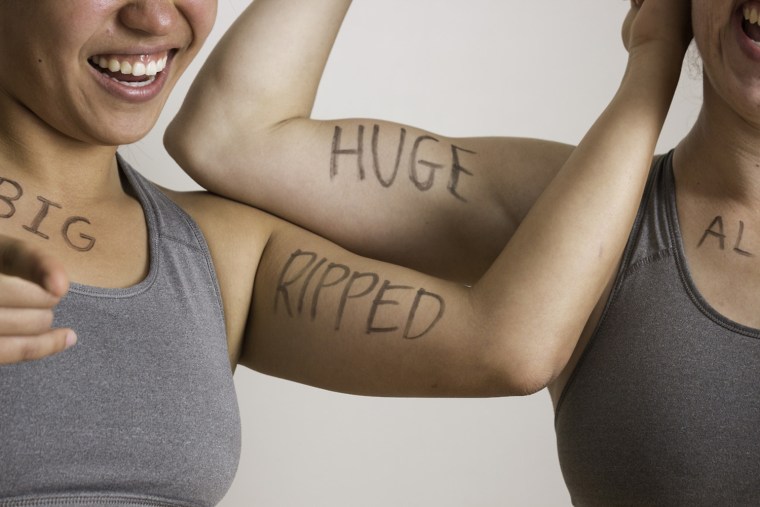 The site "A Mighty Girl" picked the photos up last week, and the women on the Harvard rugby team say they've been blown away by the growing response.
"We hope seeing our photos will encourage women to go out and find a space like rugby," Clark says, "where their bodies are celebrated for their inherent strength and power, rather than just for how they look in a bikini."
Check out all the photos and video from the "Rugged Grace" project on the team's Tumblr page.