When Harriette Thompson crossed the finish line at the Rock 'n' Roll Marathon in San Diego on Sunday, the crowd burst into cheers. That's because Thompson, 94, is an inspiration for thousands of other runners. And, she's a record breaker. This year, she became the oldest person to finish a half-marathon. Just two years ago, she became the oldest person to finish a full marathon.
"I had never been 94 before. I had no idea what I could do," she told TODAY. "I didn't plan on breaking any records."
Thompson completed the half-marathon in 3:42:56 with her sons Sydnor, 63, and Brenneman, 58, and granddaughter Angela, 32. The trio often had to shield Thompson from runners trying to take selfies with her.
"I was amazed when people were interested in having their picture taken with me," she said.
Thompson has always been active. When she attended college at Dickinson College in Carlisle, Pennsylvania, she roller-skated to class. The dean of women, overseeing student affairs for female students, told her that young women did not roller skate to class, but Thompson kept doing it because her mother approved.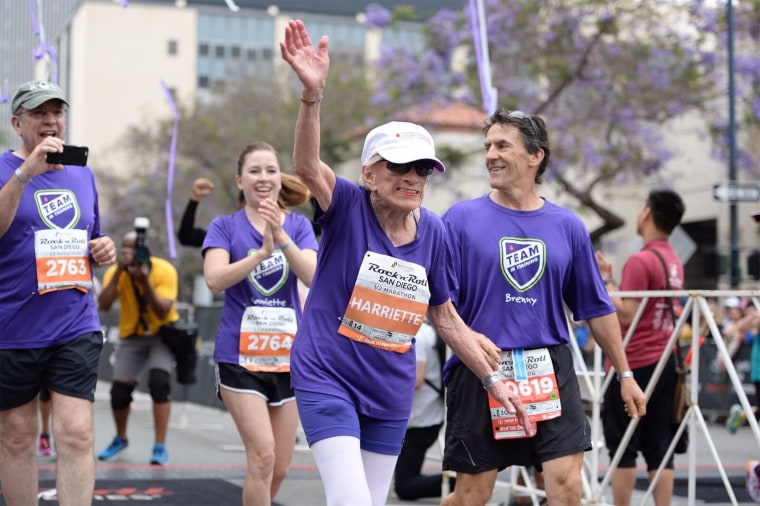 "I never acted my age," she said. "I didn't think of myself as an athlete. I was always trying to do things fast. I used to run a lot instead of walking. I roller skated to get places in a hurry."
Even though she was always active, at most, she ran around the block. It wasn't until she was 76 in 1999 that Thompson started running marathons.
The year before, she was at church choir practice and a woman was collecting money. When Thompson asked why, the woman replied that she was walking a marathon in San Diego to raise funds for the Leukemia & Lymphoma Society. Thompson — a two-time cancer survivor who lost many family members to cancer — figured she, too, could run a marathon and signed up.
"My main interest is … donating to the Lymphoma & Leukemia Society and that is why I am really interested in running," she said.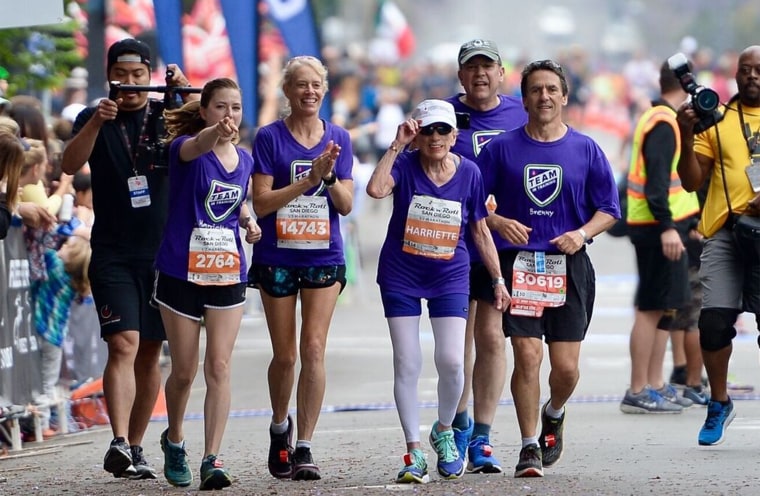 For the past 17 years, Thompson ran the full marathon except for 2013 and 2016 because of health issues. She ran the half-marathon this year because she underwent a skin graft on her leg where radiation for skin cancer caused a sore. Recovery included six weeks of bed rest, which affected her training schedule.
She felt the race went well and raised $13,000 for the Leukemia & Lymphoma Society just this year, and more than $100,000 throughout her years of racing.
"I lost everybody in my family to cancer," she said. "I hope I could make a difference."
While Thompson, who lives in Charlotte, North Carolina, wants to run the marathon next year, she thinks people of all ages should consider following her example.
"It's so invigorating. I think everyone feels better after they exercise," she said. "A lot of people might try it and enjoy it."
People interested in donating in Thompson's name to the Leukemia and Lymphoma Society can do so here.