Face exercises may actually work to help people look a little younger, dermatologists say.
What they describe as the first-ever clinical assessment of the face-contorting exercises shows subtle but visible changes in the faces of several middle-aged women, making them appear a little younger to the eyes of experienced dermatologists.
And at the least, the painful-looking grimaces don't give you more wrinkles, the team at Northwestern University said.
"It does seem to work," said Dr. Murad Alam, who led the team that tested the idea.
"It is noninvasive, nontoxic, and it can be self-administered on your own schedule," Alam added.
His team investigated the idea because people were asking about it and reading about it.
"We were looking at the popular press," Alam said in an interview. "We realized that there were people who were interested in facial exercises."
So they decided to do an informal study. A mutual acquaintance introduced Alam to Gary Sikorski, who has made a series of online videos called "Happy Face Yoga."
The small and far-from-exhaustive study involved 16 middle-aged women who agreed to do some of the exercises over a period of a few weeks.
A chipper Sikorski leads all the videos. "Smile! Open your mouth and form a long 'o'," he instructs in one video for "cheek pushups." "Fold your upper lip over your teeth. Smile again to lift your cheek muscles up."
The volunteers at Northwestern, all women with an average age of 54, agreed to five months of half-hour daily and then every-other-day sessions of the complex exercises. "It does take a little bit of work," Alam said.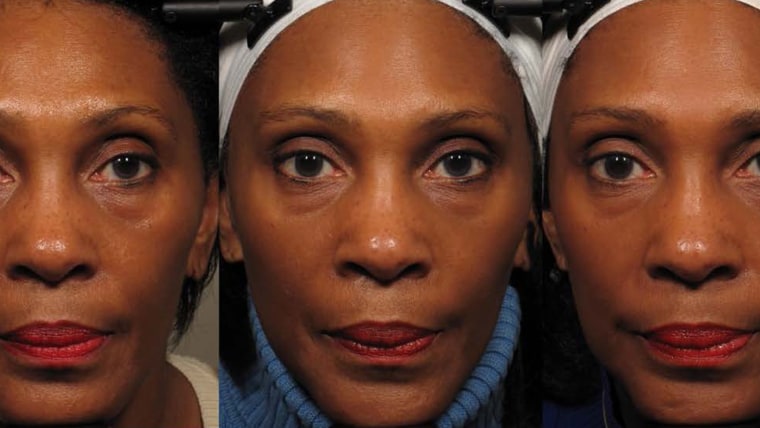 Alam and his colleague Dr. Wanjarus Roongpisuthipong assessed the women's faces as they went along.
"I think we wanted dermatologists to assess them because we look at a lot of people's faces," Alam said.
"If you work in cosmetic dermatology like I do, much of your life is comprised of staring at people's faces, figuring out what isn't quite what they want it to be and figuring out how to fix it."
On average, the women did look younger, Alam reported in the Journal of the American Medical Association's JAMA Dermatology. Their cheeks looked a little fuller and their estimated age dropped from 50.8 years to 48 years by the end of the 20 weeks.
One concern Alam had was that the exercises might damage the skin
"We were worried the exercises might make things worse," he said. People who frown a lot, for instance, tend to get certain wrinkles.
But the exercises did not seem to add wrinkles. "Maybe it's because each exercise is done for like a minute," Alam said. "You are exercising enough to build up muscle but not to create wrinkles."
Alam thinks it's muscle-building that has any effects on the face. One aspect of facial aging is the loss and dropping of fat layers.
"Underneath the fat there is a layer of muscle. As participants do these exercises, these muscles begin to grow in size, just as if you did a bench press and your muscles grew in size," he said.
"As muscles grow, they fill out the face. They counteract the effects of sagging skin and the thinning fat. That makes the face look younger by making it look fuller."
Any facial exercises may help
It's not this particular regimen, but any regimen of facial exercises that works, Alam believes.
Sikorski has a website promoting not just his Happy Face Yoga but inventions such as a toilet seat lifter and photo books, and is not a dermatologist. He did not invent the exercises but is a 'certified instructor" of Yoga Facial Toning.
"We are not trying to push a specific regimen or drive business to Mr. Sikorski," Alam said. "Not that I don't like him. He's a great guy," he added.
"We are not trying to imply that there is only one miraculous way of doing facial exercises. It's exciting that this regimen works. It is also possible that other regimens may have similar benefits."
Alam would like to do more rigorous studies, including those in which women who do not exercise are compared to those who do.
"The sample was small, exclusively of middle-aged women, there were numerous dropouts, and there was no control group in the study," the team cautioned.
"Another limitation is that participants were self-selected and may have been particularly willing to continue with an exercise regimen."
Plus, the researchers knew the women had been doing the exercises -- another no-no when it comes to true medical science.
Alam says the exercises are not a substitute for medically proven treatments, such as Botox injections, facial fillers or laser treatments.
"It is possible that fewer exercises done for less often might also give many of the same benefits," Alam added.