Long, dark winter days apparently don't dampen the spirits of folks who live in Finland. The tiny Nordic nation has been named 2018's happiest country.
The World Happiness Report, published Wednesday by the U.N. Sustainable Development Solutions Network, ranked 156 countries by happiness levels, based on factors such as life expectancy, social support and corruption.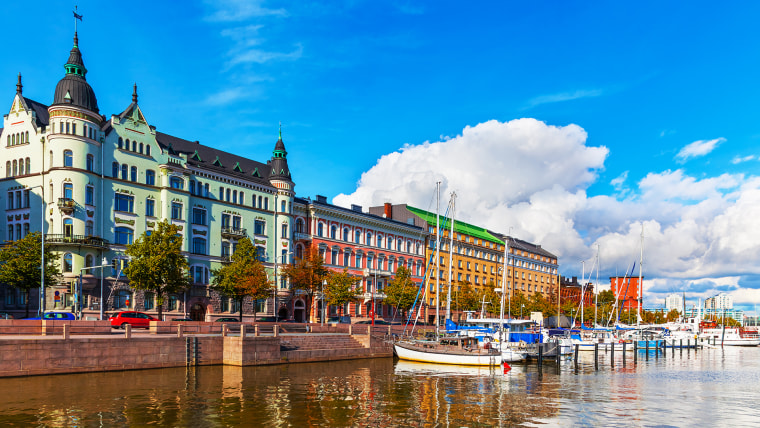 Finland, home of jolly ol' Santa Claus, took the top spot this year, knocking 2017 winner Norway into second place. The little country in the north corner of Europe, so famous for its skiing and saunas, has long been known for its high quality of life.
For the first time this year, the annual report also evaluated 117 countries by the happiness and well-being of their immigrants.
Finland is a relatively homogenous nation — only about 300,000 of its 5.5 million residents are foreigners or have foreign roots. Its largest immigrant groups come from other European nations, but there also are communities from Afghanistan, China, Iraq and Somalia.
The rest of the top 10 includes Denmark, Iceland, Switzerland, Netherlands, Canada, New Zealand, Sweden and Australia.
John Helliwell, a co-editor of the World Happiness Report and professor emeritus of economics at the University of British Columbia, noted that all the countries in the top 10 scored highest both in overall happiness and regarding the happiness of immigrants.
"The most striking finding of the report is the remarkable consistency between the happiness of immigrants and the locally born," Helliwell said. "Those who move to happier countries gain, while those who move to less happy countries lose."
The U.S., which ranked 14th last year, fell to 18th place. The U.S. peaked in 11th place back in 2012, the first year the index was produced.
"The U.S. is in the midst of a complex and worsening public health crisis, involving epidemics of obesity, opioid addiction, and major depressive disorder that are all remarkable by global standards," the report said.
The report also cited the U.S.' "sociopolitical system," which produces more income inequality than in happier countries, as a major contributing factor to unhappiness.