When it comes to feeling happy, your home state may be key to your state of mind.
Next to genetics, geography is the biggest determinant of bliss, says Dan Buettner, author of the new National Geographic book, "The Blue Zones of Happiness" and the accompanying November cover story of National Geographic magazine.
Buettner, who travels the world to explore places where people live extraordinarily healthy and long lives, has turned his attention from longevity to happiness. Satisfaction can come in many forms, he has found.
"You want to enjoy life day to day," Buettner told TODAY correspondent Cynthia McFadden. "You want to look back on your life and be proud of it. And you want to live a purpose-driven life. There are different triggers to optimize each of those different kinds of happiness."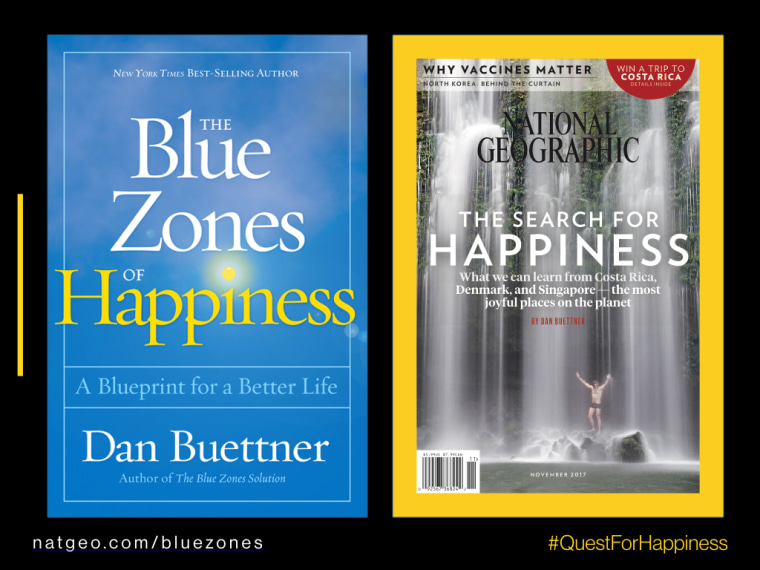 Where are the happiness "hot spots" closest to home? Working with Gallup and Sharecare to come up with more than a dozen definitions of a happy life, Buettner identified 25 U.S. cities where contentment is especially high. It turns out environment has a profound impact on our psychology.
Residents of these cities say they feel safe, enjoy being active and productive, manage their money well, make time for vacations, eat well and learn something new or interesting every day.
Boulder, Colorado, topped the list, with Buettner noting its sense of community, natural surroundings and walkability. Residents don't smoke or overeat. Bikes are a common sight.
"There's a high correlation between bikeability and happiness in a city," Buettner says in National Geographic. "In Boulder, you're more likely to hear the whoosh of a cyclist than the shrill of a siren compared to places like Dallas, Tallahassee or Los Angeles. Cities like Boulder question the unquestioned virtues of development."
Here are the top 25 happiest communities on the list: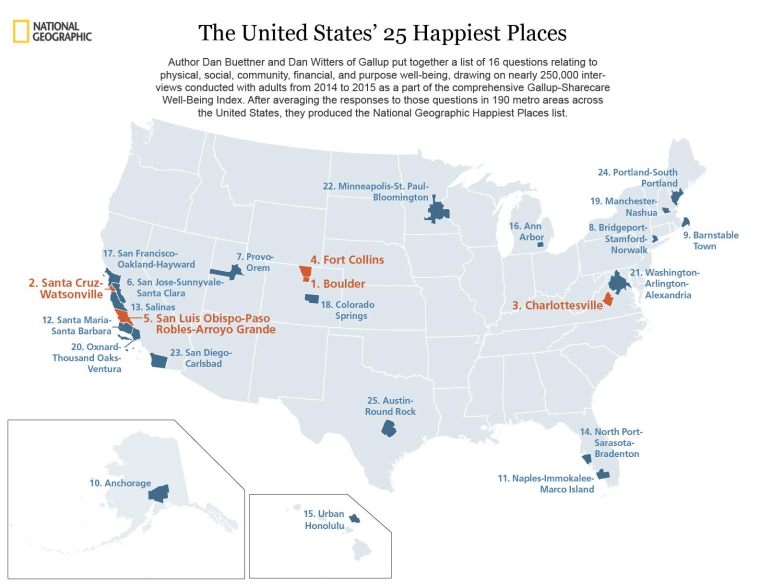 1. Boulder, Colorado
2. Santa Cruz-Watsonville, California
3. Charlottesville, Virginia
4. Fort Collins, Colorado
5. San Luis Obispo-Paso Robles Arroyo Grande, California
6. San Jose-Sunnyvale-Santa Clara, California
7. Provo-Orem, Utah
8. Bridgeport-Stamford-Norwalk, Connecticut
9. Barnstable Town, Massachusetts
10. Anchorage, Alaska
11. Naples-Imokalee-Marco Island, Florida
12. Santa Maria-Santa Barbara, California
13. Salinas, California
14. North Port-Sarasota-Bradenton, Florida
15. Honolulu, Hawaii
16. Ann Arbor, Michigan
17. San Francisco-Oakland-Hayward, California
18. Colorado Springs, Colorado
19. Manchester-Nashua, New Hampshire
20. Oxnard-Thousand Oaks-Ventura, California
21. Washington, D.C.- Arlington and Alexandria, Virginia
22. Minneapolis-St. Paul-Bloomington, Minnesota-Wisconsin
23. San Diego-Carlsbad, California
24. Portland-South Portland, Maine
25. Austin-Round Rock, Texas
The findings are based on almost 250,000 interviews with adults in 190 metro areas in the U.S. conducted for the Gallup-Sharecare Well-Being Index.