The family of a 12-year-old boy in Florida is grieving after flu is suspected in the child's death on Tuesday. Dylan Winnik had sniffles and was exhausted, symptoms his family initially thought were a cold. Now, they believe it was flu.
Health officials aren't sure yet, but Dylan may be the latest in a growing number of young children dying this year from influenza. As of Jan. 20, there had been 37 flu-associated deaths in children, according to the most recent data collected by the Centers for Disease Control and Prevention. Seven children died within the last week. Compared to last year's flu season at this time, there were only eight children who died from flu, the CDC reported Friday.
A 6-year-old girl in North Carolina died from flu on Jan. 18, a few days after falling ill. When Emily Muth's breathing become labored, her worried parents called an ambulance. Paramedics told the family Emily was experiencing typical flu symptoms and that she'd be better soon. But a few short hours after the ambulance left, the girl stopped breathing, her family posted on their GoFundMe page.
It's too soon to say whether the current flu season, which may last until May, will lead to a higher number of children's deaths than in previous years. It's been an especially tough flu season and while cases are beginning to go down in some parts of the country, it remains high for most of the US and may not peak for several more weeks, according to the CDC. Most people are being infected with the H3N2 strain of the virus, which tends to cause more hospitalizations and deaths.
The actual number of pediatric deaths may be much higher, since it takes a few weeks for CDC to gather the information, and not all states report flu deaths quickly or in the same way.
"Every year in the U.S., somewhere between 100 to 300 pediatric deaths form the flu are reported," said Dr. John Williams, a professor and division chief of pediatric infectious diseases at the Children's Hospital of Pittsburgh at the University of Pittsburgh Medical Center. "And that's likely an underestimate. We might have more deaths than usual this year. We don't know what's going to happen with the rest of the season. We probably haven't peaked yet."
The best way to protect children from catching the flu is to vaccinate them, Williams said. Even if the flu vaccine doesn't prevent you from getting sick, "some protection is a lot better than no protection," he said.
Although the vaccine this year isn't a perfect match — its effectiveness at completely preventing the flu from one particularly severe strain has been estimated to range from 10 to 30 percent — the shot can at least lessen symptoms in those who end up getting the flu. The vaccine, which is made from two proteins culled from the surface of killed virus particles, alerts the immune system that invaders might be on the way. If a person is vaccinated at least two weeks before coming in contact with the flu, then there will be antibodies already made and waiting to do battle.
Some 80 to 85 percent of children who died from the flu in past years were not vaccinated, said CDC spokeswoman Kristen Nordlund.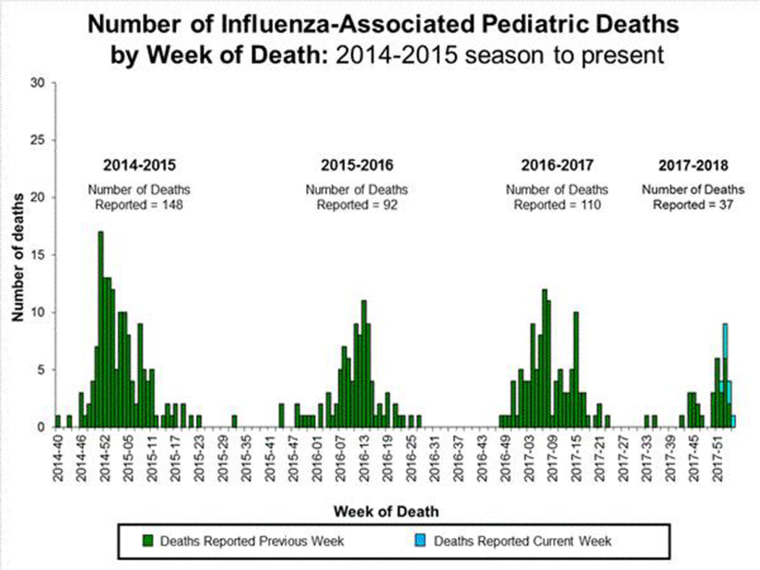 If a child's doctor is out of the vaccine, parents shouldn't worry: the CDC says there's plenty of vaccine for the season.
"Providers might not be able to get the specific brand or presentation they want and may need to select something else or may need to purchase vaccine from another source," Nordlund said. Which means that even if pediatricians can't get flu shots from their usual suppliers, they'll be able to get the vaccine through other companies.
For some, there may be other options.
In some states, pharmacies like CVS, Walgreens and Rite Aid are allowed to give children flu shots. "We are able to administer the flu vaccine to children based on state regulations — which vary," said Ashley Flower, a spokesperson for Rite Aid, adding that the age at which they can give shots varies widely from state to state. "And there isn't a pediatric version of the vaccine — it's the same flu shot adults receive, but the volume of the dose may be different depending on age and vaccine."
On Thursday, New York Gov. Andrew Cuomo signed an order temporarily allowing pharmacies to give flu vaccines to children, ages 2 to 18, because of a high number of new cases and hospitalizations.
Reports of children dying from flu is frightening, but, overall, flu is not usually an emergency. Doctors do urge parents to get children to an emergency room if they have these symptoms:
Fast or troubled breathing
Bluish skin
If they don't drink fluids or cannot be awakened.
Adults also need immediate medical help if they have:
Difficulty breathing or shortness of breath
Pain or pressure in the chest or abdomen
Sudden dizziness or confusion
Severe vomiting
To find flu shots near you, go to VaccineFinder.org.