Psssssst! You may not know it, but gossip can be good for you. 
The age-old habit of sharing juicy tidbits with buddies has gotten a bad rap, researchers say. Used properly, gossip can actually help us learn more about ourselves, better gauge our position in society and possibly protect ourselves from harm, according to a new study published in Personality and Social Psychology Bulletin.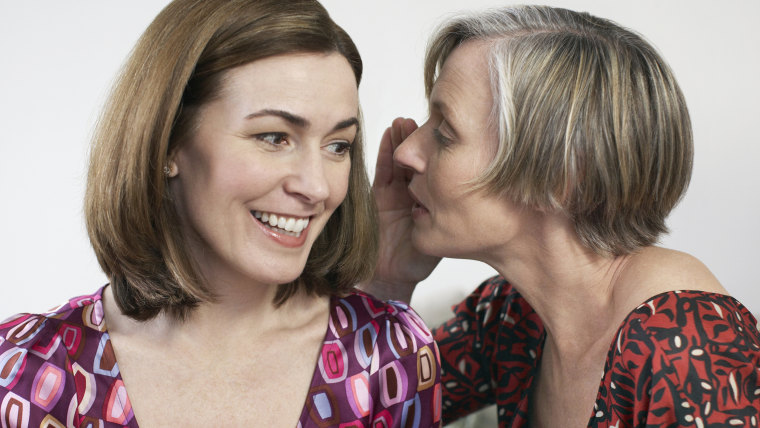 "Gossip provides people with a great way to learn about their social environment from other people's experiences," says the study's lead author, Elena Martinescu, a researcher in the human resource management and organizational behavior department at the University of Groningen, in the Netherlands. "People who participate in gossip can infer things about themselves and evaluate themselves without having to test everything directly. For receivers, gossip may be a sort of reality simulator: Pay attention to what happens to others in your environment and you may understand yourself better and formulate more accurate expectations for the future."

Martinescu and her colleagues ran several experiments to see how people reacted to gossip. In one, 183 college students were asked to write a short description of a previous group assignment in which one member shared an evaluation — positive or negative —of another member, designated as X.
The study volunteers were then asked to respond to a series of statements as true or false, including:
The information I received made me think that I can learn a lot from X in this group assignment.

The information I received made me feel that I am doing well compared to X in the group assignment.

The information I received made me feel I must protect my image in the group.

The responses suggested that people did indeed use gossip as a way of calibrating their behavior. Positive gossip led people to work on self-improvement. Fallout from negative gossip was more complicated. Some looked at it as a boost to their own egos, while some others took it as a warning.
Some people have figured this out on their own.
"While there are those who love to dismiss gossip, it actually does have a value," says Jodi R. R. Smith a 45-year-old human resources professional in Boston. "Gossip tells members of a group what behaviors are acceptable and what behaviors are not acceptable. As a new member of a group, such as when you start a new job, listening to what your new co-workers are chatting about can provide you with really valuable information about how to act on your new job."
Gossip guys: Men and women dish dirt differently
Karen Kessler, 56, a crisis management expert and mother of three in Warren, N.J., put it more succinctly: "Listening to gossip enables you to locate yourself on the continuum of human stupidity."
Experts say that gossip can cut both ways.
"Gossip is an age-old form of human communication because it performs important functions within a group," says Margaret King, director of The Center for Cultural Studies and Analysis. "It is a channel for news, including why the news is important. It then serves as an early-warning system to alert the group of events that may happen and prepares the ground for emotional readiness for what's upcoming. Gossip has a bad reputation, but there are good reasons it will keep right on being a popular sport."
That makes sense to Rasheen Carbin, who sees gossip as an indispensable part of her job. "I work in the world of recruiting and staffing," explains the 37-year-old Washington, D.C. resident. "Gossip is very important to my line of work. It helps to know who's coming and going at certain companies, who might be an unreliable candidate and who is launching new products or services. Gossip allows me to read between the lines."
One thing the new research leaves out is the impact of gossip on the one who is spreading it.
Good gossip: We spread rumors to protect others
While people can make use of gossip, "the gossiper is never someone you want to be," says Dr. Howard Forman, an attending psychiatrist in the department of psychiatry and behavioral sciences at Montefiore Medical Center. "People won't be comfortable around you. They won't trust you. They won't want you as part of the team."
So, Forman says, "for the receiver there can be a net gain. For the gossiper there is a net loss."
But what about the enjoyment gossips seem to experience when they're spreading news?
"Salacious enjoyment is very short-lived," Forman says. "Is 10 minutes of pleasure worth 10 weeks of misery? People may look at you as a great source of gossip, but not as a great human being."
Martinescu isn't convinced that no good comes of being a gossip.
Gossips can gain influence in their group, she says. And spreading news can help with "venting strong emotions, building social relationships and intimate friendships."
Linda Carroll is a regular contributor to TODAY.com and NBCNews.com. She is co-author of "The Concussion Crisis: Anatomy of a Silent Epidemic" and the recently published "Duel for the Crown: Affirmed, Alydar, and Racing's Greatest Rivalry."