Churchgoing aunts, grandmas, and moms might be on to something. A study from JAMA Internal Medicine finds that women who attend religious services more than once a week have a 33 percent lower risk of death than women who never attend.
"Religious attendance is a relatively good determinant of health," says Tyler VanderWeele, a professor of epidemiology at the T.H.Chan School of Public Health at Harvard and author of the study. "It is perhaps an under-appreciated health resource."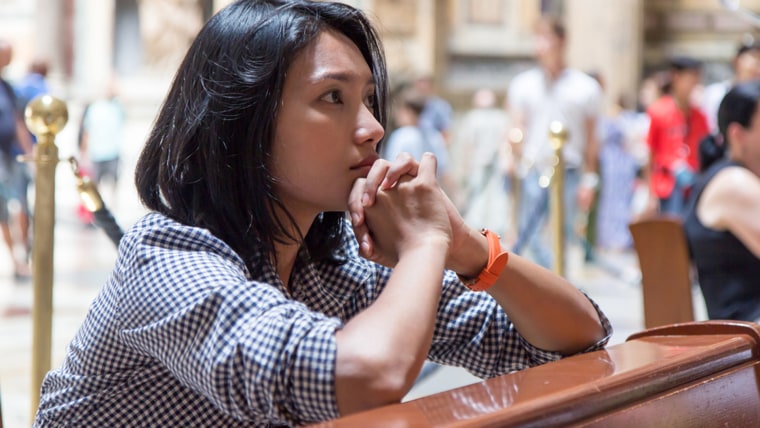 VanderWeele looked at data from 1996 to 2012 from the Nurses Health Study, a longitudinal study following 74,534 women. Of the women, 14,158 went to church more than once a week; 30,401 went weekly; 12,103 went less than once a week; and 17,872 never went. The church ladies were either Catholic or Protestant. Over the 16 years, 13,537 women died with 2,721 dying from cardiovascular disease and 4,479 from cancer.
Yet, the church ladies were less likely to die. Overall, frequent churchgoers were 33 percent less likely to die than their non churchgoing peers. Women who attended church more than once a week were 27 percent less likely to die from cardiovascular disease and 21 percent less likely to die from cancer compared to women who never went to church.
"Church attendance didn't prevent the incidence of cancer or cardiovascular disease, but once you had it, you fared better," says VanderWeele.
Faith provides support, improves outlook
The results of this study reinforce what experts already know about religion and health, says Andrew Newberg, director of research at Jefferson Myrna Brind Center for Integrative Medicine, who wasn't involved in the study. Newberg studies how prayer changes the brain and has identified direct and indirect benefits that faith provides. Many religions caution people against drinking, smoking, and being promiscuous and recommend dietary restrictions.
While following these rules isn't strictly religion, adherence improves health. Feeling supported and feeling a sense of community also boosts health indirectly.
The direct benefit? Believing God has your back may help people feel optimistic.
"Being a religious or spiritual person can not only reduce general anxiety [but also] reduces the big anxiety, the ontological anxiety about death and the meaning of life," Newberg says.
VanderWeele also found that frequent churchgoers experienced less depression and anxiety than those who skipped services.
Religion "encourages an aspect of hope and provides a coherent framework of meaning and a way of looking at the world, which I think can help at times of stress," says Newberg.
RELATED: Happiness fueled by relationships, work and something 'larger than self,' filmmaker finds
That's certainly Shirely Pavlosky's experience. The 82-year-old Johnstown, Pennsylvania resident attends services at a Catholic church every Sunday and Friday and also on every Holy Day of Obligation. She also volunteer to publish the church bulletin and stays active in the ladies' guild.
After her husband of 58 years died in 2013, Pavlosky says she found support in the church. "Without the church, I don't know what I would do. It is my way of life. It gives me stability. It gives me comfort."
Pavlosky, who lives at home independently, still drives, and only takes medication for blood pressure, attributes her good health to her faith.
Experts agree that attending services without believing in the message most likely does little good for one's health. "It has to be something that has to have meaning," says Newberg.