Every kid dreams of getting a toy car — they're fun, fast and just downright cool. Yet for Levi Hagerty, a certain set of Power Wheels had a much greater significance: the 6-year-old has cerebral palsy and is quadriplegic. Before getting an adapted version of the battery-powered car, he couldn't move or play independently.
When Levi first slid into his custom Power Wheels at 3 years old, he was transformed. As he sped around the room with his sister, Faith, in the passenger seat, the two giggled as his parents cried happy tears.
"It was the most exciting thing ever — that smile on his face," mom Nicole Hagerty, 30, of Oswego, Illinois, told TODAY.
Thanks to "GoBabyGo!", Levi has flourished.
"It really builds his confidence," Hagerty said. "He's come a long way."
GoBabyGo is a program first developed at the University of Delaware to modify toy cars to help children with disabilities. So far there are about half a dozen local chapters around the country.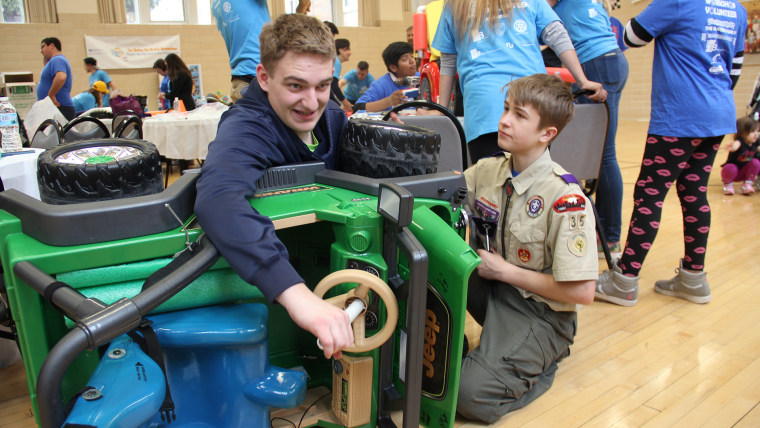 How a toy helps with independence
When Hagerty was in labor with Levi, she experienced a placental eruption, causing him to have a stroke. This led to brain damage, cerebral palsy and paralysis. The first months of his life were bleak with "a lot of unknowns."
As he grew, he developed some language skills, but moving independently seemed nearly impossible. Therapists at Marianjoy Rehabilitation Hospital in Wheaton, Illinois, believed he'd benefit from a power wheelchair. But insurance companies can be reluctant to provide power wheelchairs for children, due to their cost. A 2004 report from the Department of Health and Human Services found that the price of power wheelchairs ranges from $1,600 to $16,995, depending on the model.
"We are asking them up front to spend a significant amount of money," Kathrina Prostka, head of the wheelchair and positioning clinic at Marianjoy, told TODAY. "I have to explain how it helps children be more independent."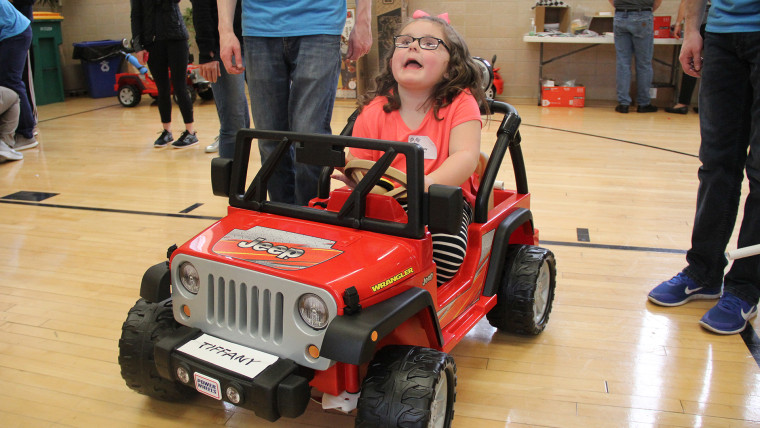 But Prostka can't predict how well a child will do in a power wheelchair without putting them in one. Then she discovered GoBabyGo. Since 2015 volunteers at Marianjoy have modified 60 of the little powered cars by adding five-point harnesses to hold the children upright and something that regulates the speed — so the cars aren't whipping around too quickly.
The cars allow children to be independent and more importantly, play. Children immediately smile when they get into the car.
"You are seeing the kids laugh and the parents cry," Prostka said. "That is how kids learn and develop."
After Levi received his Power Wheels car in 2015, he learned to steer with a joystick and it also improved his core strength. This made it easier for Prostka to get him a power chair.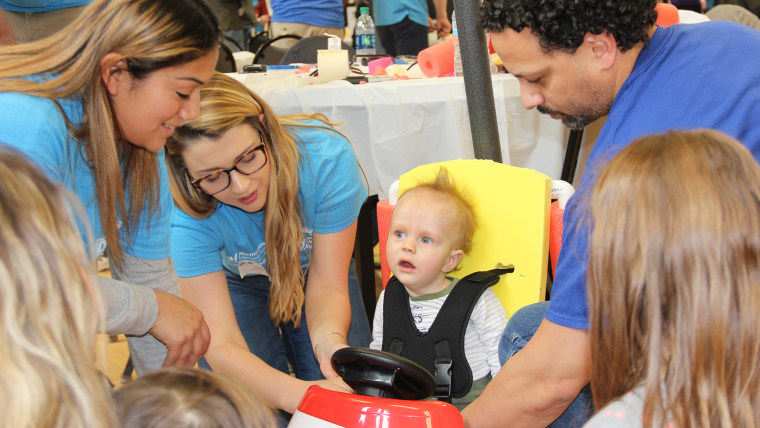 Giving children freedom
GoBabyGo helped Levi interact with other kids.
"Instead of him sitting on my lap and watching the other kids in the backyard, he is in his chair trying run them over," Hagerty said, laughing. Even though he now has a wheelchair, Levi still uses his Power Wheels.
Anthony Summers of Lombard, Illinois also noticed a change in his son, Etienne, 5, after the boy received an adapted car.
Etienne has cerebral palsy and had chronic traumatic encephalopathy and has never developed the ability to walk. As soon as he got into his GoBabyGo car, he took off.
"It was unbelievable," Summers, 48, told TODAY. "He had a sense of his own individual movement and freedom."
Etienne loves to speed and crash his car, even though he knows he shouldn't. His parents nervously watch — they want Etienne to be independent, but they worry about his safety. Watching him explore the world in his car helps them understand he will be OK.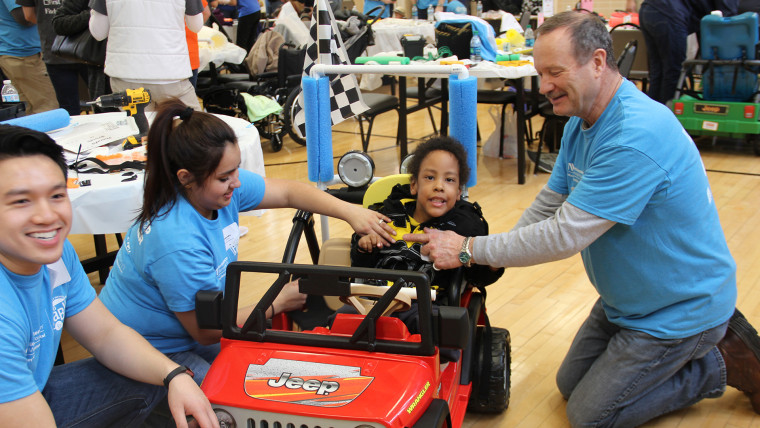 "It is a way for parents to give their child their own freedom," Summers said. "We all strive for them to be on their own."
Summers hopes that Etienne will someday receive his own power wheelchair, giving Etienne even more independence. But he's happy that GoBabyGo provides Etienne the chance to engage in the world like his peers.
"In this car, he doesn't see any limitations," Summers said.