Now these are some animals that really goat your baaaaack!
If you haven't yet heard of the latest workout craze, allow me to introduce you to ... Goat yoga. The trendy class has been popping up across the country from New Hampshire to Oregon — and we HAD to give it a try!
I can truthfully say I never expected to be planking on a yoga mat in the middle of Orlando, Florida with a 30-pound goat on my back, but then again, did I have better plans for a Tuesday morning? Probably not.
Scratch that. ABSOLUTELY not.
We set up our mats in the pasture of Wildflower Farm and all at once the baby goats were released into our yoga class. Can you think of anything more adorable? I mean, come on.
They immediately ran to anyone and everyone holding branches. So you better believe I held ALL the leaves.
One by one they nibbled, jumped and ate right out of our hands (or feet) like giant puppies. They were playful and surprisingly, offered a therapeutic element to yoga that I hadn't experienced before.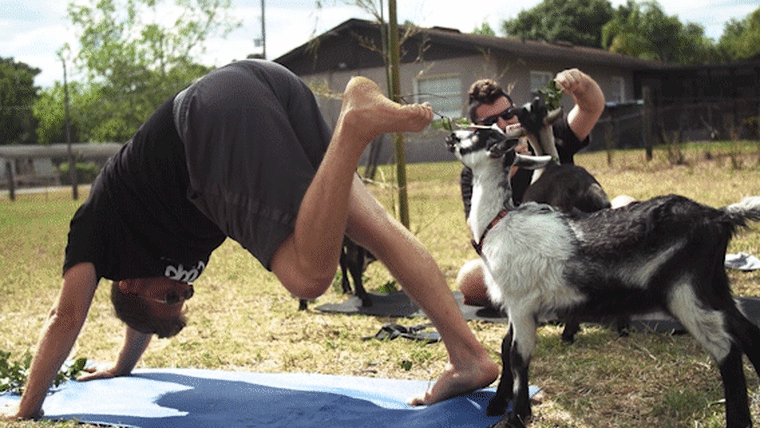 Linda Gutierrez, the owner of Wildflower Farm, said she's noticed an emotional difference in class participants as well.
"It is joy. It's wholesome, simple and innocent. It is also comical. The goats do some things that will make you laugh," she told TODAY.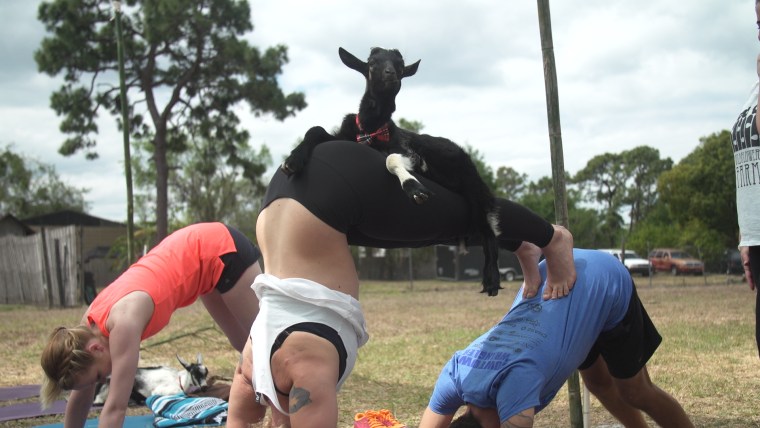 And THAT I can certainly attest to! I don't think I stopped smiling the entire time.
"I feel we are only the vessels, providing space, love, and nature. This little farm is filled with magical energy, from God knows what, but all who come here, never want to leave."
The farm, which Linda and her husband have been running since the early 1980s, only introduced dairy goats about 10 years ago. If you ask me, it's the best decision she's made!
Now they have 18 goats — 10 kids, and eight others that range from two to six years old.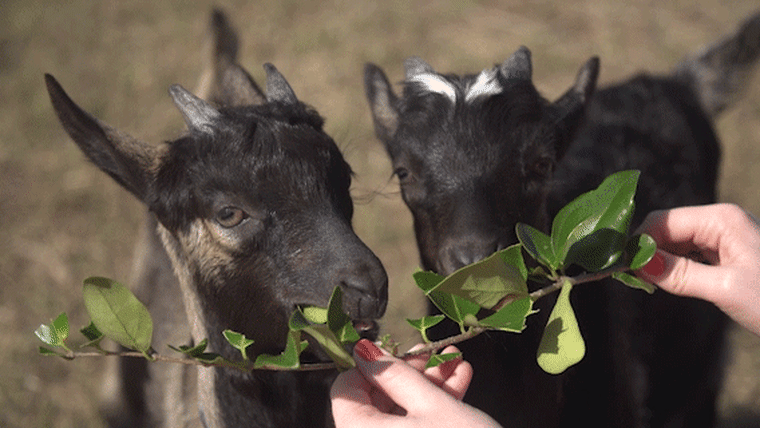 The goats have been responsible for many of the farm's offerings: raw milk, raw cheeses (chèvre, queso blanco, feta, cottage cheese, mozzarella, ricotta ... Do you also feel yourself drooling?) and goat milk soap.
But they were ALSO responsible for the workout and sore body that I got from taking this class.
"Doing a plank with a goat on your back adds a little extra weight so it helps to tone the muscles in your abdomen and biceps more than if you were doing it in a regular yoga class without a goat," Janelle Pochintesta, the class's instructor, told TODAY.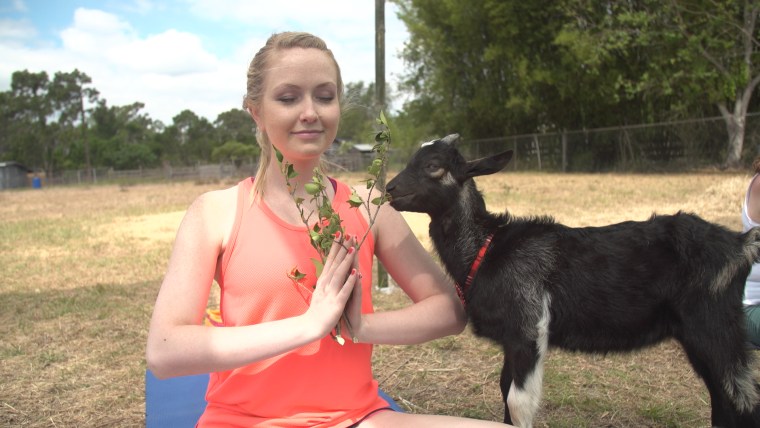 Boy, did I feel it the day after. It wasn't so much in my back, but mostly in my legs and arms from holding the weight of the goat! But I felt nothing in the moment because I was on such a high from the energy.
"The most beneficial part of it to me, though, is activating your limbic system and activating parts of your brain that brings happiness. It is an anti-depressive yoga class and releases neurotransmitters that better your mood," she continued.
I personally noticed a difference in my overall demeanor and wasn't surprised to find out that Gutierrez had received mounds of positive feedback.
"When I started the class I didn't realize the potential service we were doing. The reactions of the people from when they came in to when they left can only be described as happiness, pure joy, calmness and peacefulness. That's what moved me," Gutierrez said.
Namaste.
RELATED:
Hatchet throwing? Why the internet is buzzing over the latest trend
Working out in a museum? I tried the latest fitness craze — here's what happened