Blame those endless images on social media —not pictures of camera-ready celebrities —for a surprising rise in women's unhappiness with their bodies, a new survey finds.
Fifty-four percent of women, ages 18 to 40, surveyed for Glamour feel unhappy with their bodies, up from 41 percent when the magazine first asked women how they felt about their bodies back in 1984. Eighty percent say just peering into the mirror makes them feel bad.
"I won't sugarcoat it," Glamour's editor-in-chief Cindi Leive, said on TODAY Tuesday. "These were some difficult results."
The increase in women's body dissatisfaction is "startling and not great news," she added.
The main culprit? Social media. 
The survey of 1,000 women found that 64 percent said that looking at photos on social networking sites like Facebook and Instagram left them feeling bad about their bodies.

"That is the one factor that we found really made a difference," Leive said. "The more time a woman spends on social media, the worse she feels about her body."
But it's not pictures of actresses and models that have women feeling down. It's images of the everyday women in their lives—neighbors and friends.
"Celebrities, we all know, have a lot of help. They have a whole pack of trainers and dietitians who help them feel good about their bodies," Leive said. "But really, when you're looking at women on social media, you're thinking, that's the girl next door. If she can do it, I ought to be able to do it."
The results may seem surprising amid the rise of the no-makeup selfie and celebrities like Jennifer Lawrence and Lena Dunham discussing acceptance of their own bodies. And there's Meghan Trainor's body-positive pop song "All About That Bass."
"There are lots of women and images out there that would make you think that we feel comfortable with who we are," TODAY's Hoda Kotb noted.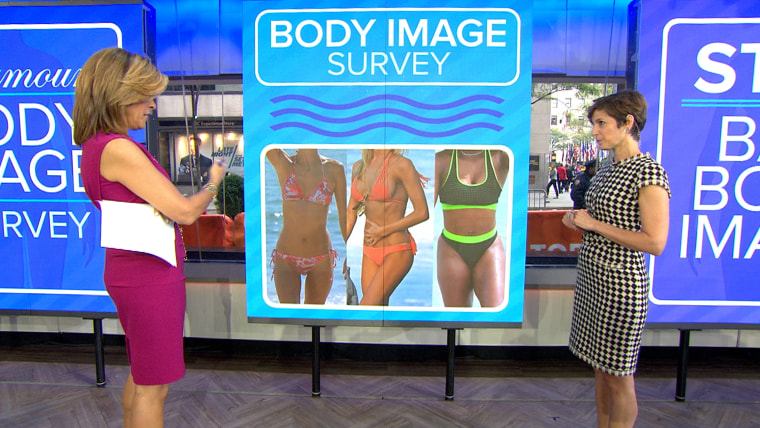 But Leive said although "there's a real movement toward body acceptance, it's just a difficult thing for a lot of women to really internalize."
Glamour conducted a body image test, showing women images of three bikini-clad women, first with their faces covered, and a second time, revealing their identities as Victoria's Secret model Alessandra Ambrosio, tennis star Serena Williams, and singer LeAnn Rimes.
The women felt worse about their own bodies after looking at the photos with the women's identities shielded.
"They felt, this is just an anonymous woman posting a picture of herself and she REALLY looks great," Leive said. "When they see a celebrity they think, you know what, I don't have to rise to that standard."
Kotb mentioned what she called, "kind of a bummer." Women post a photo of themselves on social media and while they aren't really looking for "likes," they may just be disappointed to find "only three people liked my picture," she said. "That's it?"
That's because women are hooked on online validation.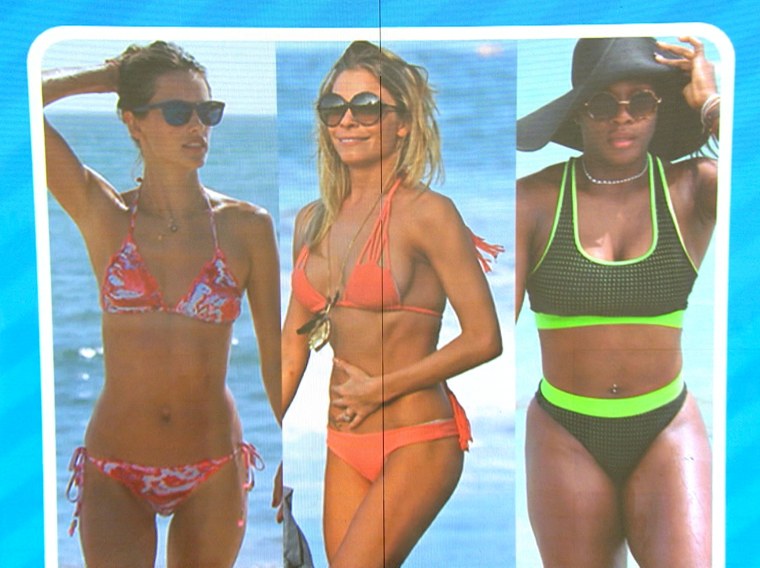 "The average woman has become a likeaholic," Leive said. "Even accomplished women who know that they shouldn't care about these things find themselves going back to refresh to see how many people have liked their pictures. It's the going down the rabbit hole of Facebook and Instagram and the constant comparing."
To help women improve their own body image, Glamour examined the characteristics of women who feel great about their bodies.
"They all told us they exercise," Leive said. "When you exercise, you're really appreciating a what your body can do, and not just how it looks."
They also limited the amount of time they spend on social media. Leive also recommended women do an Internet self check," asking themselves: "Do I feel better or do I feel worse about myself when I log off?"
Among the survey's findings:
Having a poor body images can make women feel bad about who they are
Thirty percent of women said it kept them from having sex
27 percent said it stopped them from meeting new people
17 percent reported it stopped them from dating.
33 percent of men, surveyed by Glamour for the first time this year, were dissatisfied with their bodies.
For the complete results, go to Glamour's survey: Women Today Compare Themselves to the Girl Next Door, Not Celebs
Read the Glamour interview with body image inspiration "All About That Bass" singer Meghan Trainor
Lisa A. Flam is a news and lifestyles reporter in New York. Follow her on Twitter.