The parents of Chloe Clark, 10, figured the worst was over when doctors determined she would need cosmetic surgery on her face after a freak accident at their home.
It turned out to instead be the beginning of an odyssey that nearly took the Alabama girl's life as a result of meningitis caused by her initial injury.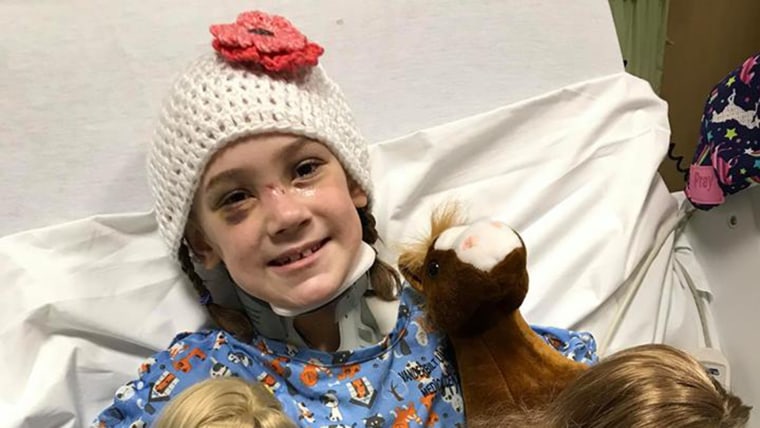 "It's been a roller coaster of emotions,'' Chloe's father, Jared Clark, 33, told TODAY. "It wore on us horribly. We were begging God to give us the strength to get through this."
The ordeal began Jan. 11 when Clark was working on the roof of a home he was building for his family on his parents' property in Athens, Alabama.
He lost his grip on a sheet of plywood, which crashed through a fence-like barrier he had erected at the edge of the roof and plummeted to the ground below.
He had just seen Chloe and her three younger siblings playing on the other side of the house, well away from the construction site, so he initially wasn't worried about the mishap.
But Clark heard a bloodcurdling scream and soon learned the board had hit Chloe in the face while she was taking a shortcut through the area.
"My heart sunk,'' he said. "I was thinking, how could they have gotten from there to there so fast? They told me they knew they shouldn't have, but they were like, 'Let's just run through here real fast.' (The board) caught Chloe right between her eyes."
Clark scrambled off the roof and took Chloe to the emergency room at nearby Madison Hospital. Doctors determined she was going to need cosmetic surgery and suggested hospitals in Birmingham and Nashville, Tennessee, for the operation.
They opted for the latter, and Chloe was then taken by ambulance to Vanderbilt Children's Hospital, about a two-hour drive north. A day after the accident, she started screaming in pain, and throwing her hands behind her neck.
"Within two hours of the initial pain, she was pretty much in a coma,'' Clark said. "Totally lifeless, with no pain response."
Doctors told the Clarks she had contracted meningitis when bone fragments from the injury to her face had punctured the protective membrane around her brain, allowing bacteria from her sinus cavities to seep into her brain.
Meningitis is a serious inflammation of the membranes that cover the brain and the spinal cord; it can be deadly in some cases. Head injuries are known to potentially cause meningitis, according to the Centers for Disease Control.
On Jan. 13, Chloe took a turn for the worse as doctors became concerned over the amount of swelling in her brain. She was put on a ventilator as they tried to get her stabilized.
"They thought they were losing her,'' Clark said. "Her brain pressure was spiking such that if she did make it, they were saying she might have extensive brain damage."
Clark and his wife, Sarah, 36, had been providing updates and asking for prayers for Chloe on Facebook, which resulted in an outpouring of support from around the world.
"We have been awestruck,'' he said. "I never thought it would reach people in Kenya, Japan, Spain and Mexico, with thousands of people praying for my daughter."
Chloe was taken off the ventilator a day later and could squeeze her father's hand in response to his prompts. Six days after the accident, she woke up and responded to questions with no issues.
"It shows when God gets involved, the impossible is possible,'' Clark said.
Chloe underwent reconstructive surgery on her nose and around her eye sockets on Wednesday and is expected to fully recover.
"She is doing great,'' Clark said. "She woke up smiling and talking like nothing happened."
Chloe has been made aware of the support for her recovery online.
"Her reaction is, 'Wow, that's a miracle,''' Clark said. "I said, 'Chloe, you're the miracle.'''
Follow TODAY.com writer Scott Stump on Twitter.