At 2 1/2 years old, Hannah Warren has never played outside with her big sister or run through the grass on a sunny day.
The Korean girl has been unable to breathe, talk, eat or drink on her own since she was born without a windpipe. The rare congenital condition kept her hospitalized for her entire life in a Seoul neonatal intensive care unit, where a tube from her mouth to her lung kept her alive.
Without a trachea transplant, she would have died. But that all changed earlier this month, when Hannah became the first child in the world to receive a bio-artificial trachea made from stem cells from her own bone marrow in a pioneering operation at Children's Hospital of Illinois.
Because there was no donor organ, doctors say the chances that her immune system will reject the new trachea have been virtually eliminated.
"This is the page-turning in science," Dr. Richard Pearl, surgeon-in-chief at Children's Hospital of Illinois, said on TODAY Tuesday. "This like the first organ transplant. This is like penicillin."
Since the transplant on April 9, Hannah's prognosis is bright, and the hospital says it expects that she will be able to go home in the coming months.
"This is a little girl who was a prisoner and now she has a chance that she's going to have a relatively normal life," co-surgeon Dr. Mark Holterman said on TODAY.
All her parents, Darryl and Young-Mi, and big sister, Dana, have wanted was for their little girl to come home.
"There was a time when we didn't have hope," Darryl Warren said. "We never dreamed any of this could happen and it did."
For her mom, the transplant is "very incredible."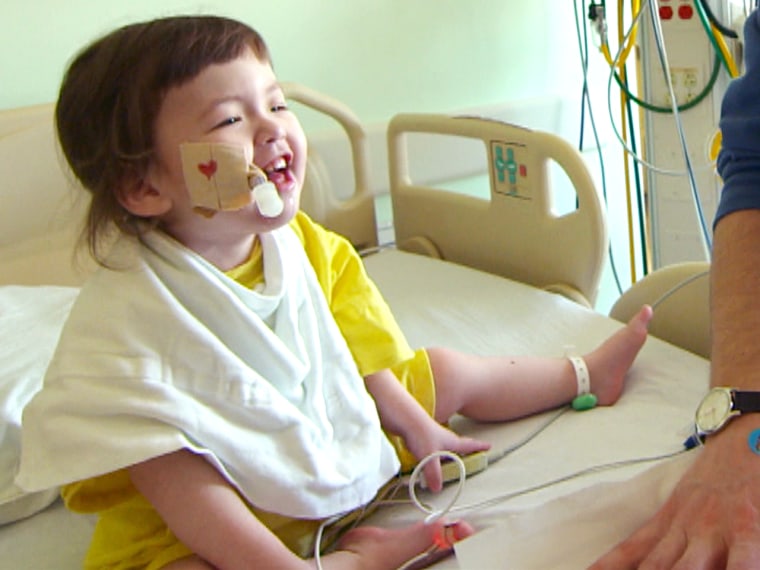 Hannah's lead surgeon, Dr. Paolo Macchiarini of Italy, has made transplant history before. In 2011, he gave a man with cancer the world's first bio-artificial trachea, which was made from plastic seeded with his stem cells.
But the technique had never been done before in a child, and this procedure was especially challenging for the surgeon.
"When it comes to children, it's different," Macchiarini said on TODAY. "It''s very hard, very hard."
TODAY's Meredith Vieira asked him if Hannah became like a daughter to him during the surgery. No, he said.
"She becomes the most important person in that moment in the world that I need to care about," he said.
Macchiarini's scientific team created Hannah's new windpipe by growing it on a plastic scaffold that was custom-made to fit her body. The scaffold, made of nanofibers, was seeded with Hannah's bone marrow cells, which grew and divided and became airway cells.
The scaffold took several weeks to make but once it was seeded, it was ready for implantation in about 2 1/2 days, Holterman said.
In 2010, a boy in the United Kingdom underwent a trachea transplant but the procedure was different from Hannah's. His stem cells were seeded into a donor windpipe that was stripped of its own cells, according to published reports.
Holterman said transplants made from the synthetic scaffolds, rather than those from a cadaver, are stronger and have yielded better results.
Holterman said Hannah's surgery offers hope for other children with birth defects.
"Sometimes we don't have any way of fixing those birth defects or ways we fix the birth defects that aren't ideal, so if we can create new structures, new organs using regenerative medicine, than we can fix a lot of birth defects," Holterman said. "This is the first step of doing this in children. The hope is down the road, we'll be able to replace an esophagus or a diaphragm."
Once Macchiarini saw that the cells were doing what he hoped they would do in the trachea, he was moved to tears. "I was very, very much touched," he said. "In fact, I cried."
As the stem cells change into airway cells, Pearl said, "That's like magic."
For decades, the field of regenerative medicine has promised a future of ready-made organs built in the lab. But critics say the science is too new, and question whether this kind of operation is too experimental.
Hannah's surgeons shrugged off the naysayers.
"So what?" Pearl said as Vieira raised the issue. "Tom Starzl, when he started doing liver transplants, the first, seven, eight, nine patients all died. Everybody said he was nuts. OK? Well, was he?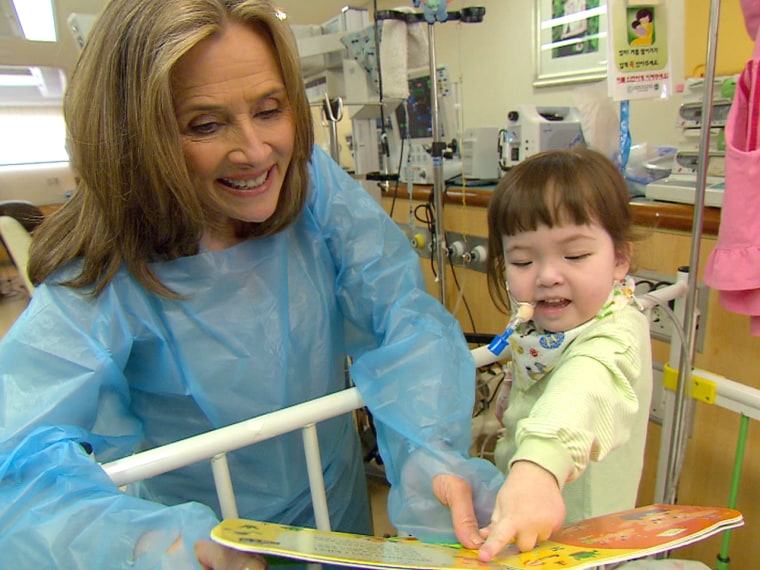 "Christiaan Barnard, when he started doing heart transplants, everybody threw rocks at him," Pearl said. "You're looking at the beginning."
The transplant offers a stark contrast to the outlook doctors had once given Hannah's parents.
"They said, 'We can't do anything for your daughter,'" Warren said. "We'd get phone calls from the hospital. And I'd just ... Did she die? It was like a nightmare."
"For her to be a pioneer, a driving force for this to happen, it's really cool," he said. "That's my girl."