It's the new year, so let's get it together — together! This month, we're whipping your life into shape with our #startTODAY series, and I'm here to help you clean up the mess in your closet.
Just follow these three easy steps to get started:
1. Sort your clothes into 3 piles: 1) keep, 2) toss, and 3) donate/consign/try to sell.
After my mini-bootcamp, you'll never again utter those five dreaded words: "I have nothing to wear!" The reason most women say that is because we actually all have too much to wear. We only wear 30% of what's in our closet — that means 70% has to go.
Are you looking to upgrade your diet, exercise or lifestyle? Tell us your story and you may be featured on TODAY!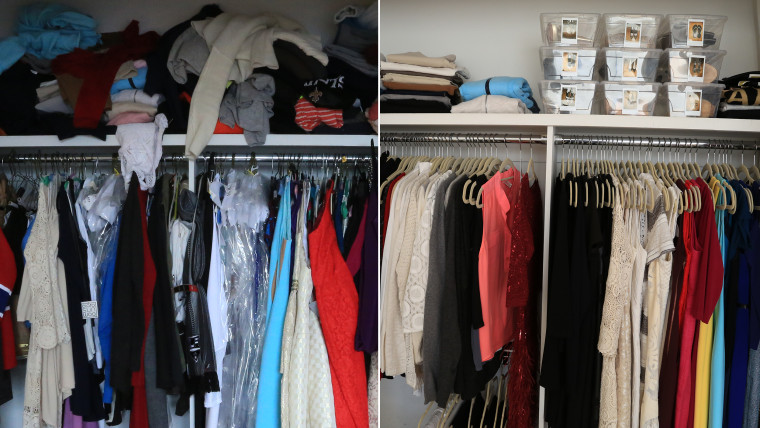 Cleaning out your closet can be overwhelming and intimidating, but here's an easy checklist to figure out what stays and what goes. Start by laying out your favorite dress, shirt, jeans, etc. on your bed — these are "10"s. From now on, if an item does not measure up to that piece in quality, comfort and fit, it goes! We always choose to wear our favorite things anyway, so why keep clutter? Be ruthless!

An item does not belong in your closet if:

It is not a "10"

It is stained, pulled or has rips

You haven't worn it in a year
It's too big or too small. (Even if you plan to lose weight — trust me, you will want to go shopping if you do!) 
You're keeping it just because it has sentimental value (it better have a really good story if it's going to take up room in your closet!)

Be honest with yourself: Don't make up stories like, "Oh, maybe on a rainy Sunday afternoon I will want to wear this old t-shirt." No, no, no. Follow these steps and see what a difference it makes, instantly.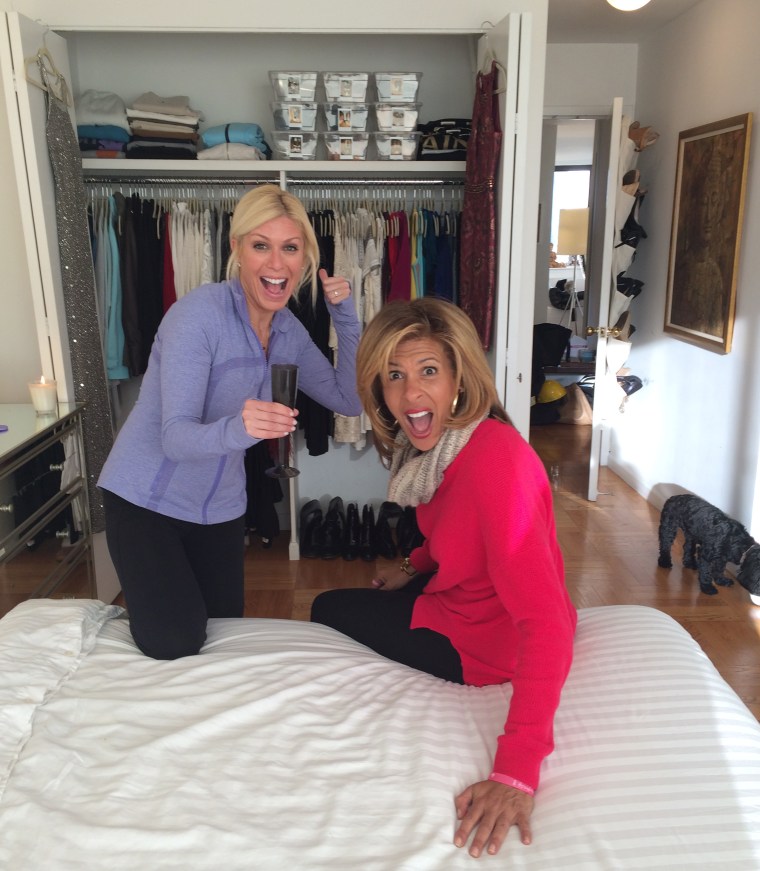 2. Phone a friend. 

I never accurately see what I look like in something — and this is what I do for a living! It helps to have another opinion. Have a friend come over who is honest (that's key) and get her opinion on anything you think is a "maybe." Most of the time, the items wind up in the donate pile!
3. Prepare to cash in

Once you've separated everything you want to keep based on the list above, sort the rest of your clothes into the remaining two piles: toss and sell. Here's a handy guide for which items to put in your "sell" pile:
Your wedding dress: Honestly, do you really need it? I'm going to teach you how to sell it, right from your home!

Gold: Tangled necklaces, bracelets or any single earrings you find are worth saving to sell, because gold is at an all-time high.

Jeans: Keep the ones that make your tush look cute — the rest go in this pile! We can sell them as a pack.

Anything designer: It might not fit you or be your style anymore, but that item with a designer label is still valuable — at the consignment store!

Anything new with the tags still on

Any great pairs of shoes you don't wear: Maybe they hurt you, or just don't fit your taste anymore. But if they'd still be great for someone else, they can make you money!
There are lots of great websites where you can go to re-sell these items, and I'll go into more detail in the coming weeks about that, but here are some to check out to get you started: idonowidont.com (for wedding dresses), therealreal.com, poshmark.com, tradesy.com, and ebay.com.
Check back next week when I go after your beauty cabinet, and the week after when I'll teach you more about how to make money from all those items you saved to sell! And follow the whole #startTODAY series here to learn how to lose weight, save money, get fit, and more, all month long!

Find more from Jill Martin on Twitter or on her website.