Some say Dr. Arthur Winer is a "hero." His 59-year-old patient had a mysterious accident that paralyzed him from the neck down and Winer has taken on the Herculean task of getting him back to his native Poland.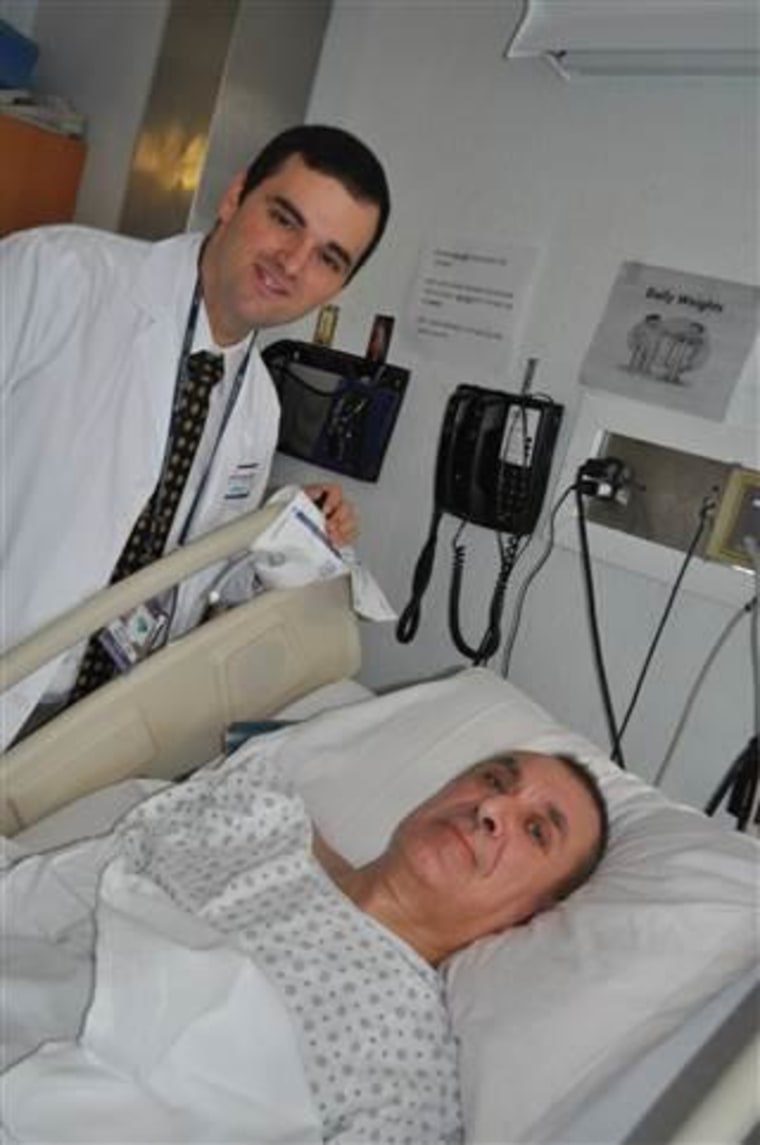 While working the overnight shift in his second year residency at New York City's Bellevue Hospital, Winer hopes to raise $300,000 for the man's medically-equipped jet and future medical expenses.
"My goal is to get him home and I'll bask in the glory if we can help," said Winer, 29. "This a large, but not insurmountable task."
Thousands of miles from home, Jan Kwiatkowski speaks only Polish and relies on daily translators. He is fully alert, but bedridden, unable to move or eat without a feeding tube.
"You hear the story of someone who is paralyzed and has had such a trauma, you can easily conjure up an image of someone who might be depressed," said Winer. "But Jan is very upbeat."
Kwiatkowski has lived in the United States for 13 years, working in construction and sending money home. But last September, he arrived at Bellevue with a spinal cord injury and no memory of what had happened. There were no witnesses.
"He said he was walking home and lost consciousness," said Winer. "When he woke up, he was in the emergency room getting a CT scan. That's very common when someone has a trauma and the body tries to wipe out the pain."
Kwiatkowski's wife died of cancer just after he arrived here, and he hasn't seen his daughter and her three children in a decade.
"My grandchildren are strangers to me," he said to TODAY through a translator. "I want to get to know them."
Winer has called the Polish Consulate in New York and arranged for a passport. He's had multiple conversations with the daughter and even found a bed at a rehabilitation facility.
Winer's compassion for his patient and efforts to get the ailing man home defy the stereotype image of doctors as distant and lacking empathy.
"This young man's a hero," said Dr. Arthur Caplan, head of medical ethics at NYU's Langone Medical Center. "He's doing a really noble thing, going back to the tradition that says I will go the extra mile to help my patient."
Winer met Kwiatkowski in December after doing alternating rotations at NYU's Langone and Manhattan VA medical centers. Growing up rural Pennsylvania, he formed a close bond with his patient, as they talked about fishing outings.
Though he speaks no English, Kwiatkowski cracks jokes with the interpreters and tells stories of his life before America. "We had a connection early on," said Winer.
Though his prognosis is likely not good, Kwiatkowski said he would feel less isolated in Poland surrounded by family and friends.
Winer said his patient is stable medically, but would need a specially equipped plane — a mobile intensive care unit — that could handle a patient with paralysis.
His family doesn't have the funds for his medical: a wheelchair, medication, room and board at a facility in Poland, daily nursing care and physician and therapist visits.
"His daughter, she put me in touch with social workers in his hometown of Ostroleka," said Winer. "City officials seemed very receptive about trying to get him insurance. When I explained his story, it pulled at their heart strings."
Because Kwiatkowski is citizen of Poland and uninsured, Winer started a fundraising effort on GoFund Me and a twitter page, @HelpJanGoHome.
So far, Winer said he has raised nearly $23,000, but he is confident he'll reach his goal. "I am almost 100 percent sure it will happen."
Meanwhile, his medical colleagues are in awe of Winer's efforts.
"It's fun to watch someone try to put idealism in practice," said bioethicist Caplan. "It may not be a solution to the health care system, but it's something that will make him a better doctor. He is learning how hard it is to give good follow-up and continuing care.
"We need more doctors like him," said Caplan.
If you would like to send Jan a message of hope and good wishes, please send to: BringJanHome@gmail.com
This article was originally published Mar. 2, 2015 at 4:39 p.m. ET.