Dating in your 50s isn't all that bad. It's getting naked that's brutal.

I'm kidding. Sort of. The truth is by the time you turn 50, things do start to happen. And by things, I mean gravity starts to go all "Game of Thrones" on your body. Everything begins to drop, except your blood pressure and cholesterol, and you suddenly understand why Nora Ephron felt bad about her neck.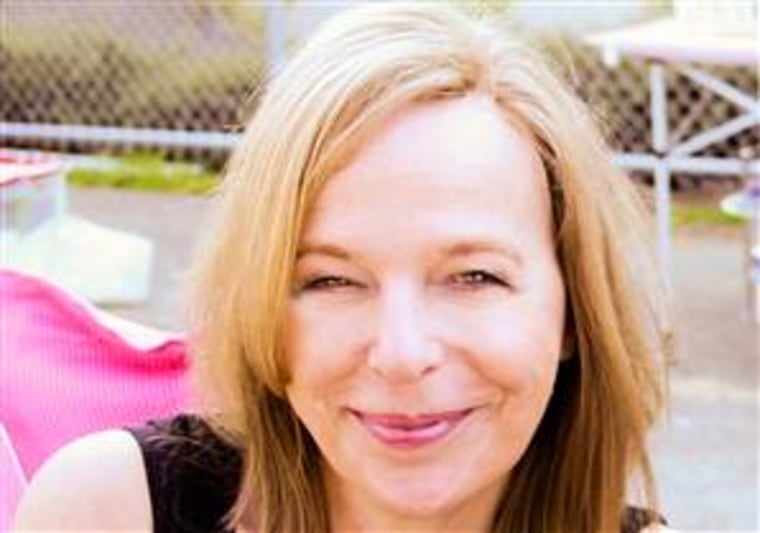 Related: Do you have questions about sex after 50? Click here to have them answered by TODAY experts
I feel bad about a lot of things, including the fact that I sometimes feel bad about my body. We're supposed to love our bodies, embrace our "battle scars." But I've been at war the last three years and I freely admit to having mixed feelings about the woman staring back at me in the mirror.
I got hit with breast cancer in the spring of 2011. Lost both the girls to surgery, all my body hair to chemo and by the time I finished radiation, my chest looked like I'd had a run-in with one of Khaleesi's dragons. The burns eventually faded and most of my hair grew back but the breasts were another matter. Rebuilding those takes time. And, as they say, "work." Right now I'm in the middle of reconstruction and my chest looks and feels like I'm wearing a coconut bra under my skin.
Aloha!
Needless to say, between the cancer crap and the getting old crap, the thought of dating, sex and — gulp — getting naked with somebody for the first time is about as appealing as a colonoscopy.
(And by the way, if you're reading this, you're probably overdue for yours.)
Nonetheless, I'm out there. Not in a big way, certainly not in an obsessed way, but like everybody else in the world (including a few of your married friends and several thousand scam artists), I've got a couple of online dating profiles.
Despite my ambivalence and my body issues, I like the company of men. And as expected, I hear from men, most of whom post pics of themselves holding up dead fish or standing in front of a mirror in a locked bathroom (that's not suspicious at all).
What's unexpected, what blows my mind, is that I also hear from children: gorgeous 22-year-old children with messy hair and mushy faces who urgently text "I wanna git witchoo 2nite!"
Twenty-two? Seriously? I've got underpants older than that. I've got jokes older than that and that underpants line is one of them.
One 20-something told me I was beautiful and seemed like a "really fun girl." So, of course, I wrote back to thank him for making "Grandma's" day. But he wouldn't take the hint.
"I like older women and I know older women like hot young men," he emailed back. Winky face. LOLz.
"You're adorbs," I answered in his native tongue. "But a 30-year age gap is pushing it, even for me. I'm not even sure that sort of thing is legal."
"It's totally legal," he wrote back seconds later. "I totes looked it up!"
I hear from 30-somethings who "really dig older women," as well. I usually ignore their messages — I may be vain but I'm not delusional — but now and then I'll take a moment to set them straight.
"Sorry, but I'm not interested in fulfilling some Mrs. Robinson fantasy," I'll say. "I have nephews your age."
"Who's Mrs. Robinson?" they usually want to know.
Guys in their 40s and 50s write to me, too, and a lot of them are usually quite charming — up to the point I give them my cell number and they send me a "melfie," aka a selfie of their member.
Coffee or cocktail dates with normal guys happen occasionally. And there's always flirting. And friendships. I have some great men friends. But mainly, I watch a lot of Netflix and count the days until I'm done with reconstruction.
Life in my 50s has been complicated. Apparently, everybody aged 18 to 88 is looking for a hookup, but I'm just not in a hookup kind of place. I guess I'm holding out for the real meal deal — somebody worthwhile, maybe even age appropriate who's got a few battle scars of their own. As long as I can avoid jerks like the 55-year-old guy in this Huffington Post essay who told his slightly older girlfriend that her body was "too wrinkly" for his taste, I should be fine.
Different looks for different decades. George Clooney, left, is 53, and yet looks younger than the late Jim Backus, who was 51 when cast on "Gilligan's Island."
I think. I hope.

The truth is, my body's more than wrinkly. It's flabby here and flawed there and I'm rocking a set of Frankenboobs that could put a dent in a Buick. But it's also a powerhouse that's kicked cancer to the curb and bootstrapped its way through multiple surgeries, chemotherapy, radiation, two years of boxing classes and complications of every stripe.
Yes, one look in the mirror and I can see winter is coming. It's coming for all of us.
But who knows, maybe love is as well.
After all, hope springs eternal.
Seattle-based writer Diane Mapes is a regular contributor to TODAY.com and is the author of "How to Date in a Post-Dating World." She also writes the breast cancer blog, www.doublewhammied.com. 

All week, TODAY is exploring what 50 is like today, from dating to sex, health, fitness and finances. Follow the series here.
Don't miss this:  Flirting, baggage bans and waiting for sex: 6 rules for dating after 50