The Centers for Disease Control and Prevention recently updated guidelines this week detailing what precautions people do and don't need to take once they've been vaccinated.
Here is everything you need to know.
What does it mean to be fully vaccinated?
A person becomes fully vaccinated at least two weeks after their final dose of a coronavirus vaccine. For the Moderna and Pfizer-BioNTech vaccines, which require two doses, this means two weeks after the second dose. For the Johnson & Johnson vaccine, which requires just one dose, this means two weeks after the first and only dose.
What can I do after being fully vaccinated?
The CDC expanded their guidelines for fully vaccinated people on May 13, announcing that people who are fully vaccinated can participate in most indoor activities without masking or social distancing.
Though the organization updated its guidelines in late July due to the delta variant: Fully vaccinated people do have some limitations; to date, the CDC recommends fully vaccinated people wear masks in public indoor settings in regions where there is high virus transmission. The guidelines also say that vaccinated people should still wear masks in very crowded environments, like concerts whether they're indoors or outdoors. Masks should also be worn in hospitals and doctor's offices, and on public transit, including airplanes.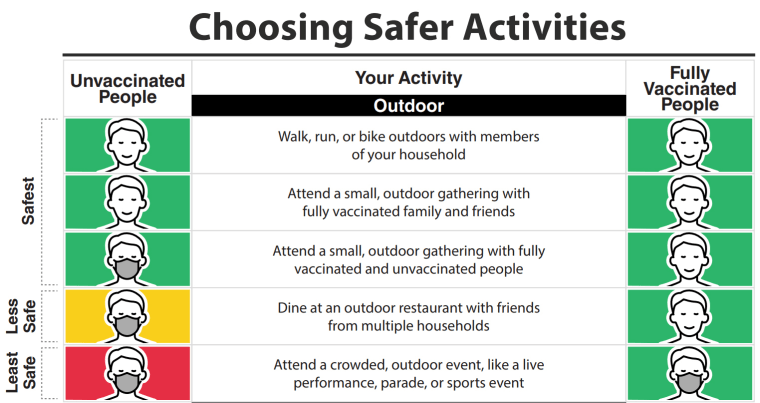 If a vaccinated person is at an increased risk of serious illness from COVID-19, they may choose to continue to wear a mask regardless of transmission levels. The CDC recommended universal indoor masking for all teachers, staff, students and visitors to school, whether you're vaccinated or not.
In April, the agency said that people who were vaccinated could participate in most outdoor activities without wearing a mask. People who are not vaccinated should still wear masks while participating in some outdoor activities.
"This was a turnaround and it was great news," said Dr. Ashish Jha, dean of Brown University School of Public Health, said on TODAY. "The way to think about it is if you're fully vaccinated, you don't have to wear a mask outside, you generally don't have to wear a mask indoors. The one big exception is if you're in crowded spaces, where ... you're sharing the air with a lot of people. ... Infection numbers are still high, there's still a lot of people who are not vaccinated yet and so the CDC is saying, and I think they're right, that in those crowded areas you want to keep wearing a mask. Other than that you're good to go."
Fully vaccinated people can also attend a crowded, outdoor event like a live performance or sports event, but the CDC still recommends wearing a mask. Crowded, outdoor environments are still considered unsafe for unvaccinated people, even if they are wearing masks.
In early March, the CDC released guidelines that said fully vaccinated people could safely gather with other vaccinated family and friends without wearing masks or social distancing indoors.
Fully vaccinated people can also gather indoors with unvaccinated people from one household, without masks or social distancing, provided that none of the unvaccinated people are at risk for severe COVID-19. If you do gather with high-risk, unvaccinated people, precautions like masking (for unvaccinated folks), gathering outside and keeping distance should still be maintained.
The CDC also has also released guidance about travel, informing potential fully vaccinated travelers that they do not need to get tested or self-quarantine before or after domestic travel. Some airlines may require testing regardless of destination.
The agency also recommends paying "close attention to the situation at your international destination" if traveling internationally. People leaving the country do not need to be tested, but people traveling to the United States do need to show a negative test result or documentation of recovery before getting on their flight. While testing is not required after international traveling, the CDC does recommend getting tested 3-5 days after your trip.
What about seeing people who can't be vaccinated yet?
The guidelines note that fully vaccinated people can see low-risk unvaccinated people (from one household) in indoor gatherings without masking or distancing. If people are unvaccinated but are high-risk for severe COVID-19, precautions should still be taken.
Dr. Sten Vermund, a pediatrician and dean of the Yale School of Public Health in New Haven, Connecticut, said that this means that grandparents who are vaccinated can interact with grandchildren, even ones who are not yet eligible for vaccination, safely, so long as those kids aren't considered high-risk.
What if I'm exposed to COVID-19 after vaccination?
If you are fully vaccinated and have been exposed to someone with suspected or confirmed COVID-19, the CDC recommends you get tested 3-5 days after exposure and to wear a mask when indoors for 14 days or until you receive a negative test.
"You certainly need to get tested, if you become symptomatic, even if you've been vaccinated," NBC News medical contributor Dr. Natalie Azar said. It is possible to contract COVID-19 even after being fully vaccinated, but vaccines are expected to seriously curb cases of moderate and severe illness.
This story was updated on July 30, 2021 to reflect new guidance.
Related: