We could all use a little extra motivation to put down the chips now and then, but this isn't exactly what we had in mind.
Frito-Lay is recalling two types of jalapeño-flavored chips — Lay's Kettle Cooked potato chips and Miss Vickie's Kettle Cooked potato chips. Both products contain a seasoning blend that may have been contaminated with salmonella bacteria. While no Salmonella has yet been found in the seasoning, Lay's is issuing a voluntary recall out of an "abundance of caution."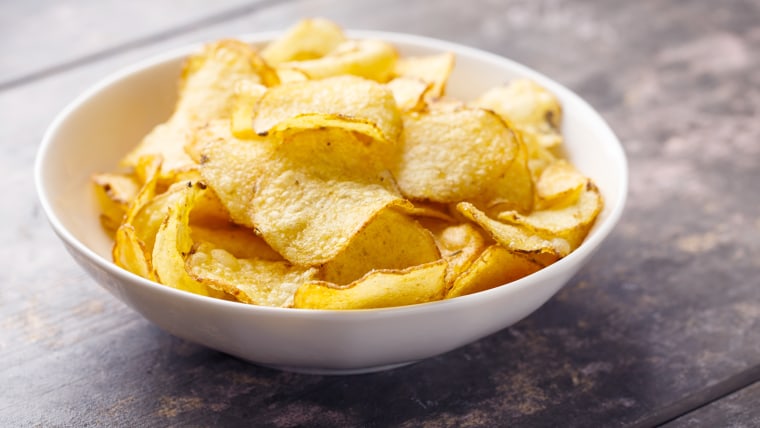 RELATED: Hash browns recalled for having pieces of golf balls in them
So what is salmonella, other than the reason your mom wouldn't let you eat raw cookie dough as a child? Well, according to the FDA, "Salmonella is an organism which can cause serious and sometimes fatal infections in young children, frail or elderly people, and others with weakened immune systems. Healthy persons infected with Salmonella often experience fever, diarrhea (which may be bloody), nausea, vomiting and abdominal pain. In rare circumstances, infection with Salmonella can result in the organism getting into the bloodstream and producing more severe illnesses such as arterial infections (i.e., infected aneurysms), endocarditis and arthritis."
Yeah. Not a good look.
RELATED: Dead bat found in salad at Florida Walmart sparks recall, investigation
The recall applies to all chips with a "guaranteed fresh" date of July 4 or prior. For multipacks that contain the jalapeño chips, the date to look for is June 20. The other flavors in the multipack are unaffected by the recall, as are the lower-fat version of Jalapeño Cheddar Lay's.
Consumers can contact Frito-Lay Consumer Relations at 866-272-9393 for additional information. For product reimbursement, consumers can visit www.jalapenochiprecall.com.
As for the other chip flavors, you're Frito keep eating them as you wish.