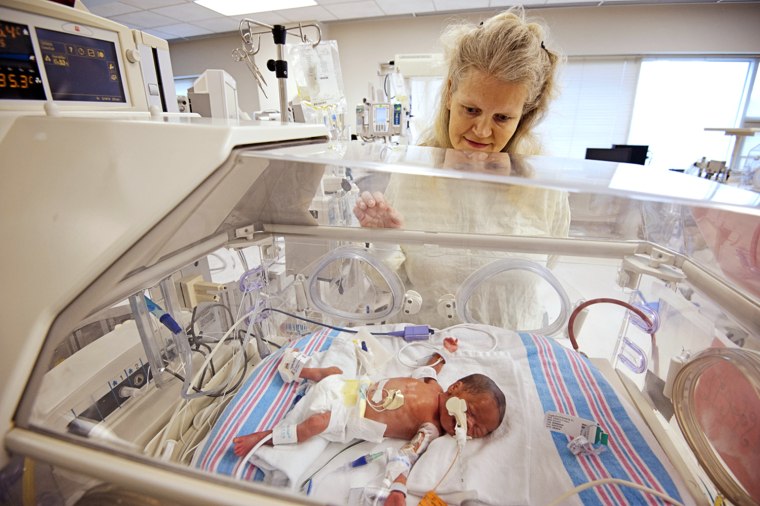 Two unthinkable words changed Kimberly Fugate's world: More feet.

As Fugate went into labor earlier this month, doctors delivered the identical triplet girls — the three babies she and her husband, Craig, had been expecting.
Born early by C-section at 28 weeks and a day at the University of Mississippi Medical Center, the babies were whisked off for care. That's when Fugate overheard the unlikely discovery of another baby, one who had evaded detection on ultrasound imaging during Fugate's pregnancy.
"They had delivered three and I heard the doctor say, 'I have more feet,' and I just hollered 'No,'" said Fugate, 42. "If it was more feet, I knew it was another baby."
In that moment of shock, she went from being the mother to 10-year-old Katelyn, to the new mother of rare identical quadruplets, all from a pregnancy that the Fugates had not planned.
"I wasn't trying to have another child, but a child is God's blessing so that was his will," she said. "I feel like God has truly blessed me."
The girls, Kenleigh Rosa, Kristen Sue, Kayleigh Pearl and Kelsey Roxanne, each weighed between 2 and 2 ½ pounds when they were born by cesarean section on Feb. 8. They are likely to remain in the neonatal intensive care unit until about Fugate's due date of May 2.
"They just have to have a little bit of help with the breathing but they're healthy," says Fugate, adding that all are on ventilators. "They're growing a little bit. All preemies have their ups and downs at first, but they're well."
The Fugates live in rural Jayess, MIss., a 90-minute to two-hour drive from the Jackson hospital. Fugate worked for the U.S. Postal Service before pregnancy, and her husband does maintenance work for a steel construction company.
Fugate had been staying close to the hospital for several weeks before her delivery for treatment and monitoring, but her husband was at work when her labor became unstoppable.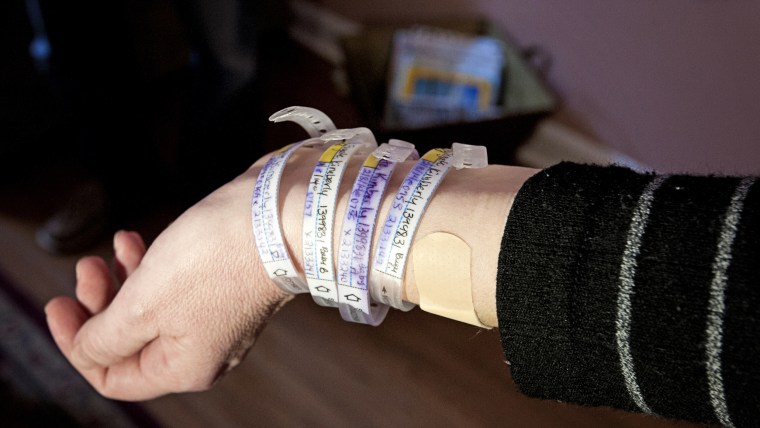 When Craig Fugate arrived at the hospital, his wife held up her arm, and let him learn the news of a fourth girl by counting the hospital bracelets around her wrist.
The Fugates' shock quickly gave way to overwhelming happiness.
"They're so beautiful, they just brought joy to my life already," Kimberly Fugate said. "It's just a beautiful feeling to have four beautiful babies."
One of Fugate's doctors, Dr. James Bofill, a professor of maternal-fetal medicine at the University of Mississippi, said it was the first time in his 27 years of practice that he had missed a fetus on an ultrasound. He, too, was in such disbelief that when the doctor who delivered the babies texted him to report quadruplets, he thought she was joking.
"Lo and behold, she wasn't," he said. "It was quite a shock."
But, he explained, a crowded womb and shadows cast by fetal bones during an ultrasound can make it difficult to see clearly. The baby who was hidden, Kelsey Roxanne, was positioned in the back of the uterus, he said, where it is often hard to see with multiples.

"It was quite evidently a good hiding place," Bofill said. "It's just difficult to see sometimes, and this is just one of those cases."
Even when Bofill re-examined the ultrasound scans after the quadruplets were born, he still could not see any part of the fourth fetus.

"This was a very unusual situation and thankfully, everyone thus far, has done well," Bofill said. "It's certainly taught me a lesson. The takeaway I get is you just have to expect the unexpected."
The chance of having quadruplets without fertility drugs is one in 729,000, Bofill said, but it's extremely difficult to calculate the odds of having four identical babies without fertility treatment.
Now, as the four girls are each in their own isolette, Fugate has observed a distinct trait in Kelsey. When she was just a day or two old, Fugate she saw her with a little blanket that had been placed over part of her eyes. 
"She had gotten upset because they changed her Pamper, so the only way they could calm her down was to put that over her head," Fugate said. "I laughed and said, 'She still likes to hide.'"
Fugate is awaiting the day when she can hold her babies — and bring them home.
"It's going to be awesome to have four babies to love," she said.