A pair of formerly conjoined twin sisters have been reunited for the first time since a grueling, but successful, 17-hour surgery to separate the California toddlers, according to the hospital where the procedure took place.
Eva and Erika Sandoval have been recovering in separate beds in the same room at Lucile Packard Children's Hospital Stanford since their Dec. 6 surgery. The 2-year-old girls could not see each other well until Monday, when their mom carefully carried a tightly bundled Erika in blankets, and placed her next to Eva's bed.
A video posted by the hospital shows Eva then reaching into her sister's blankets and pulling out a red car. The girls then just continue to stare at each other.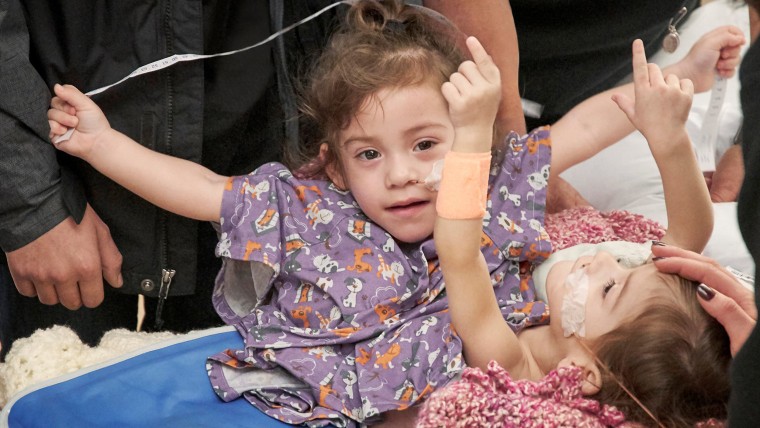 "It was such a thrill for us to see the girls next to one another again," mother Aida Sandoval said through a post on the hospital's Facebook page.
Prior to their surgery, the girls were positioned facing each other and joined from the lower chest down. They had separate hearts, lungs and stomachs, but shared a liver, bladder, two kidneys, three legs and parts of their digestive tract.
Since the surgery, the girls now each have one leg. The third leg was used to create skin grafts to cover the large wounds that resulted from the surgery.
"They're both doing well," said Meghna Patel, the doctor caring for Erika in the hospital's pediatric intensive care unit. "They have had no significant complications."
Both girls are breathing without ventilators and are expected to be moved in another week to an acute care unit.
"Day by day they're getting better," said Alison Chiang, the doctor caring for Eva. "They're happier and more playful and interactive with their family."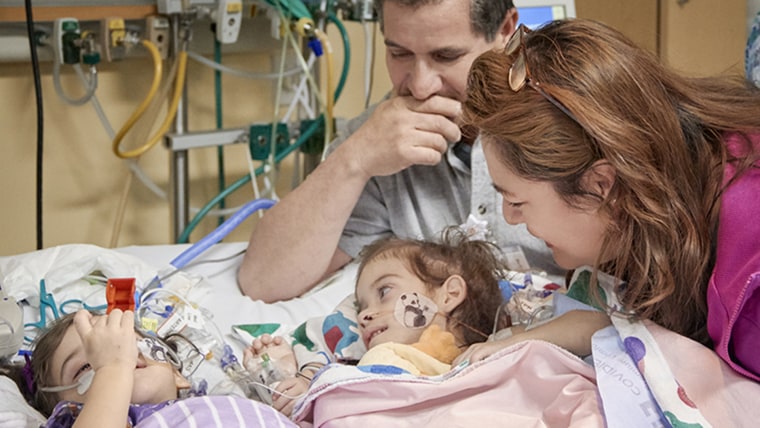 The 17-hour surgery to separate the twins involved 50 medical professionals, according to the hospital.
RELATED: What it's like to be pregnant with conjoined twins
The births of conjoined twins are rare, occurring once in every 200,000 live births, according to the University of Maryland Medical Center. About 70 percent of all conjoined twins are girls.
Follow Eun Kyung Kim on Twitter or Facebook.