On an 80-degree day, Nicole and Christian McDonald took their twin boys, Jadon and Anias, outside to play. Though this might seem like a mundane moment for other parents, it was a big deal for Nicole and Christian: Their sons were born conjoined at the heads, and that beautiful spring day marked six months since their 27-hour surgery.
"All the bad days put together don't hold a candle to how good this day was! See ya later sneezes and runny noses, fevers and extra oxygen. We are all feeling good," Nicole McDonald wrote on Facebook.
The once-conjoined twins were born via a scheduled cesarean section on September 9, 2015. When the family first learned of the boys' diagnosis, they felt hopeless. But they soon learned about Dr. James Goodrich, director of Pediatric Neurosurgery, Children's Hospital at Montefiore Medical Center in New York City, who had experience separating craniopagus twins (conjoined twins who are fused at the cranium).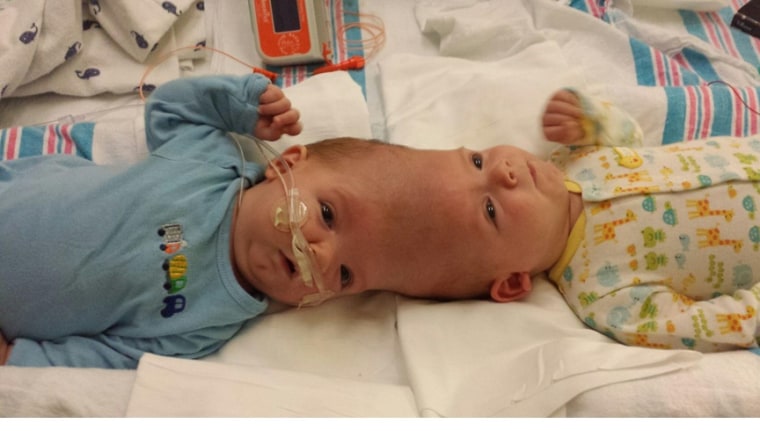 In October 2016, 40 people participated in a 27-hour surgery to separate the two. And nine weeks after the surgery Jadon and Anias moved into Blythedale Children's Hospital, a rehab facility in Westchester County, New York. While doctors were impressed by the boys' quick recovery, Jadon and Anias still faced challenges.
"When I was changing [Jadon's] wound dressing, I noticed a hard, white object coming out of the hole in his scalp," McDonald shared on Facebook. "It turns out that the dissolvable plates holding Jadon's transplanted bone are being rejected by his body, and they are coming out through his scalp."
While this caused Jadon's wounds to open, Dr. Oren Tepper, who led the reconstruction of the twins' skulls, said this type of reaction is normal.
"It is somewhat common and I understand the worrisome implications," he told TODAY. "Everything else beneath was well protected and we were just dealing with local wound problems."
At the same time, Anias struggled with a cold that caused severe respiratory problems.
"Colds sound like no big deal, but for Anias, it can be devastating. With that bout of cold, Anias stopped breathing on multiple occasions," McDonald said. "I made it my sole responsibility to try and predict these instances by watching his heart rate and fever curve and keeping his nose suctioned, and yet, I still held my blue, breathless baby on more occasions than I'd like to remember."
But two weeks later, Anias was cold-free and the boys continued improving.
They can crawl and stand a little with Jadon tottering on unsteady feet. Because they were joined together for the first 13 months of their lives their development differs from their peers.
"You can't take the general milestone chart and apply it to Jadon and Anias," said Tepper, director of the Craniofacial Surgery Program at Montefiore. "If you call surgery day one, their re-birth, they are doing pretty well."
So well that the boys will likely be leaving the rehab facility soon to live with their family. The McDonalds — who once resided outside of Chicago — moved to New York to be closer to the twins' doctors.
"Coming home will be in our near future! My whole body is shaking with excitement as I type this," McDonald wrote on Facebook. "I honestly can't even fathom this ... A true dream come true. I've been praying to God a lot about this lately, putting the process in his hands ... He still hears, he still answers."
CNN followed Anias and Jadon's story from before the surgery throughout recovery and will air a documentary called "Separated: Saving the Twins" on June 23, 2017 at 10 p.m.