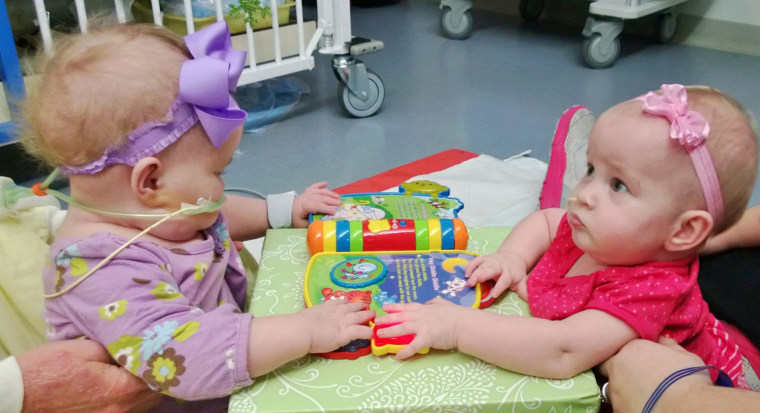 Twins Amelia and Allison Tucker, born joined at the chest, met the world Thursday after a seven-hour operation successfully separated them. The formerly conjoined 8-month-old girls are recovering well from their November surgery, surgeons at the Children's Hospital of Philadelphia reported.
The girls were born sharing their diaphragm, pericardium and liver, as well as the chest wall.
"Both Allison and Amelia are doing well, and we expect them both to enjoy full, healthy and independent lives," said Dr. Holly L. Hedrick, the pediatric general, thoracic and fetal surgeon who led the 40-member multidisciplinary team that carried out the complex separation early last month. It was the 21st time that The Children's Hospital of Philadelphia (CHOP) has separated a pair of conjoined twins.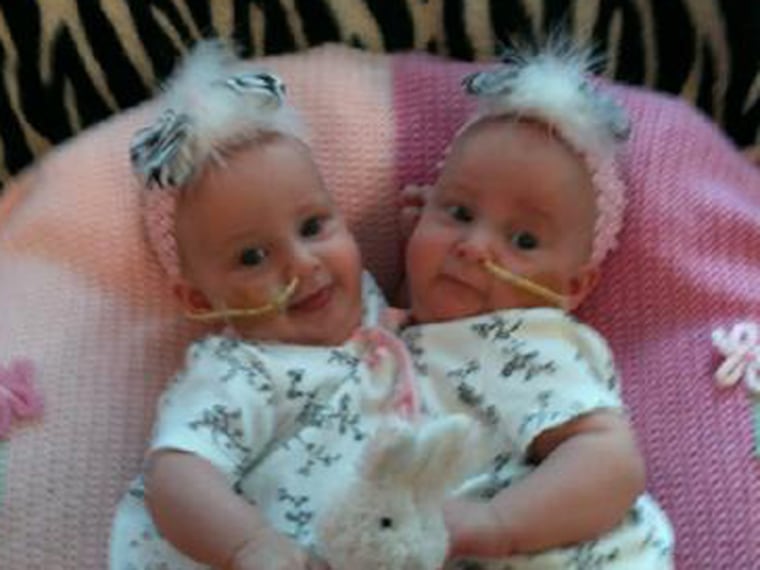 Allison is home with her parents now, while Amelia remains in the hospital.
"The separation was successful because of the bravery of the family and the team," Hedrick said Thursday. "I'm convinced that Allison, the smaller twin, is the tougher one. She was the first to have her drainage tube removed and first to be discharged. Amelia also tough but a little more laid back. She's the larger twin but she's had a more challenging recovery. But she's improving every day."
The sisters love being held and love being together, their mother said.
"Once they are held they are happy. When they get together they are totally different babies. You can tell they are happy and relieved to be with their sister," Shellie Tucker said. She seemed to agree with Hedrick's take on her daughters' personalities: "Allison is the feisty one, like her brother... kind of loud. Amelia is laid back, very serious. But once she relaxes she welcomes you with smiles every time."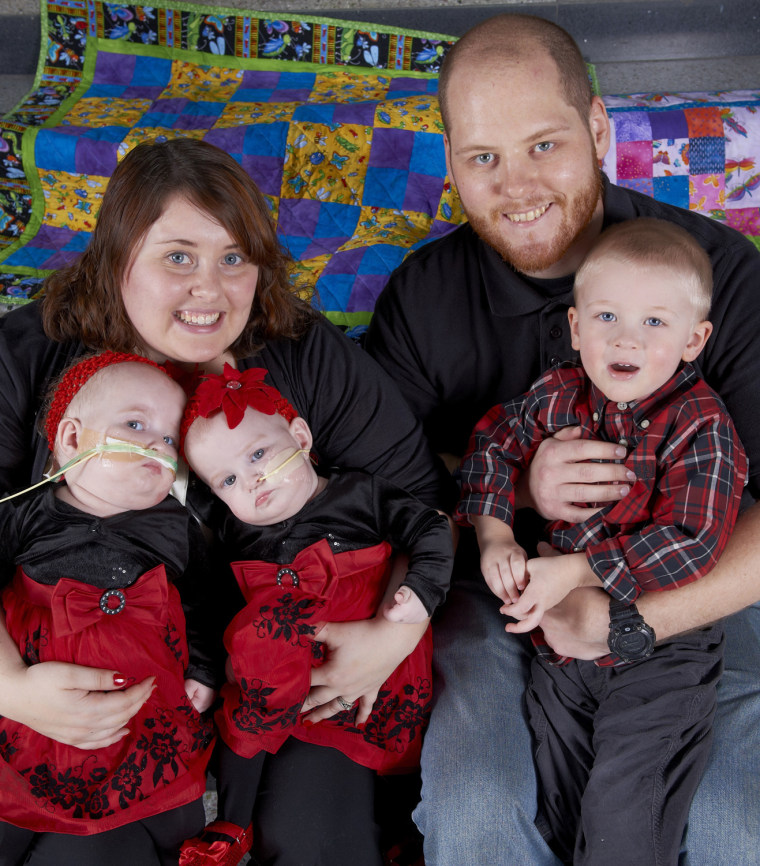 Because the twins didn't share many internal organs, their prognosis is good, according to Dr. Joseph Losee, chief of pediatric surgery at the Children's Hospital of Pittsburgh, at the University of Pittsburgh Medical Center. Closing the wounds can be difficult because extra skin and other tissues are needed to replace what was previously shared by the girls. Surgeons have come up with two ways to get around that problem, said Losee, who led a team that successfully separated a pair of conjoined twin girls in 2009.
"One is by tissue expansion, where you put a little water balloon under the skin and keep adding water so that you slowly stretch out the skin and muscle," Losee said. "The other way is to put a catheter inside the abdomen and inject air. Then the skin and muscle stretch as they do in pregnancy."
NBCPhiladelphia.com: Surgeons separate conjoined twin girls
The girls "should probably have a normal life," said Losee, who is not affiliated with CHOP.
Conjoined twins occur very rarely, estimated at about 1 in 50,000 to 1 in 100,000 births, although most are stillborn or die shortly after birth. Conjoined twins are more likely to be female. Hospitals in the U.S. perform separation surgery on conjoined twins about six times a year, according to doctors at Lucille Packard Hospital in Stanford, Calif.
The twins' mother, Shellie Tucker, who has been tracking their development on a blog, wrote that she and her husband Greg didn't discover the twins were conjoined until an ultrasound at 20 weeks. In fact, parents of conjoined twins often don't get the news until late in the pregnancy, Losee said.
Her obstetrician had never seen conjoined twins before, Tucker said Thursday, so they went to a specialist who recommended that she have an abortion.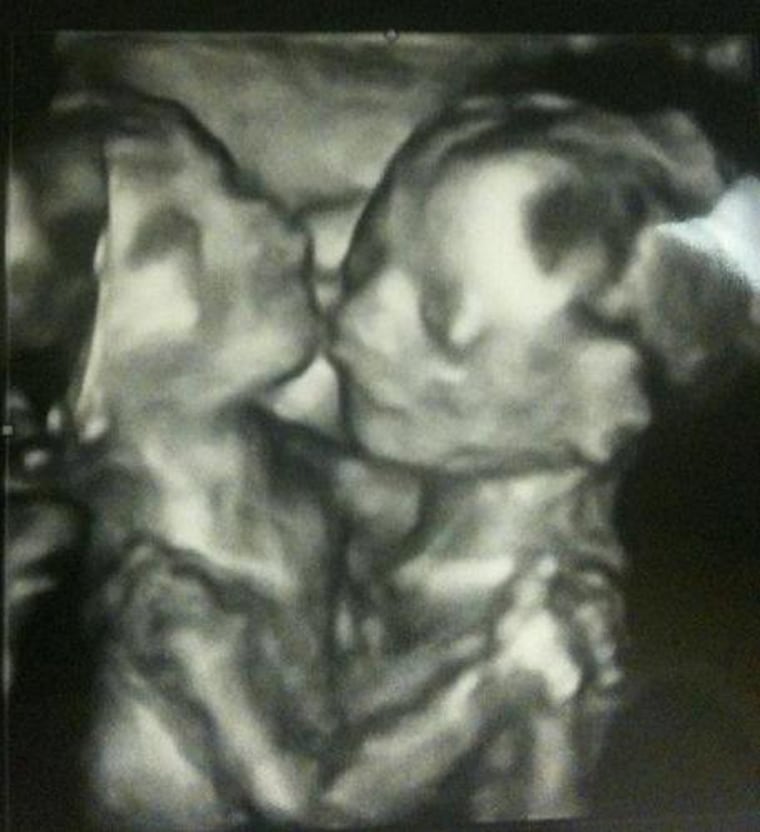 "We chose to get a second opinion," Tucker said. "Both of us have a lot of faith and in that situation I think you have to have it... we relied on that. No matter the outcome, we decided we were going to make it through."
Video: Hospital news conference on twin separation surgery
The twins were delivered by C-section at Children's Hospital of Philadelphia on March 1, 2012. They've spent much of their first year in the hospital, appearing to the world as if they were in a perpetual embrace. 
"Greg and I are thrilled that our daughters have been given this remarkable gift by the amazing team from The Children's Hospital of Philadelphia," said Shellie Tucker.  "We are so grateful for the support and encouragement that the medical team, our families and our friends have given us during this long journey."  
After the seven-hour procedure on Nov. 7, Tucker wrote on her blog:  "Today started off with fear, anxiousness, nervousness, and excitement. Greg and I went into this knowing some facts but not all. We trusted our surgeons and hoped for the best. We never could imagine the outcome being as great as it was."
More from TODAY:
Twins give birth minutes apart in same hospital
Adorable twins rock out in unison